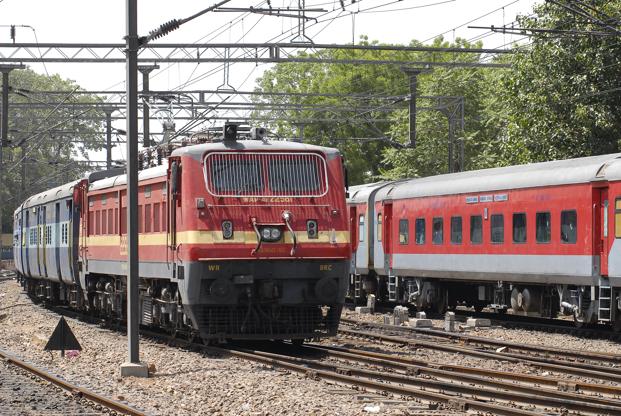 In order to give a power boost to its services, Indian Railways is all set to use satellite imagery, GPS and GIS to monitor, maintain and manage its assets across the country.
There are two major projects that have been undertaken by the Indian Railways. One is mapping of the entire railway asset infrastructure – which is in two phases; the first is the mapping of the entire track network in the country and in the second phase is mapping of railway land and other assets along the tracks, the Ministry of Railways said in a statement.
Elaborating on this, Sanjay Das Additional Member Railway Board (Computerisation and Information Systems), former MD CRIS said, "We are working in-house for the mapping of the data and have developed a GIS module for this. Under this, the track maintenance trolleys are being fitted with GPS chips and as the trolley moves, the track gets mapped."
The land and asset mapping exercise will help the Railways majorly to identify encroachments, as well as enable Railways to keep a tab on them and use for future planning exercise.
Creating a milestone
An MoU has been signed between ISRO and Centre for Railway Information System (CRIS) to develop this application. In this application land plans of Indian Railways will be available for viewing overlaid on satellite imagery. The INR 380-million asset mapping project was started in April 2017 when the railway ministry signed an agreement with Indian Space Research Organisation.
Das further said, "We are collaborating with NRSC for this project where they have provided us with Cartosat imagery and Bhuvan data for making the maps. In addition, we are also flying drones to map the tracks. However, I must admit that the progress is a bit slow as we are doing it all in-house. We can expedite it with better interaction with the private industry."
The other important project that the Railways is working on is the real-time tracking of trains. Under this, NavIC devices will be installed in the entire fleet of about 12,000 locomotives to locate each train accurately. Railways is working with ISRO on this project. This data will be put into the Railways control office application through which it will be disseminated on a real-time basis to all passengers.
"This application will be hugely beneficial to keep a check on the safety aspect. Once the exact location of the train is determined, we can take advanced measures; rectify the problem area to avert any mishaps. The technology will also be used to give warning at unmanned level crossings," Das said.
Railways is also thinking of 3D mapping of all the stations. Under this project six stations have been chosen as pilots. Here also NRSC is involved and they have mapped two stations including Varanasi and New Delhi. Once the 3D mapping is complete, passengers will have an application through which they will be able to visualize the entire station in 3D and thus locate any services at the stations. Here too, we hope that the private players will play an important role in the coming times.
Role of private players important
Private sector will play a very important role. Giving more stress on this, Das said, "They should work as a knowledge partner with the government — GTC (Government to Citizen sphere) — so that the problem of delivering to citizens can be solved and they have better access to services ranging from ticketing, logistics, subsidies and schemes. Moreover, the services are better targeted towards the citizens."
The Indian Railways has entered into contracts with many private providers of geospatial services. They are using drones and radars for mapping of railway assets and tracks. These are contracted through tenders.
Also Watch