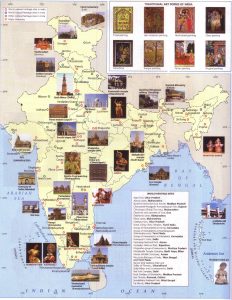 The intricately designed Taj Mahal, known as one of the Seven Wonders of the World, is under serious pollution threat. A recent report says that pollution will destroy the aesthetic beauty of this ancient heritage. But this is not the only monument, several other heritage sites are grappling with the same problem.
Issues like pollution and encroachment of unauthorized properties near the heritage sites pose a major challenge to the Indian Ministry of Culture. Also, these issues can hugely affect the tourism industry, which in turn will have an adverse effect on the economy. In order to resolve these issues, the ministry has taken help of Geospatial technology to maintain and manage these sites.
In a seminar on Location Based Services, organized in New Delhi by FICCI, Uday Raj, Chief General Manger of National Remote Sensing Centre of India says, "We never thought that the space technology can also help the country to manage and maintain the heritage sites but we are doing this."
Heritage sites that are located in urban areas are under tremendous pressure from developers. Construction near these sites can be very harmful and can cause a threat to their aesthetic beauty. It has increasingly become difficult for the ministry of culture to maintain these sites by using conventional technologies.  So, the ministry is working closely with ISRO and adopting geospatial technology to manage and maintain these heritage sites.
Raj says, "It's a very innovative and collaborative project where the Ministry of Culture and the Archeological Survey of India officials come down to ISRO, sit along with us and understand the geospatial technology. It is a kind of on the job training for them, most of them are now quite familiar with the technology."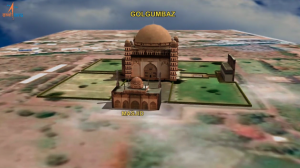 The space agency of India is using high-resolution satellite data to map the heritage sites of the country. Raj unveils that the agency has mapped 3600 monuments. Management plans for about 60% sites have been already completed by ISRO and the Archeological Survey of India. The best part of the entire project is that the database is transparent and is a few click away on Bhuvan. So, anyone can navigate to these sites on the map.
Mobile app makes the management easy
For making the management process of the heritage sites simple, customized smartphone app has been developed, which is under G2G and G2C application. The app can be downloaded from NIC server. This mobile app helps citizens to take permission from the Monument Authority of India if they want to do any kind of construction near the monuments.
Raj explains, "By using location-based technology one can download the app, fill the application form and upload the coordinates to a mobile phone, which goes to NIC server and generate application numbers. These coordinates are then pushed to Bhuvan portal where a proximity analysis is done. The analysis is fully automated and is done through Geo-processor. Geo processor looks at where these coordinates have come from and analysis whether it falls in the management zone of heritage sites. If it does not come in the zone, it sends information to the citizen immediately that he/she do not need to take No Objection Certificate. And, if it comes in the zone, then the information goes to the National Monument Authority of India. There they get 72 hours' time to validate the information once again and pass on the information to the citizen accordingly."
The purpose behind mapping these sites is also to increase the local business that can aid to the upliftment of the local community. Raj says, "With the help of geospatial technology the idea is also to popularize these heritage sites  for economic activities  that can help in the upliftment of the local people around."