India-France collaboration on satellite technology is part of the Joint Vision for Space Cooperation, signed during French President Emmanuel Macron's visit to India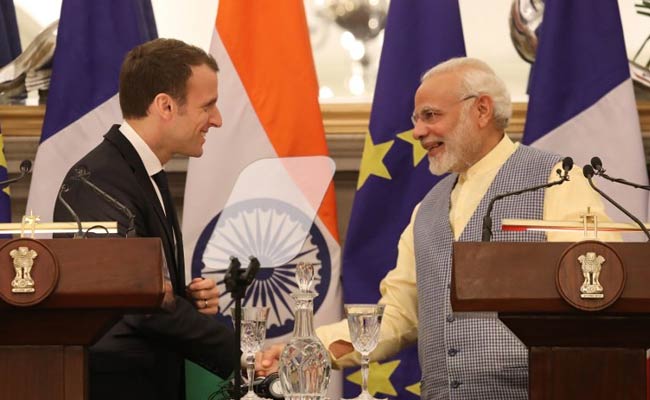 ISRO and CNES will collaborate on use of satellite technology for addressing global challenges like Climate Change through joint missions — Megha-Tropiques and Saral-Altika, the ongoing studies of the Trishna satellite for land Infrared monitoring and the Oceansat3-Argos mission.
These were part of the agreements signed by ISRO chairman K Sivan and CNES President Jean-Yves LeGall in New Delhi on Saturday. The two nations will also collaborate on a joint earth observation mission with high resolution imaging capability in optical and microwave domains, as well as pursuing the study of a constellation of satellites for maritime surveillance. There are further plans for cooperation in the satellite navigation field, including reference stations in France and India to improve the orbit determination and clock estimation for the Indian and European navigational systems; and development of navigation applications.
Tucked among the slew of billion-dollar trade pacts signed between India and France during French President Emmanuel Macron's visit to India was the document India-France Joint Vision for Space Cooperation, which lays out a joint vision for collaboration in exploring space for earth observation, defense as well as deep space.
Megha-Tropiques is an Indo-French Joint Satellite Mission for studying the water cycle and energy exchanges in the tropics. The main objective of this mission is to understand the life cycle of convective systems that influence the tropical weather and climate and their role in associated energy and moisture budget of the atmosphere in tropical regions. The SARAL mission results from the common interest of both CNES and ISRO in studying ocean from space using altimetry system and in promoting maximum use of the ARGOS Data Collecting System. Radar altimetry by satellite is a technique used in oceanography to measure, globally over the oceans, the sea level needed to understand ocean circulation and its variability. The Oceansat3-Argos mission entails the ISRO satellite hosting Argos-4 Payload from CNES. Oceansat-3 is likely to be launched in 2018 to provide continuity of data for already established services in the area of oceanographic applications.
India and France will also develop a wider dialogue on space situational awareness. ISRO and CNES would work together for the design and development of joint products and techniques, including those involving Automatic Identification System (AIS), to monitor and protect the assets in land and sea. Sharing of data including direct reception from each other's Earth observation missions meant for meteorology, oceanography, resource inventory and cartography; and sharing of expertise in data analysis including algorithm development and modeling is also on agenda.
Collaboration on Moon, Mars, Solar misions
The space agencies will also jointly work together on autonomous navigation of rovers in Moon, Mars and other planets; aero braking technologies for planetary exploration; modeling of Mars and Venus atmosphere; and inflatable systems for Venus exploration. Both sides can embark on complex high technology space science and planetary exploration missions in future.
Further, ISRO and CNES could also look at collaborating on the development of technologies for Liquid Oxygen-methane propulsion engine; reusable launch vehicle (including common experiments on RL V); and special materials, nano-materials, advanced composites, polymers, chemicals, nanotechnologies and manufacturing technologies.
The French agency could also extend help to ISRO in fulfilling its vision of launching humans in space. For this, ISRO and CNES would jointly develop capabilities and critical technologies addressing radiation shielding solutions; personnel hygiene and waste management system; and design of man-in-loop simulators for human space flight as well as Bioastronautics.