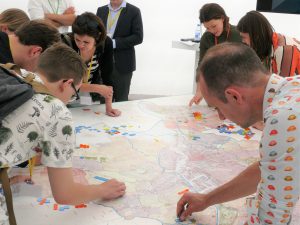 On June 20, 2019, yet another Smart City event took place in Amsterdam Southeast. This year, Inclusive Smart Cities By Design came with an exciting mix of regional initiatives from outside Amsterdam, international contributions from the Joint Research Center (EU) and others.
Transform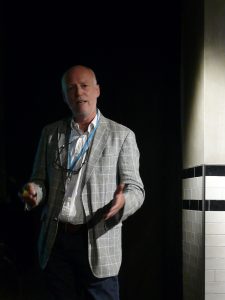 In addition to the usual attention for the ongoing digitization of Amsterdam Southeast, gamification through MineCraft and workshops for students, there also was a regional, dare I say 'provincial', project in the Johan Cruijff ArenA in Amsterdam. Arno Groenendijk, program manager of the regional initiative Transform, talked about a regional approach to the energy transition. Together, the cities of Apeldoorn, Deventer, Zutphen and Zwolle want to speed up and scale up the energy transition. "At least we want to be free from natural gas, but maybe we can even reach the stage of becoming fully energy neutral".
PPP approach
Transform is an area development initiative with a PPP approach (public, private and people). 10,000 rented and private houses from each city have been selected. The collective drew up a long-term financial plan (spanning thirty years) where the energy-related cash flow throughout the area amounts to more than two billion euros. Other relevant cost items, such as renovation and maintenance, are estimated at a minimum of one billion euros.

Read more: OGC using data standards for urban planning
Transition exploitation
At Inclusive Smart Cities By Design, Groenendijk stated: "We approach the energy transition as a (re) development of the area. Transform uses the same tools as seen in area exploitation (GREX): 'old school' city planning and development. Transform designed the transition operation (TREX) especially for the energy transition. Groenendijk explained: "In our search that led to TREX, we were concerned with formulating solid business cases. They should not be 'subsidized or grants-driven hobby projects'." For example, They looked for an integrated new energy / heat supply system for the entire area. In addition, some difficult challenges emerged, such as climate adaptability. By combining the collective demand in the four different areas, Transform wants to break through the lull which is due to a lack of scale at the neighborhood level. "Every resident / homeowner must be able to participate: we do not want an energy poverty gap," said Groenendijk.
The Netherlands in EU policy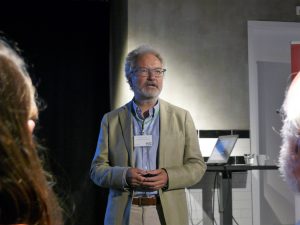 There is a fear that first and foremost the articulate, highly educated citizens with nice energy-efficient homes will benefit the most from proposed EU policies. Max Craglia of the European Commission's Joint Research Centre stated: "How can we switch from generic policy, offering subsidies for upgrading houses, to a working plan that is targeted at those who need it most?" Craglia presented some Dutch examples. "Although I don't speak Dutch, I am still going to show you some striking differences we found in the Dutch housing stock." Then he switched to children. They make up about 30 percent of the population, but a significantly lower number of them is living in detached houses. Many more live in high-rise buildings. Craglia: "In this way we try to better understand the family profile. For example, we try to visualize how good or bad access to education matches the presence of energy-efficient homes."

Read more: 5G and geospatial will together power future cities
The 'real' goals of the energy transition

Craglia continued: "Of course we do not overlook the 'real goals' of the energy transition. It is about fossil versus renewable energy and local energy sources that are difficult to regulate versus the major suppliers". The socio-economic aspects, however, quickly reappeared in Craglia's lines of thought: "We want to facilitate the transition for those who should benefit most. We are thinking of direct financing to realize savings for low-income households. These are the ones who do not have the means or the motivation to isolate their homes. This usually concerns the elderly. What we have also seen is that individual homeowners are harder to reach than the tenants of corporation homes. We therefore think that we've found a gap in the Netherlands, a true challenge: elderly home owners."
Amsterdam Southeast and Ouder-Amstel urban development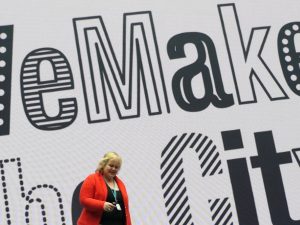 In Amsterdam Southeast and Ouder-Amstel, the population is currently growing by 11,000 a year. Instead of the previously proposed five thousand homes, the municipality of Amsterdam is now planning to build 7,500 homes per year. This can be read in the Koers2025 Roadmap. The long-term ambitions look solid: in 2040 Amsterdam East, Southeast and Ouder-Amstel will have doubled their capacity. Ellen Nieuweboer, project director at the Municipality of Amsterdam explained: "Of course, a livable and truly inclusive smart city also needs schools, hospitals, museums and sports facilities. Furthermore, we are focusing on the arrival of the EMA, the European Medicines Agency. This is not only expected to bring jobs to the region, but also countless interesting congresses, meetings and other exciting events."
Accessibility in transformation

According to Nieuweboer, the accessibility of the Southeast Amsterdam region is currently 'very good'. With more than four hundred large-scale music and sports events a year, usually in the ArenA area, it is proven time and time again that the existing infrastructure can easily handle up to 100,000 visitors at a time. In addition, there are 94,000 residents and around 105,000 work-related movements. "If we look at the transformation that is taking place from now until 2030/2040, you might ask yourself what the consequences are for accessibility and quality of life. Building 50,000 new houses, expanding the entertainment industry and adding extra facilities, office spaces and business spaces. It will be a challenge".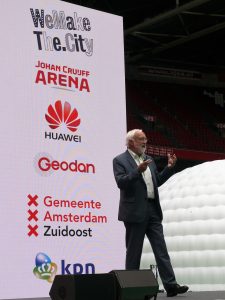 Digital Twin

This is where the digital twin of Amsterdam Southeast comes into play. "We can and must now start using the benefits of such digital twins within smart cities," said Henk Scholten, professor at the VU in Amsterdam and CEO of Geodan. "How do we make the move to the next level? How do we go from data to information to action? We already have the digital transformation of data into adapted information services for stakeholders. In real time. It's called the Amsterdam Dashboard."
Amsterdam Dashboard

In the Amsterdam Dashboard, city processes can be monitored in their own location context. Henk Scholten elaborated: "In addition to live information for citizens, it also offers the municipality itself the possibility to monitor its own processes. How do you develop such a dashboard? From a technical perspective, from a user perspective, from a scientific perspective? Which themes do we want to visualize and how do you do that? Is it purely about the location, or do you also want to show important performance indicators, or graphs and videos?"

Workshops

This edition of Inclusive Smart Cities By Design was part of the week long festival We Make The City in Amsterdam. During the afternoon program, all attendees got the opportunity to work with dashboards, maps and municipality data. They tried out some of the discussed themes in simulated environments. 

Clear and current vision
In his afternoon presentation, Henk van Raan of the Johan Cruijff ArenA emphasized the view of the future that the ArenA sponsors and stakeholders such as KPN, Huawei, Geodan, BAM and Ballast Nedam showed during this event. Give credit where credit's due: let us not forget about the participants. Granted, the presentations where not tehcnical in nature. They didn't have to endure too much of the jargon and newspeak from the world of geo-information and BIM. But then again, they participated actively and they went home with a clear and current vision about the digitization of our society. It's real.

Visit the GeoBIM conference in Amsterdam, November 11-12, 2019