Indian Space Research Organization (ISRO) has a track record of making any government proud with its work and world class achievements. And it's no different for Indian Prime Minister Narendra Modi who takes pride in being known as a space buff. So it doesn't come as a surprise when under his active encouragement ISRO is seen playing its twin roles so successfully —  emerge as a global power in the international space arena and also be the backbone of as many as 150 national building projects at home.
The National Democratic Alliance[ NDA] government led by Modi just completed three years in office in India. As part of its celebrations, the government has gone all out to tell people about its achievements through a number of ways, including rallies, advertisements and press conferences. A series of press briefings were held in national capital delhi to highlight the 

achievements of the Modi government in the last three years. 
ISRO and Department of Science successfully accomplished 36 missions in the last three years. 
This includes 17 launch vehicle missions, 16 satellites mission and 3 technology demonstration mission.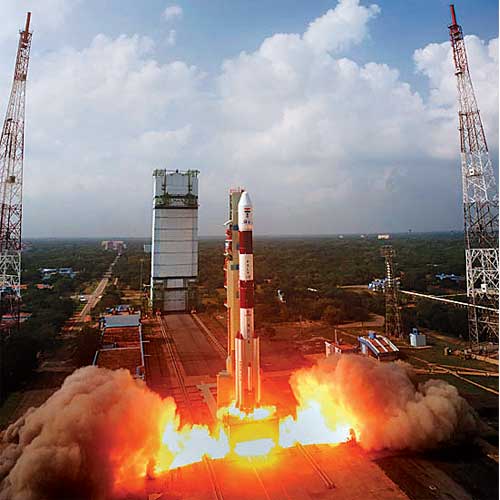 South Asia satellite mission with KU Band with high power transponders has been launched.
Navigation with Indian constellation 'NavIC' has been successfully established for India.
Reusable rocket, scramjet technology demonstration was successfully taken.
ISRO launched a record 104 satellites in one go using PSLV. In the last three years, 145 satellites have been launched by PSLV for 13 countries. 
RESOURCESAT-2A, with three-tier imaging system, for natural resource monitoring was launched.
SCATSAT, for advanced cyclone tracking and ocean studies, was also launched successfully.
Developed an indigenous capability of launching 2-ton satellites with next generation GSLV MK-III. It will reduce foreign dependency for launch. It will be launched in the first week of June.
INSAT-3DR, launched in September, provides frequent weather updates. With INSAT 3D AND INSAT 3DR in orbit, it is possible to get weather updates every 15 minutes. 
Mars orbiter mission has completed two and half years in orbit and continues to perform normally.
Applications of space technology is being used for developmental, infrastructural and disaster management. More than 10 million assets have been tagged under Geo-MNREGA.
Monitoring of drought, floods, and cyclones are also being done.
Monitoring and evaluation of integrated watershed management programme and assessment of solar, wind and wave energy.