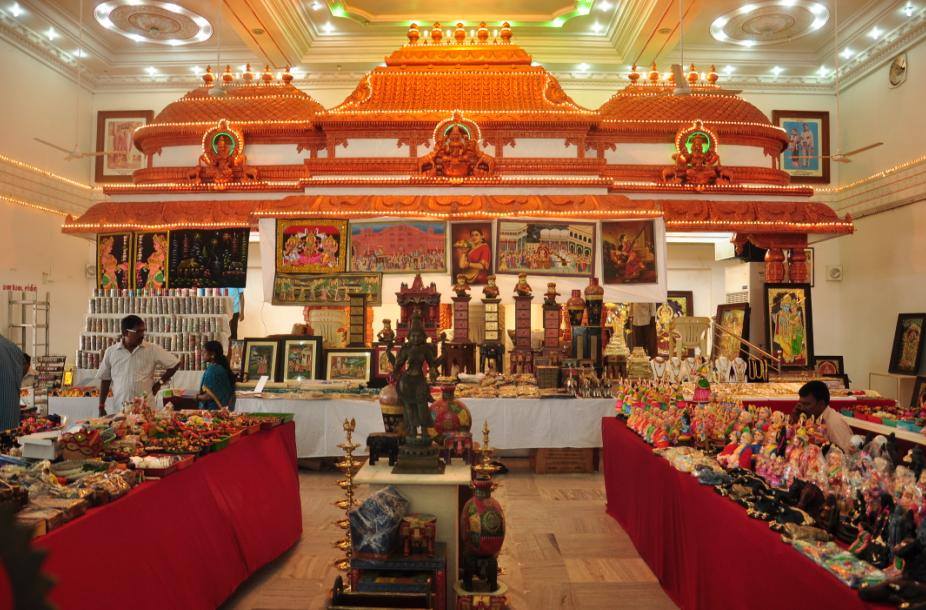 When Dr. Santhosh Babu, IAS, was deputed to the post of Chairman & Managing Director of Tamil Nadu Handicrafts Development Corporation (TNHDC) in 2014, everybody saw it as a 'punishment posting'. Everybody, except Santhosh.
"I get an opportunity to innovate with every new assignment," the medical doctor turned IAS tells Geospatial World on the sidelines of the 20th National conference on e-Governance in Vishakhapatnam.
And innovate he did, propelling TNHDC's commercial marketing brand 'Poompuhar' into e-commerce and social media domains, even as internal efficiencies were improved through geo-tagging of the inventory and installing an ERP driven 'anywhere, anytime' office. All this and more has bagged Tamil Nadu Handicrafts Development Corporation 2017's National e-Governance Award (Silver) for Innovative use of ICT by State Government PSUs.
"The main objective was to enhance the market-responsiveness and cost-effectiveness of the Corporation through optimal use of information and communication technology (ICT). All the key processes like design and production, marketing, and operations needed to be reengineered with some degree of automation," explains Santhosh. Let's find out how…
Design and production
A Design Research and Development Centre has been set-up for the introduction of non-traditional designs using 3D designing and 3D printing techniques. This made-to-order production feature uses plastic molds, which can be used for producing bronze icons.
"3D designing and printing can result in enormous cost savings as the 3D molds once created could be used for multiple production cycles. Also, there is no requirement of space for storage and maintenance of the products because the sales transaction is closed through 3D design and online transfer for 3D printing at customer site," Santhosh tells.
Operations
A comprehensive and dynamically updated Web-based repository of all artisans in Tamil Nadu has been created with dedicated pages to each of the artisans. Of the 200,000+ artisans of the state, more than 60,000 have already become a part of this live-registry and are receiving work orders directly online. This e-Work Order Management also allows for geo-tagged, barcode-based tracking of finished/semi-finished products and inventory.
But, that's not all. "Our integrated ERP, which has been implemented across all seven production centers and 12 sales-cum-showrooms in the country, connects all 128 employees of the Corporation right to the peon level," Santhosh reveals. "Decisions that used to take up to 20 days are now taken in a matter of hours or minutes."
Moreover, CCTV-based monitoring has lead to zero pilferage in showrooms, as against the annual loss of INR 10 lacs (approx) the Corporation was suffering earlier.
Marketing
Most of TNHDC's sales were earlier confined to Tamil Nadu, Delhi and Kolkata. So, Web and app-based digital platforms were created to make the exquisite artifacts available to the world. The effort resulted in sales of additional INR 10 crores within one year, allowing the Corporation to reach out to customers beyond state and national boundaries.
"We are also leveraging virtual reality to enable customers to see the products in 360-degree," tells Santhosh, adding that the government has also tied-up with existing e-commerce giants like Snapdeal, Flipkart, Craftsvilla and IndiaMart.
Meanwhile, the marketing team has been armed with iPads to woo to potential customers. A massive social media campaign has been put in place to create a buzz about Poompuhar on platforms like Facebook, LinkedIn, Twitter, Quora, Pinterest, Google+, etc., ensuring high brand recall value among customers.
With initiatives such as these and more (like mobile-based review system) in the pipeline, Santhosh has transformed not only TNHDC, but his 'punishment posting' also into a lesson in innovation. Watch and learn, folks. Watch and learn.