The COVID-19 has affected the world like nothing else. In the past few months, businesses have faced unforeseen, unheard challenges, which have shaken the ground immensely.
Now with the end of the first quarter of 2020, it is necessary to analyze how the world of business has been faring in this crisis. A detailed analysis of the outcomes can lead to better preparedness for the future. So, let's understand how the Geospatial Industry fared in the first quarter of 2020.

Geospatial Software and Solution Providers – silver lining in the dark cloud?
Be it data gathered from satellites or location-based data, the coronavirus pandemic has made everyone realize the importance of geospatial data and analytics. Geospatial data analytics services have gained lot of prominence amid the doom of the pandemic.
Consequently, as the first quarter results convey, companies involved in the business of geospatial solutions and software could weather the storm of COVID-19 without much difficulty.
For instance, TomTom, a leading location technology specialist saw no material impact on its Enterprise revenue. While its location technology revenue from Automotive decreased from €65.1 million in Q1 of 2019 to €49.8 million in Q1 of 2020, its Enterprise revenue saw an increase from €37.8 million in Q1 of 2019 to €41.5 million in Q1 of 2020 (10% higher). The gross margin for the quarter was 78% compared with 72% in Q1 of 2019. The company's gross margin continues to improve for the company as a result higher proportions of higher margin software and content revenue.
Tomtom's Chief Executive Officer, Harold Goddijn, shared, "Our Automotive revenue arises principally from customer vehicle sales, which are sharply impacted by factory closures. Our Consumer revenue is impacted by a steep decline in demand arising from retail stores being closed, retailers reducing their inventory levels, and people not driving. Recovery will depend on how quickly economic normality is restored, including vehicle production and end-customer demand, which is currently uncertain. The year has started well for Automotive and Enterprise orders, including new business, expansions and extensions to existing deals. Our investments to improve our location technology products are delivering to plan, enabling us to continue executing on our business strategy."
Also Read: 1Spatial releases FY20 Results; Revenue up 33% to £23.4M
Hexagon AB, a global leader in sensor, software and autonomous geospatial solutions, also recorded an organic growth in its software portfolios in the first quarter of 2020. Geospatial Enterprise Solutions (GES) net sales amounted to €453.8 million as compared to €448.7 million in Q1 of 2019.  The company recorded negative organic growth in China and Western Europe whilst the rest of the world grew organically by 4 per cent. The Manufacturing Intelligence and Geosystems divisions were most impacted, recording -14 per cent and -11 per cent organic growth respectively. The PPM and Safety & Infrastructure divisions were more resilient; with PPM recording 8 per cent organic growth, fuelled by solid demand in design and asset information management solutions, and Safety & Infrastructure recording 24 per cent organic growth, supported by a strong demand for its new public safety and geospatial mapping solutions.
On the announcement of the results, Ola Rollén, President and CEO, Hexagon AB, rightly commented, "It is without a doubt a challenging and uncertain environment we experience and it changes daily. Fortunately, Hexagon's strong financial position enables us to continuously develop revolutionary solutions that drive our customers efficiency, productivity and quality." 
Cyient, a global engineering and technology solutions company recorded a growth in its communications and healthcare solutions business domains, while suffering a de-growth in supply chain dependent areas like semiconductor, energy & utilities.
Commenting on the results, Ajay Aggarwal, President & CFO, said,"The revenue for FY20 stood at $625.2Mn(₹44,274Mn)with operating profit of $57Mn(₹4,084Mn) and normalized PAT of $52.2Mn(₹3,727Mn). Our sustained focus on collections led to a robust EBIDTA to FCF conversion of 56.9% and healthy cash balance of ₹9,518Mn. We generated FCF of ₹4,102Mn for the year.
Autodesk, a leader in providing powerful BIM and CAD software tools posted a revenue growth of 20 percent in the first quarter of 2020. Fugro, a leading provider of geo-intelligence and asset integrity solutions for large constructions, infrastructure and natural resources also saw an increase in revenue, driven by strong growth in the Asia-Pacific market.
Good show by these geospatial solution providers in these tough times. The Hardware companies, though, tell a different story.
Also Read: Ola Rollen highlights how automation can lead to a sustainable world
Geospatial Hardware – Facing the lull more
Unlike the software, solution and service companies, geospatial hardware companies witnessed a lull in the first quarter of 2020 primarily due to delayed projects, retail and site closures and supply chain related problems.
Companies specializing in hardware products faced the brunt more. For instance, Faro Technologies, a leading manufacturer of 3D imaging and portable measurement solutions suffered a net loss of $14.8 million, or $0.84 per share, for the first quarter 2020, as compared to net income of $0.2 million, or $0.01 per share, for the first quarter 2019. Total sales were $79.5 million for first quarterof 2020, as compared with $93.6 million for first quarter of 2019. This primarily happened as a result of the continuing soft demand environment in the served markets and the start of COVID-19 related order pushouts witnessed in March. New order bookings were $77.9 million for the first quarter 2020, down 23% as compared to $100.7 million for the first quarter 2019. Gross margin was 55.2% for the first quarter 2020, as compared to 56.6% for the same prior year period.
Michael Burger, President and Chief Executive Officer remains highly optimistic about the coming days as he shared,  "While near-term demand visibility remains challenged due to the global pandemic, to date there has been limited disruption to our manufacturing supply chain and our sales team remains enthusiastic about our new go-to-market strategy. I am optimistic that our new strategy will enable FARO to emerge as a stronger, more efficient business with a highly scalable financial model when the business environment returns to normalized levels."
In case of the Parrot Group (senseFly, Pix4D, MicaSense) as well, the slowdown in commercial activity primarily concerned the hardware (drones and sensors) sales. The software sales, being fully online remained more resilient.

Amid this chaos, Trimble managed to sail through the first quarter of 2020 with less difficulty due to its limited business association with China. Its total revenue in the first quarter saw a dip by just 1 percent compared to the first quarter of 2019, though the Geospatial revenue got down by 9 percent. With cut back on discretionary spending, reduced hiring, and also reduced incentive and commission plans, the company claims to be better prepared for the second quarter. Another important change that has made the company less vulnerable to economic shift is less focus on hardware (90 percent in 2008 to 15 percent now). Trimble's geospatial solutions have been increasingly gaining market share.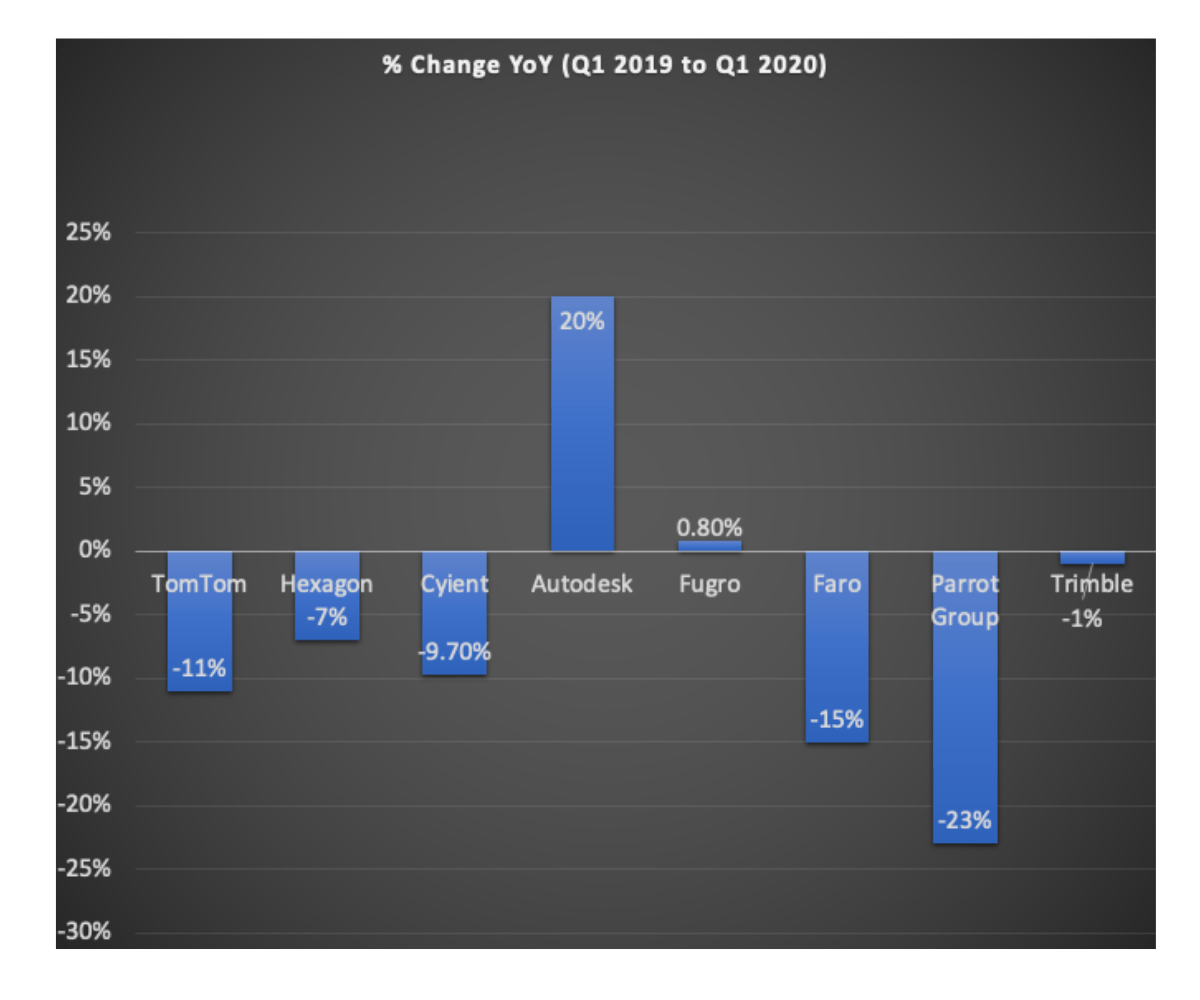 So, overall, it can be safely stated that the COVID-19 pandemic has compelled the geospatial hardware majors to rethink about their business strategies. While almost every business is investing and strategizing to adapt to the new normal, companies with limited or no diversification in their portfolio need to make some quick decisions and change faster. The Spatial analytics business is seeing a new thrust in demand and the geospatial solutions, software and service providers must take advantage of the new business opportunities and scale up. Additionally, bringing in a good product mix along with spreading the business to diverse regions is the way forward.
OUTLOOK FY 2020-2021
At this point, given the uncertainty regarding the severity and duration of the pandemic's economic impact, most of the companies are not in a position to reliably assess or quantify the specific implications on revenue and free cash flow for 2020. The impact of the COVID-19 pandemic, resulting in the closure of factories and retail channels, is causing companies to deviate from the original outlook for 2020.
The Geospatial leaders are preparing to secure the future in these challenging times with an aggressive cost control and optimization plan with primary focus on liquidity and cash. This includes rigorous initiatives on collections, working capital cycles, receivables, payables and discretionary cost control. With modifications to adjust well to the new normal, businesses are hoping to have a better FY 20-21.
Also Read: Geospatial industry has bright future in post-COVID world