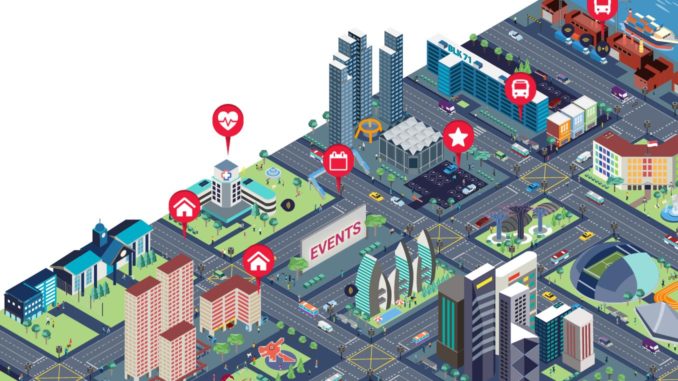 Under it's Smart Nation Initiative, Singapore has embarked on strategic national projects that reduce friction between the government, businesses, and citizens, improving productivity while paying attention to sustainability. One of the initiatives towards this goal is the Singapore Geospatial Master Plan. 
The Master Plan aims at getting the private sector involved with public services, and developing the young to be interested in GIS, geography and location-based services and data. In the long run, the country aims to create an entire ecosystem that will fundamentally function on location-based data. This way, going forward, the Smart Nation will not only be premised on technology but will be really anchored on location technology. 
How location play a role 
Singapore is looking at building a digital twin of the actual environment that will fuse location-based data, and enable public agencies as well as businesses to simulate and build upon the future.
The country is also looking at new technologies like AI, deep learning, Big Data analytics, etc. to be able to make more accurate, fast and efficient decisions, leading to the development of more productive strategies and initiatives for building Smart Nations and Smart Cities. 
Although today a complete picture of Singapore is available in 3D form; in the future, the country is looking at 4D data. The time element is important to enable real-time services, which is key to Smart Nation. 
Read the full story Real-time enabled services key to Smart Nation.
Opportunity to meet with the who's who in Singapore Smart Nation Initiative
At Location World 2019, scheduled to take place from 5-6 September in Singapore, there will be dedicated sessions discussing Smart City initiatives and technology innovations undertaken in Singapore and its neighboring countries. 
Learn how location intelligence is crucial, not only in the planning and operation of a city and its infrastructure but in the design and construction of those structures as well. Make sure you lookout for the following panels at the conference: 
• Building Sustainable Cities through Design 
• Digital Engineering and Automation: Modernizing Smart City Infrastructure 
• Smart City: Redefining Physical, Digital & Social Ecosystem 
• Connected Infrastructure for Driverless Future 
We're gathering Smart City experts and changemakers who want to create more liveable, workable and sustainable communities. Network with them, uncover solutions to common challenges and be among the first to see new location-based smart solutions that are delivering meaningful results. Get involved!