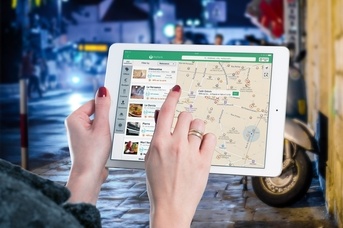 COVID 19 has caused huge devastation to the retail industry especially to non-essential retailers. Shops, malls, online shopping were all shut during the period leading to a huge loss. In such a scenario geospatial technology can be a rescuer as it has helped governments and decision makers during COVID-19. Now when the world has started reopening with the new normal, retail industry too is gearing up for reviving their businesses.
Geospatial Data can help to pinpoint location accompanied by other information to restart their business. This data can help segment customers which are required by businesses for their propensity model as well as serve the customers. Geospatial data can also help in understanding customer buying patterns. This will help organizations to redefine their supply chain strategies, rethink their company operations as well as customer retention strategies. Retailers can use GIS data to find business opportunities and increase their productivity. It can also help to know customer traffic and other demographics data like zip code, phone location, which can help retailers understand the factors that are going to influence their business.
So let's have a look at how geospatial data and analytics can help retailers in making more informed decisions and help them increase their customers base.
Customer Profiling
Geospatial data can help retailers to identify their valuable customers and understand their demographic characteristics and target where new customers with similar demographic characteristics are located. This, in turn, provides them insights about their consumption interests and will allow retailers to design more targeted and personalized marketing strategies for certain region people.
Not only location-based data provide details like name, gender, address, zip code but also offers mobile location information as well as the IP address of the customers. And by using GIS mapping on the collected data, business leaders can create informed insights based on the location-based data and also learn if customers are changing their interests or buying from competitors. This will help in creating a multi-dimensional snapshot of trends to predict sales, design sales territories and much more. Like for example, such data can help in Target Marketing/Direct Mail Knowing and understanding your customers' likes and dislikes are integral to the success of a direct mail campaign.
Pinpointing right location for store
A wrong location can greatly impact business' success especially after COVID 19 scenario. No matter how compelling products or services are wrong choice for a store can be a huge loss. Thus in such a scenario, geospatial can help retailers determine what type of site is right for their store.
Mapping and evaluating for retail site selection involves considering many factors that will help drive sales from consumer demand and traffic patterns to local populations and much more. A retail market mapping tool gives retailers the power to store, quantify, visualize, and manage site data in order to avoid a potentially poor location. With the help of the data, companies can analyse the location and can decide whether to open their stores for that location or not. Also, they will be able to judge and predict their customer demand and experience of that particular location store for better analysis. With geospatial data can blend customer surveys with census data to visualize market penetration, market share, and trade areas. When markets change, it can help plan exit strategies and asset disposal.
Manage Delivery Routes
Amid corona crisis, doorstep delivery of products is a big concern. In this geolocation can help businesses optimizing fleet management. With the help of the technology, companies can handle delivery requests by identifying red and containment zones and thus avoiding such areas.
The technology can better inform schedule requests, arrival and departure times, customer sites, and many other facets of supply chain management. Bring complex data to life with mapping analysis, and connect the dots for shipping and delivery processes.Geosaptial technology has power to enhance the whole supply chain process of retail industry, helping them in create a sustainable model post-COVID world. Retail data can be complicated and therefore mapping them suitably with validations would provide a fresh outlook for business leaders and would help them streamline their shipping and delivery processes.
Identifying competition
Losing customers to the competition can be a huge loss and thus knowing the types of products, promotions, and services will attract profitable customers in your trade area can help create customer loyalty and prevent cannibalization. with geospatial retailers can understand exactly where competitors are in relation to their own facility. Visual representation of the competitors with geolocation data, can help retailers to know more about their competitors' products, marketing strategies, as well as customer footfall, which can provide a competitive edge. In fact, in order to open a new store, location-based data will help retailers to position themselves strategically against their competitors. The technology gives retailers a clear, visual understanding of what is happening in their market, arming them with insights that can drive product development, promotions, and customer loyalty in the face of competition.
These data can also be strategically used to gain new prospective customers and can also retain the older ones. Not only, these unique insights would drive reliable decision making but will also help them understand their customers' sense of loyalty.
Also Read: COVID-19: When a crisis becomes a catalyst for change