The global Aerial Imaging Industry is growing at a robust speed ever since existing mapping technology is updated. Existing companies are focusing on strategic collaborations along with improvement in salient features such as volume based calculations, urban planning, and route designing along with intelligence surveillance. Currently, EagleView Technologies, Inc., NRC Group ASA, Nearmap Ltd., and Fugro N.V, hold about one-third of the market revenue. Their extensive network distribution in major geographies will enable them retain their stronghold in the global aerial imaging market in the coming years. Furthermore, these companies are likely to gain from the increasing demand for aerial imaging services in the coming years.
Other players operating in the global aerial imaging solutions market are Kucera International Inc., Landiscor Real Estate Mapping, GeoVantage Inc., Cooper Aerial Surveys Co., Digital Aerial Solutions LLC, 3D Robotics, DroneDeploy, Airobotics, and others.
Also Read: What are outputs of aerial surveying using drone?
According to a report published by Fortune Business Insights, titled" Aerial Imaging Market: Global Market Analysis, Insights, and Forecast, 2018 – 2025", the global aerial imaging technology market was valued at US$ 1,439.3 Mn in 2017 and is likely to reach an estimated value of US$ 4,125.2 Mn by the end of 2025, exhibiting CAGR of 14.2% between 2018 and 2025. The UAV/drones segment held an approximate of 45.7% of the global market for aerial mapping in 2017 and is anticipated to be the fastest growing segment in terms of platform.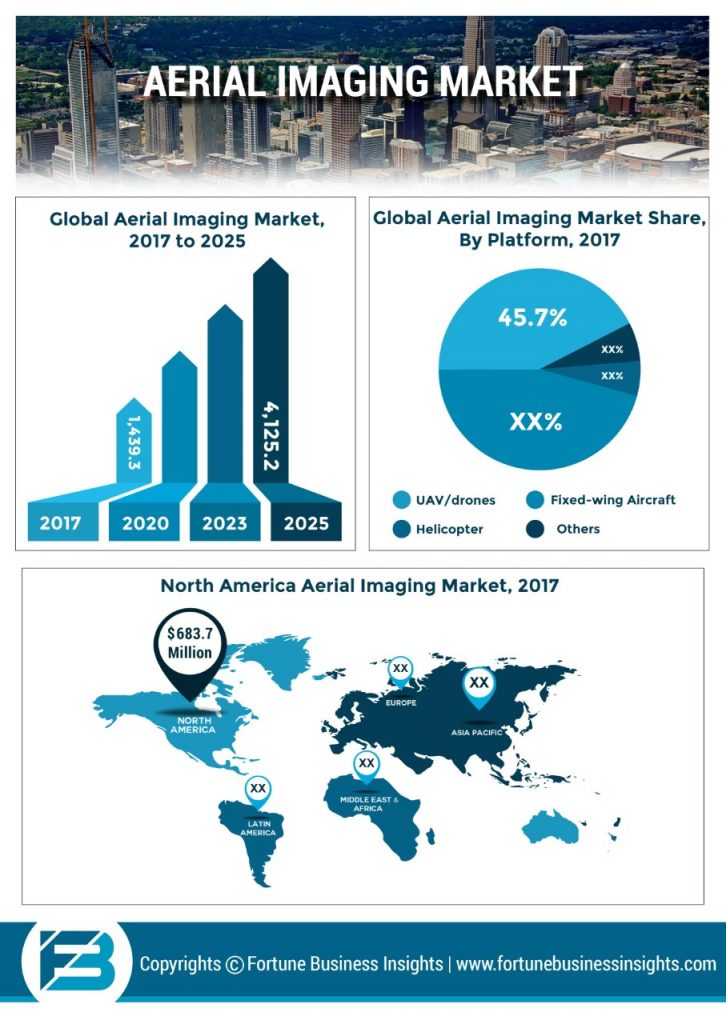 On the basis of camera orientation, the market for aerial imaging services is bifurcated into vertical and oblique. Among these, the oblique imaging segment is prognosticated to exhibit a healthy growth rate over the forecast period. This is owing to the fact that aerial photographs are capable of reducing the cost involved in planning, mapping, and inventorying. Based on end-use industry, the global market for aerial imaging is divided into civil engineering, insurance, defense, agriculture and forestry, government, energy sector, real estate, and others. Among these, the real estate and government sectors are likely lead the industry during the forecast period.
Increasing Adoption of PAMS to Help Worldwide Market for Aerial Photography Grow
One of the major factors creating growth opportunities in the aerial imaging solutions market is the increase in construction and development activities. In addition to this, the growing need for resource and energy management will fuel the demand for aerial imaging services, thereby giving impetus to the market. This, coupled with the rising adoption of personal aerial mapping systems or PAMS, will create growth opportunities for the global aerial imaging market. Aerial photography and videography is now being used for archaeological research in order to study historical sites and ancient landscapes, where oblique or vertical aerial images are captured.
Aerial photography finds application in property advertising. Aerial photography is creative and cost-efficient and is being used by buyers and sellers of the real estate, and this, according to Fortune Business Insights will help the market to gain momentum in the coming years.
Use of UAVS for Aerial Photography in Agriculture and Forestry Industry to Increase Growth Opportunities in Asia Pacific
The global aerial imaging technology market is dominated by North America with a market valuation of US$ 683.7 Mn as per the 2017 reports. This region is likely to continue dominating the market in future owing to the rising implementation of aerial imaging in agricultural and forestry industries. Besides this, the market for aerial imaging resources in North America is anticipated to exhibit faster growth rate because of the implementation of innovative platforms such as UAVs and drones in order to gather required data from high resolution aerial image captured.
Furthermore, the rising awareness regarding the advantages of aerial imaging for urban planning, surveillance, and monitoring, and disaster management, coupled with, the increasing affordability of capturing aerial images is prognosticated to create lucrative opportunities in Asia Pacific.
Note: This is a guest blog by Vijay Durge, Team Lead, Fortune Business Insights. 
Also Read: Higher accuracy in aerial imagery? Topodrone and Matrix Geo collaborate for an answer