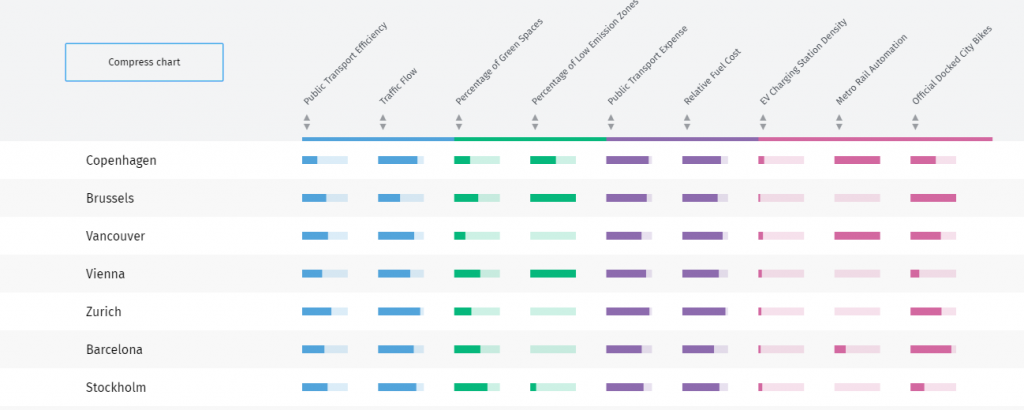 HERE has launched a new Urban Mobility Index that assesses the mobility of leading cities and tells us about the infrastructural preparedness of the cities for the future. It provides policymakers and transportation experts with a detailed view of the transportation capability and patterns of the city. In the age of interconnected technological advances in the modes of transportation, mobility will be the lifeline of a city.
HERE Urban Mobility Index provides an overview of mobility across more than 35 of the world's major cities. The index is based on 4 parameters: Connectivity, affordability, Sustainability and Innovation.
Connectivity index focusses on public transport frequency, efficiency and congestion. Public transport efficiency takes into account the areas in a city that are well connected to public transport and areas with poor connectivity. The gap is mostly due to economic differences or commercial activities in the area.
Sustainability parameter monitors greenspaces in a city and low emission zones. The percentage of a city area that is covered by greenspaces is calculated.
Affordability is the cost of tickets of public transport as compared to the percentage of average income in the countries.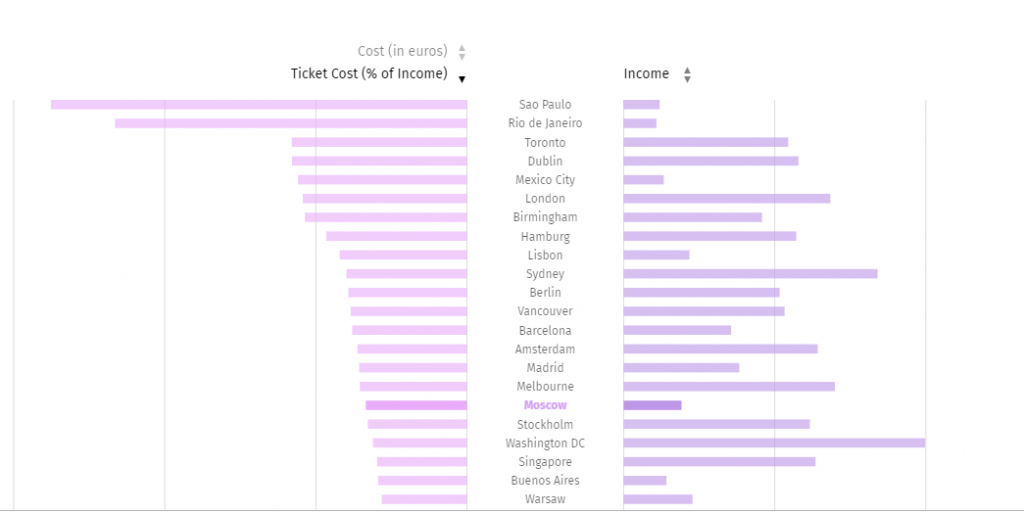 Innovation parameter ranks cities according to the new technological developments there for becoming a smart city.
For reducing carbon emissions, electric vehicles are gaining popularity. Smart cities would have to adapt themselves for EV bikes and cabs which would be alternative low pollution mobility. The presence of EV charging stations in a city is essential to meet the demands.
Also Read: 6 ways autonomous vehicles could impact our lives
It also includes the percentage of a city's metro rail system automated to Grade-of-Automation 3 or 4 and the number of electric bikes per 1000 residents in a city.
The index uses HERE Reality Index as well as open source data, including traffic analysis, mobility management and smart city technology to create fourteen indicators that measure all aspects related to a city's mobility.

The Urban Mobility Index can help in better planning operations for infrastructure management, relieve congestion and help us gain an understanding of the road network. Using HERE data we can also make real-time traffic predictions
Smart cities of the future will deploy location intelligence data to gain insight from data sources to understand how commuters move in a city. It will also be used to monitor traffic congestion and ease it. It will also be used to monitor traffic congestion and ease it. The insights would be useful to cater to the demands of an expanding urban area and to support economies, enhance the quality of life and improve driver safety.
Location is at the heart of all decision making, keeping roads safer and cleaner and facilitating governments and private companies to coordinate and cooperate efficiently. HERE location platform offers a uniquely complete location data set in a flexible framework that can adapt to complex needs.
Also Read: 5 futuristic transportation technologies that will transform the world