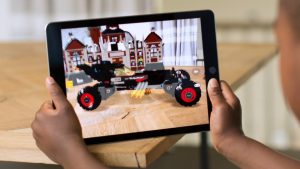 Finally, after a long wait, Apple's latest iPhones 8 and X are now out of the box, not to mention being a talk of the town and breaking headlines all over. There are much-updated features in these latest versions. But, one that is tickling the technology world is the augmented reality feature in it. Yes, you heard it right. The mobile giant is now making AR accessible to masses (or classes? As it's way too expensive). The idea is to allow users to interact with a real-world environment, giving the impression that the digital world and real-world surroundings have combined. With this feature, users of Apple's new iPhones will be able to use apps that make real world tasks such as measurements easier and more precise. One can also use this to play games that change animatedly based on real world elements captured from his immediate surroundings. A demo to the same was given in the unveiling celebration of Apple's new launches last night.

Video Credit- Mirror
ARKit is the Key to AR
Both new iPhones have upgraded software iOS 11 that has ARKit and this ARKit is the key to get into the world of Augmented Reality. ARKit allows users to create unparalleled augmented reality experiences for iPhone and iPad. By blending digital objects and information with the environment around, ARKit takes apps beyond the screen, freeing them to interact with the real world in entirely new ways.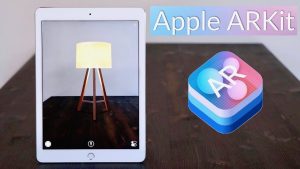 Visual Inertial Odometry (VIO) enables ARKit to track the world around it accurately by fusing together camera sensor data and CoreMotion data. When these two are combined, the device senses moves within a room with a high degree of accuracy, that too without any additional calibration.
ARKit allows iPhone to analyze the scene presented by camera view which is TrueDepth Camera to track horizontal planes like tables and floors and place objects on smaller feature points as well. For this camera, sensors help to estimate the total amount of light available in a scene and thus applies the correct amount of lighting to virtual objects. ARKit runs on the Apple A9, A10, and A11 processors to understand and build detailed and compelling virtual content on top of real-world scenes.