US have the lone distinction in the developed world in the case of private gun ownership. The country has more guns than the number of citizens and with the unfettered laissez-faire trade in guns, one just has to walk into the nearest supermarket and purchase a pistol, handgun, shotgun or a semi-automatic rifle of his choice( fully automatic rifles or machine guns are not legally permitted since 1986). In per capita gun ownership, US are second to none. Mass shootouts in schools, shopping complexes and theatres are also a peculiar US problem.
In the wake of the ghastly mass shootout in Las Vegas, the most gruesome shootout in the American history, more than 70 people lost their lives and close to 500 were injured. Stephen Paddock, the perpetrator of the massacre, legally bought 33 semi-automatic weapons.
Gun control is a hotly contested debate in the US and one that polarizes the country. The right to bear firearms is constitutionally enshrined under the Second Amendment of the US constitution and that makes regulating guns all the more difficult, as state intervention in gun ownership is deemed as infringement of citizens liberty by large sections.
Gun Dealers in the USA
There are approximately 65,000 gun dealers across USA.
A mapping project by the data visualization company 1point21 Interactive puts this figure into perspective by comparing it with something a lot of Americans love to savour- Starbucks coffee.
Upon entering the zip code, a tool called "Firearms + Frappuccinos" maps the locations of gun dealers (in pink), mass shootings (in yellow), and Starbucks (in green)
The gun shop location data was provided by the ATF, while the Starbucks locations were given by open data company Socrata .
Mapping gun stores with Starbucks coffee
Here are the maps of six major US cities, including Las Vegas
The mapping project attempts to highlight how entrenched the gun menace in USA is, and also how the lax attitude towards guns have made them a part and parcel of the American life, especially in the southern states and the midwest.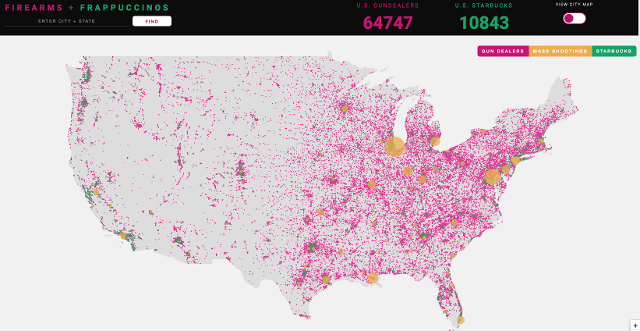 "There are more gun dealers in the U.S. than grocery stores (37,716), McDonald's (14,098), total coffee shops (55,246), and almost 6 for every Starbucks (10,843). If you include gun collectors, manufacturers, and importers (138,659 as of December 2015), there are more gun dealers in the U.S. than there are pharmacies (67,000) or public schools (98,328),the report said.
Las Vegas, the city famed for its glittering casinos, has equal number of gun stores and Starbucks outlets. The state of Nevada has very liberal gun laws and it strongly resisted regulations.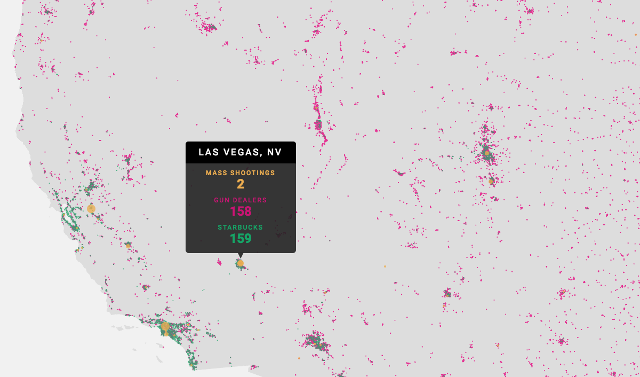 Starbucks in Las Vegas: 159
Gun dealers in Las Vegas: 158
Mass shootings in Las Vegas in 2015: 2
In Nevada, there were 14.9 gun deaths per 100,000 people in 2015, above the national average of 11.1.
The state does not asks for permits to buy rifles, shotguns, or handguns, and firearms can be brandished openly. Residents are not required to register their weapons with the state or obtain a gun license either.
Moreover, Nevada has a "stand-your-ground" law, which enables people to use deadly force against someone who attacks them, even if that person is unarmed.
Under the supervision of a parent or guardian, children 14 years and older can also handle rifles or shotguns.
California, unlike a lot of other states, mandates that all gun sales require a thorough background check. There are still a large number of gun dealers in Los Angeles, but not as many as there are Starbucks.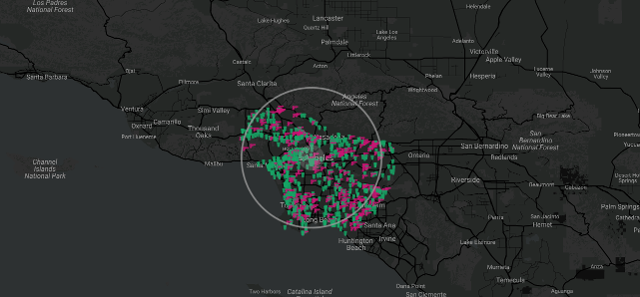 Starbucks in Los Angeles: 530
Gun dealers in Los Angeles: 230
Mass shootings in Los Angeles in 2015: 4
Most heavy-duty assault weapons and heavy capacity magazines are also banned in California.
Lousiana has some of the most liberal gun laws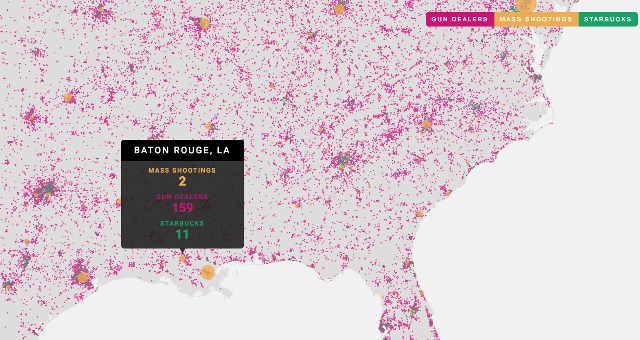 Starbucks in Baton Rouge: 11
Gun dealers in Baton Rouge: 2
Mass shootings in Baton Rouge in 2015: 2
Starbucks in Baker: 10
Gun dealers in Baker: 147
Mass shootings in Baker in 2015: 1
Baltimore, Maryland has about 40 more gun dealers than Starbucks locations.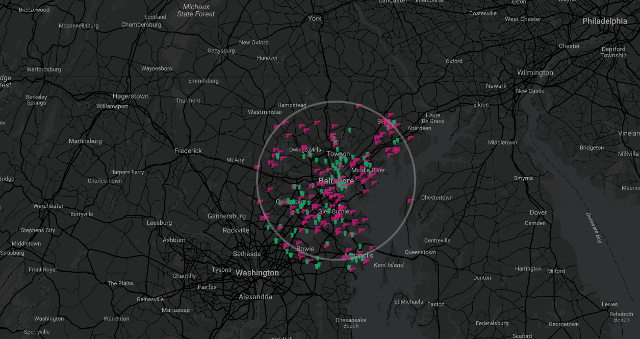 Starbucks in Baltimore: 110
Gun dealers in Baltimore: 156
Gun dealers in Baltimore in 2015: 10
Chicago has 1 gun shop for every 3 Starbucks. The state of Illinois has relatively strict gun laws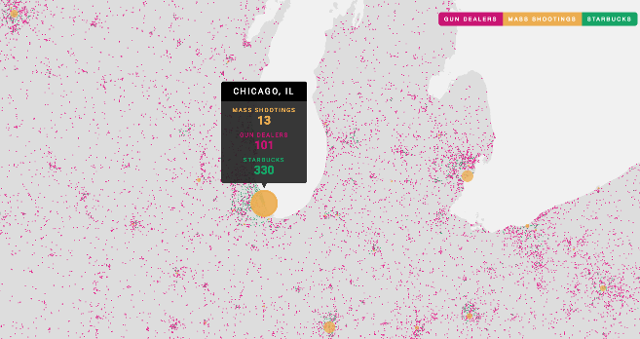 Starbucks in Chicago: 330
Gun dealers in Chicago: 101
Mass shootings in Chicago in 2015: 13
New York City– nicknamed the Big Apple– has relatively strict gun laws, there are about two Starbucks for every gun dealer.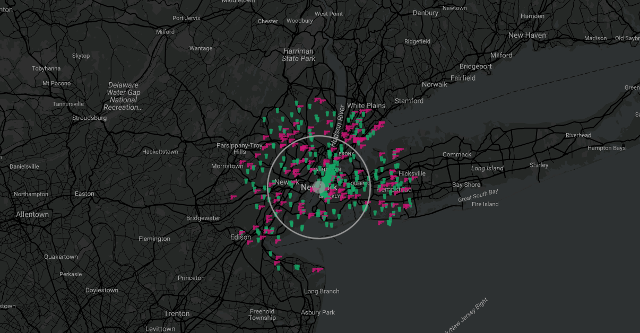 Starbucks in NYC: 1,646
Gun dealers in NYC: 711
Mass shootings in NYC in 2015: 11
The sale of assault rifles was banned in New York state in 2013
Starbucks has around 10,843 locations across the US. This means that for every Starbucks, there are nearly six gun stores. Exceptionally and uniquely American!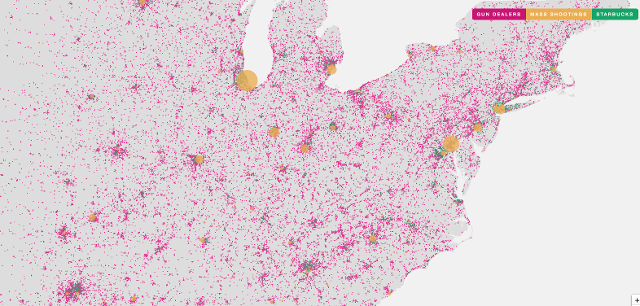 USA is home to 4.4% of the worlds population and has more than 50% of the civilian-held guns in the world.