Combatting air pollution requires relentless efforts at multiple levels and accurate modelling and data gathering, as pollution varies from place to place, city to city and even at different locations within a city, pollution levels are often not same. Google has joined hands with Aclima to map local air pollution throughout California using Google Street View Cars.
Mapping hyper local air pollution
Google has begun understanding the possibilities of highly localized information and has just started sharing the observations of the 3 regions that were mapped: Los Angeles, San Francisco Bay Area and California's central valley. In its official blog, Google said that this information will be of immense value to scientists and air quality experts, enabling them to work on further improving air quality and developing new sustainable solutions to tackle the menace of pollution.
In the heat maps, Nitrogen Dioxide (NO2) levels across the 3 regions have been highlighted by Blue and Yellow. Blue denotes that NO2 levels are low, while Yellow denotes high levels.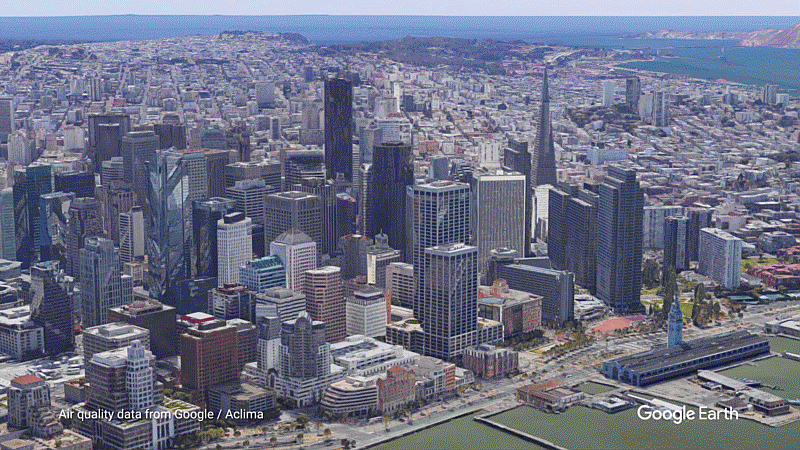 Over the last three months, Street View cars mapped air quality in different areas of Los Angeles, including all areas from urban to residential, inland to the Pacific Ocean, and areas near major freeways, ports, or refineries. The measurements very clearly highlight that the larger pattern of air pollution is influenced by a number of factors and pollution from freeways to highly congested roads.
As compared to Los Angeles, San Fransisco Bay Area has a higher population density. A large chunk of pollution is caused by vehicles, construction and industrial emissions. The measurements very clearly demonstrate that the pollution patterns are impacted by both local sources as well as motley distributed sources.
California's Central Valley is predominantly rural with agriculture being the mainstay, but it is also home to cities and urban settlements. Interstate 5 and Interstate 99 are two major traffic corridors that run through the entire region, connecting Northern and Southern California. Interstate and regional traffic, along with industry and agriculture, are the primary sources of air pollution in this region. Topography can trap air pollution between the coast and the Sierra Nevada mountain ranges, resulting in chronic ozone and particulate matter levels that exceed recommended public health standards.
The Google Blog writes that "So Far, we have measured over one billion air quality data points but this is just the beginning—and now air quality scientists can request access to the data. Air quality impacts our planet and our health—and we hope this information helps us build smarter more sustainable cities, reduce climate-changing greenhouse gases and improve air quality for a healthier living."