Do you remember a few months back we had told you about a Google and Levi's smart jacket? Yes, The one which has been specially designed for bikers and cyclers. So, if you were eagerly waiting to own this stylish techy jacket, your wait is over now. It will be available in the market from tomorrow at just $350.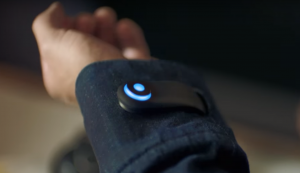 For now, the jacket will be available in selected stores in New York, Boston and West Hollywood. From October 2 the jacket will be available online but in selected Levi's stores. So, rest of the world still needs to wait for some more time. The jacket was launched by Google at last year's Google I/O developer conference. It is a modern version of denim, interactive and yet authentic.
Also, Read – Google has a Map up its smart jacket's sleeve!
The jacket is part of Google's Project Jacquard, a division of the company's Advanced Technology and Projects. It is tailor-made for cyclists and bikers who want to get map updates, listen to music, receive messages, etc. Though developed by Google, the jacket can be paired with iPhones as well.
The idea behind the Levi's Commuter Trucker jacket is to see how people will react to wearable technology fixed in their clothing. Will they welcome it or discard it, the time will only tell.
WATCH: What it is all about. 
The Technology in Detail
The jacquard's conductive fiber does the trick. These fibers are woven directly into clothing. So when you move the left cuff of the jacket's sleeve registers touch inputs just like a screen. Those inputs are then sent to the smartphone via a Bluetooth attachment that clips on as a cufflink. The conductive fibers are flexible and can be washed. However, the actual electronics are handled by the cufflink and they need to be removed before laundry. The software of the smart connected jacket is pretty clean and customizable. Just tap on any one of
What is Project Jacquard?
Project Jacquard is part of Google's ATAP. The technology makes it possible to weave touch and gesture interactivity into any textile using standard, industrial looms. With this, everyday objects such as clothes and furniture can be transformed into interactive surfaces.Project Jacquard uses conductive yarns. These yarn combines thin, metallic alloys with natural and synthetic yarns like cotton, polyester, or silk, making the yarn strong enough to be woven on any industrial loom. That makes the fabric area touch and gesture-sensitive.