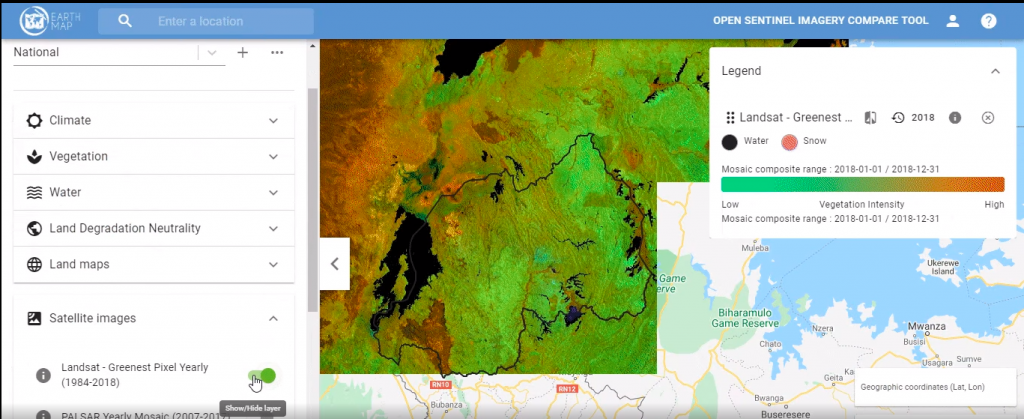 Google and the Food and Agriculture Organization (FAO) have partnered to launch a new tool that provides access to multidimensional maps and statistics showing key climate and environmental trends. Called Earth Map, the tool draws on the processing power of Google Earth Engine, while drawing in data such as the Collect Earth platform for forest and land cover assessments (jointly developed by Google and FAO again) and the recently launched FAO Hand-in-Hand geospatial platform.
Earth Map can go a long way in supporting countries, research institutes, farmers as well as the general public to monitor their land, allows easy visualization, processing and analysis of satellite imagery and global datasets on climate, vegetation, fires, biodiversity, geo-social and other topics. Since it is free and open-source, and doesn't require users to have prior knowledge of remote sensing or GIS, it is expected to make it easy for developing countries who often lack technical capacities, ultimately paving the way for smallholders to contribute to as well as access critical knowledge to sustain their livelihoods.

ALSO READ: The burning Arctic, pandemics and the need for a green recovery
Further, users don't need to download and can process large volumes of data on the interface itself. Besides, its real-time capacities and frequent updates also serve the purpose of a dashboard. The data available ranges from temperature to precipitation, population, vegetation, evapotranspiration, elevation and soil. Users can also find datasets about yearly fire occurrence and burned areas, and about anomalies related to evapotranspiration. Earth Map also features satellite imagery from the Landsat, ALOS PALSAR, Sentinel 1 and Sentinel 2 missions.
Earth Map's data is divided into thematic groups (Climate, Geosocial, Vegetation, Land Degradation Neutrality, Water, Satellite images, Land maps, Forestry, Fire, Geophysical, Soil and Biodiversity) and allows the user to visualize layers (maps) and to generate statistics to describe the areas of interest. Some of these layers (such as the European Space Agency's Climate Change Initiative Land Cover, the Global Forest Change tree cover loss, Nightlights, and others) allow users to access multiple time periods. Earth Map thereby gives users both a temporal (accessing time series data) and a spatial (visualizing maps) perspective to their areas of interest.
"I am convinced that transforming our food systems to feed the world will be achieved with a digital agriculture. We need to make digital technologies accessible to everyone," FAO Director-General QU Dongyu said in a statement.
"At a time when environmental and societal challenges are paramount, we strive for Google's products to enable all countries with equal access to the latest technology in support of global climate action and sustainable development," said Rebecca Moore, Director, Google Earth. "FAO knows what information is needed, we specialize in information accessibility, and both of us are committed to boosting the resilience of people and communities worldwide."
ALSO READ: 58% of Earth's land under intense human pressure, finds WWF report
The partnership had started back in 2015 with the two organizations signing an agreement on the sidelines of the Paris Agreement. The aim was to make geospatial tracking and mapping products more accessible to countries tackling climate change and greater capacity to experts developing forest and land-use policies, and later rapidly expanding into areas such as biodiversity conservation, pest control and water management.
Earth Map will also provide integrative synergies with the federated FAO's Hand-in-Hand geospatial platform, which is a more comprehensive tool to provide Members, their partners and donors with the means to identify and execute highly-targeted rural development initiatives with multiple goals ranging from climate adaptation and mitigation to socio-economic resilience.
More than 50 countries have already benefited from the FAO-Google tools and FAO already leverages the technology to prepare and monitor projects and help Members apply for grants from entities such as the Green Climate Fund and the World Bank, including projects in Armenia, Georgia, Kazakhstan, Kyrgyzstan, Myanmar, Pakistan, the Philippines and Uzbekistan.