So Google has accepted that it is tracking you 24×7, and that it was not clear about its communication. The search engine giant revised a detailed description on its website enumerating how "Location History" setting works and clarifying that it continues to track users even if they have disabled the setting.
The clarification came just three days after Associated Press's investigative report on how Google is tracking your location even when you have turned off your location history.
Incidentally, the Location History setting of its help page states: "This setting does not affect other location services on your device." Google has also acknowledged that some location data may be saved as part of your activity on other services, like Search and Maps.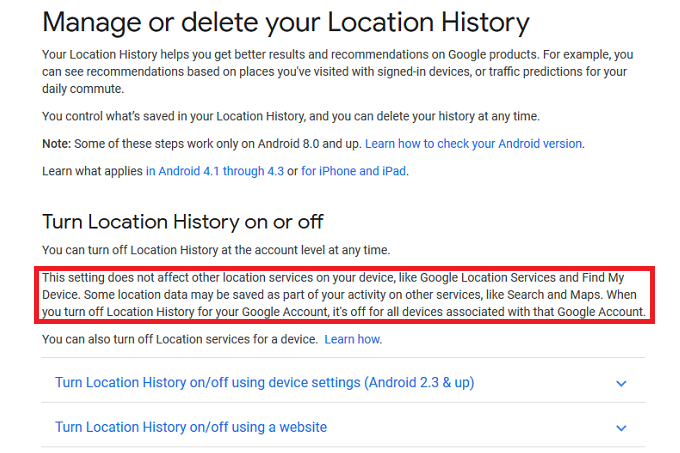 In the previous setting the page said: "With Location History off, the places you go are no longer stored."
In a recent statement to the AP, Google said: "We have been updating the explanatory language about Location History to make it more consistent and clear across our platforms and help centers."
This statement was in contrast to its previous statement that said: "We provide clear descriptions of these tools."
Interestingly, Google had entered with a 20-year agreement with the Federal Trade Commission (FTC) in 2011. According to the agreement Google cannot misrepresent to consumers about how they can protect their privacy.
This agreement was made at the backdrop of FTC investigation on its now-defunct social networking service Google Buzz, which the agency accused of publicly revealing users' most frequent Gmail contacts.
However, Google was fined with a whopping $22.5 million for breaching the agreement after it served some users of Apple's Safari browser so-called tracking cookies in violation of settings that were meant to prevent that.
Also Read: Did you know Google is tracking you 24×7? Here is how you can stop it
Google asked to explain its case
Google's recent revelation has also instigated the Oireachtas Communications Committee that has asked Google to present their case. The chair of the committee, Hildegarde Naughton of Fine Gael, has written to the Data Protection Commissioner calling for an investigation into Google's location tracking.
Having serious concerns over how this revelation is going to adhere to European General Data Protection Regulation, Naughton said, "GDPR mandates that data — and an individual's location is certainly data — can only be shared with a legitimate purpose and proper consent. Given recent revelations that disabling location settings does not prevent your location being shared with Google and its advertisers, it is not clear to me how Google are in compliance with GDPR principles of consent."
"European citizens have a right to privacy and I am determined to ensure that it is protected," she said.
All that is not grin
Interestingly, in the past security agencies have used Google's location data to track criminal activities.  Amidst this controversy Fobes in a report mentioned that during March and April of 2018, the police were investigating a spate of robberies of small businesses in the Portland area in the US.
A suspect was eventually caught and this month pleaded guilty to 11 of the 14 robberies or attempted robberies.
But in the early stage of the investigation, the FBI issued a search warrant asking Google to hand over data that would identify people using its location services on a mobile device near two or more of the locations of the robberies.
The police were interested in only users who had been at at least two locations within specified timeframes. Such general searches, she added, are prohibited under the US Constitution.
"Having such a broad search means that more and more innocent people – people who have not done anything wrong — were going to have their personal data swept up and turned over to the government," said Zachary Heiden, a lawyer at the American Civil Liberties Union.
This example leaves us pondering as to what is more important security or privacy. The jury is still on.
Also Read: What will be the impact of GDPR on location data?