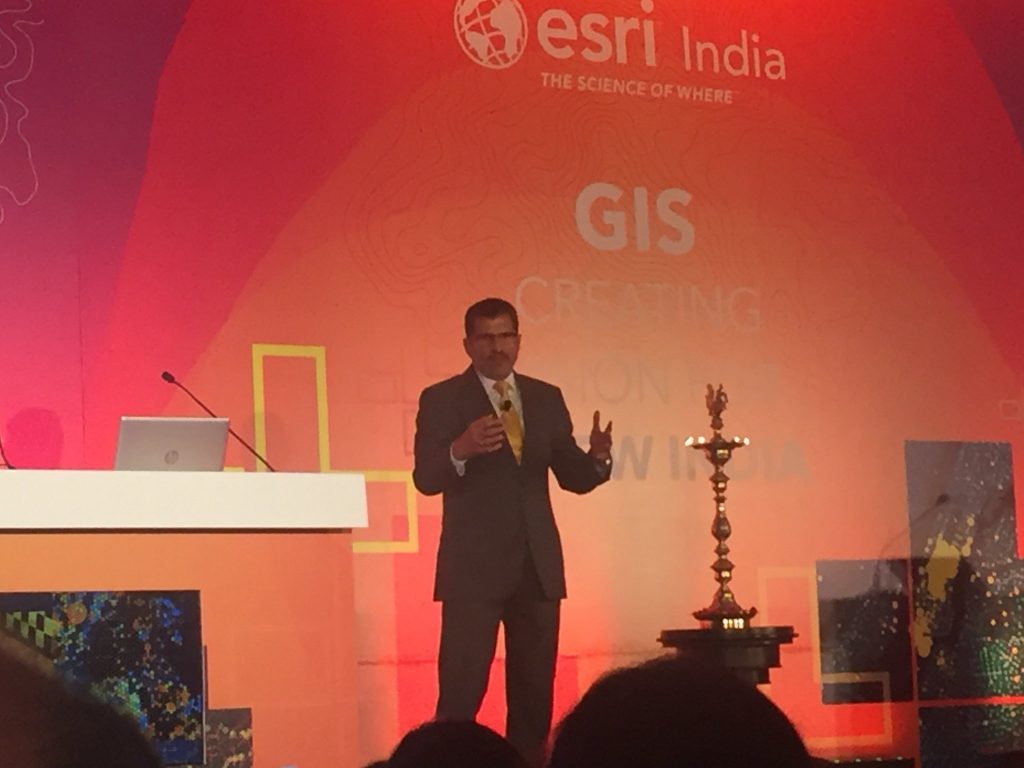 India has designed a vision to change and emerge as a nation which is driven by technology. To realize its dream the country has designed a Vision "New India" plan where GIS along with other emerging technologies like Artificial Intelligence, Internet of Things Machine learning, etc. has a great role to play. Emphasizing the same Esri India User Conference Kicks off in India's National Capital Region, Gurugram.
The Esri UC is the biggest gathering of GIS professionals united by a common goal of making the world a better place through innovative applications of GIS technology.
In the opening session Agendra Kumar, President of Esri India highlighted the Strategies to develop a New India by 2022. These are,
Every citizen should experience tangible benefits of development in the form of ease of living
Embracing new technologies, foster innovation and upskill this means to develop the nation on a broader level including all states and region. Modernizing agriculture and making India a formal economy facilitating investment and innovation.
Bridge the gap between public and private sector performance.
The central government's 'New India' vision is a movement to transform the nation by 2022. It is a novel initiative that envisions an India which is clean, healthy, secure, inclusive and robust. The government has designed several plans like Digital India, Smart Cities and Skill Development to create a sustainable base for taking this development into the next decade. Geospatial technology provides real-time data and an efficient processing system that facilitates effective, efficient and informed decision-making. Integration of geospatial technology in the 'New India' vision will enable the development of applications that have the potential to revolutionize workflows across industries.
Kumar further said, "GIS is a framework and process for applied sustainable development. It is a platform for Vision New India which connects citizens, research and academia, government, international organization on a platform so that they can come together and develop the vision in a collaborative way."
Jack Dangermond, President of Esri in a video addressal also focused on the importance of GIS for developing new India. Dangermond said, "GIS is the best build a country which is sustainable, connected and resilient." It not just helps to pinpoint problems but also helps to design and provide solutions to those problems. "The world is facing enormous challenges from climate to change to manmade disaster. To face them the world needs answer which can only be provided by GIS," he added further.
Dean Angelides, Corporate Director, International Operations, Esri Inc. highlighted the importance of geography in developing the word. He said geography is the science of our world, providing us content and context and a common reference system. It helps us to see complexities, relationships, pattern and associations, etc. bringing it all together, helping us understand and intelligently respond. It is impacting our everyday life, helping us to understand our needs, respond in disaster situation, and build a sustainable society. It is the best tool to connect citizens."
Talking about digital technologies, Dean said digital technologies are transforming our world, enabling human to be enormously successful and accelerating everything. They are advancing our civilization changing how we think  to reshape our civilization.
He further added, "The world needs a nervous system an intelligent and responsive platform to create more understanding, collaboration and action."
The Plenary session of the conference also focused on using GIS for creating New India.
Kunal Kumar, IAS, Joint Secretary and Mission Director of India's smart cities Mission, Ministry of housing and urban affairs said, "India is a country of diversities, here each and every city are different and have uniqueness thus one plan for developing smart city in India will never work. The country requires to contextualize the need of development."
"Smart city is about leadership from common people, communities and citizens. In this data has great role to play," he added further. Kumar also gave a glimpse of how the country is using GIS for developing smart cities.
Vishnu Chandra, DDG and group head of Remote Sensing and GIS, utility mapping and urban development and Additional Financial Advisor of National Informatics Centre(NIC) highlighted the how GIS and other emerging technologies are helping India to be a "Digital India". 
Chandra said, "GIS is enabling the transformation for New India by providing end to end service delivery covering workflows, business activities, processes, competencies and models to fully leverage changes in planning and decision making."
NIC has created Multi-Layer GIS Platform named "Bharat Maps" which depicts core foundation data as "NICMAPS", an integrated base map service using 1:50,000 scale reference data from Survey of India, ISRO, FSI, RGI and so on. This encompasses 23 layers containing administrative boundaries, transport layers such as roads & railways, forest layer, settlement locations etc., including terrain map services.
The two-day summit also hosted, Imagery summit
With the title "Imagery – Where GIS Success Begins" the session is dedicated to enhance the knowledge of how remote sensing can bring a new understanding of the world within the framework of a modern GIS. In this session attendees discovered how the ArcGIS Imagery Platform, ENVI and SARScape can help to harness this tsunami of geospatial information to drive success with your GIS.
Developer Summit designed to show how to build cutting-edge apps using advanced mapping technology. The summit has everything one needs to know for building next-generation apps with advanced mapping and analysis tools from Esri
WhereNext Summit where participants discovered how business organizations are using location intelligence to gain a competitive edge. The Summit is designed for strategy and planning heads, director, program manager of BI, analytics head, supply chain heads, technology and innovation heads, IT heads, CIOs, CTOs, etc.
In a two event, Esri GIS users from across sectors gathered to learn, network and share their experiences. Like every year, this year too, the User Conference experience is reached out to three cities of India – Hyderabad, Kolkata and Delhi National Capital Region. In the conference, leading Esri and industry experts will showcase innovative, real-world GIS applications.
ALSO READ: Eight emerging technologies that could impact geospatial industry