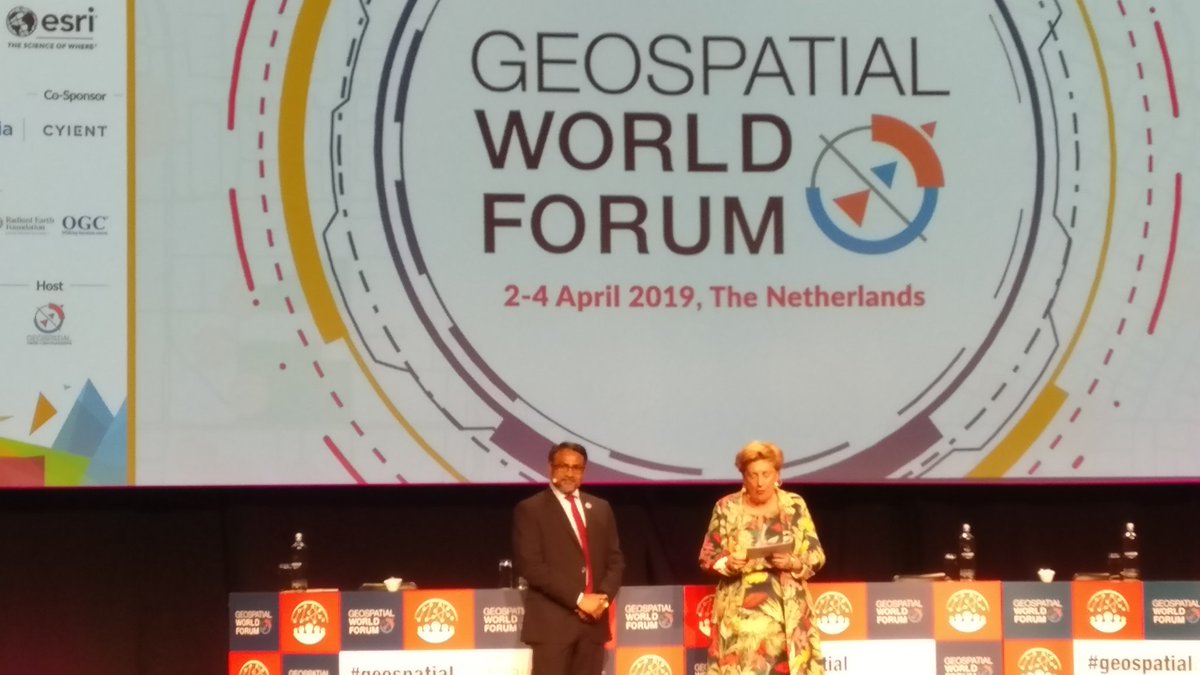 Geospatial World Forum (GWF) 2019, the most anticipated event for the global geospatial community, kickstarted today at the Taets Art & Event Park in Amsterdam. The first day of the three-day (April 2-4) forum, which is an annual gathering of professionals and leaders representing the entire geospatial ecosystem, began with a plenary on #GeospatialByDefault: Empowering Billions, the theme of this year's conference.
Kickstarting the conference, Dorine Burmanje, Chair, Kadaster, The Netherlands, the co-host for the conference, underlined that the geospatial community needs more diversity – students, start-ups, women and initiatives from the developing nations to tap the true potential of this technology and make the "Geospatial By Default" movement a success. She also urged the public and private authorities to provide "trusted data" for sustainable development, and also to enable other important data users.
Highlighting how geospatial technologies are playing an intrinsic role in meeting some of the challenges that the world is facing, Esri President and Chairman of World Geospatial Industry Council, Jack Dangermond, said, "We need to understand geography as a science in fast-changing world threatened by climate change,  urbanization, population; design in sync with nature to create sustainable environment. This is what we call  Science of Where." Adding, Dangermond said, "We are moving towards exponentially changing world, creating many problems and threatening our life support. We need to transform our understanding of the world and how we carry out our responsibilities and in this geospatial technology provides the best platform to rapidly scale this work and make our world the better living place."
Echoing similar views, Sybilla Dekker, Honorary Minister of State and Former Minister of Housing, Spatial Planning and the Environment, The Netherlands, said, "Reality of climate change and natural disasters has only escalated in recent times. The answer to all these challenges is difficult to find. But at the root of all lies the need for good spatial data."
Among the speakers for the session was Indian Ambassador to The Netherlands, Venu Rajamony. Stressing on geospatial policy framework in India, he said the private industry has a huge role to play here. "Indian sees the development as the primary goal and to make it real there is a need to leapfrog in terms of technology and geospatial has the biggest role to play in it."
Benito Owusu, Deputy Minister of Lands and Natural Resources Ghana, also highlighted the importance of geospatial technology and how it is helping Ghana to develop in a holistic way. "Ghana is integrating the technology everywhere for holistic development of the nation and the Government of Ghana is committed to working with private geospatial players," he added.
The second plenary session, which was moderated by Geospatial Media and Communications CEO Sanjay Kumar, saw an engaging discussion on how geospatial technologies can play a key role in digitalizing the construction sector. The panel of four eminent speakers deliberated on Collaborative Workflows and Business Models — Future of Digital Engineering for AEC Market. "Spatial Data has been deeply integrated into real-time model-centric solutions. A workflow exists between "as-in data" capture to modeling to physical action and back again," said Steve Berglund, President and CEO, Trimble. He added that, "The constructible model is enabled by precision spatial data. Digital data supports the entire lifecycle — preconstruction, site layout and post-construction."
Talking about how digital engineering will power innovations in the AEC market, B.V.R. Mohan Reddy, Executive Chairman, Cyient, India, said, "Digital engineering is 'renewing the old' and 'building the new' and  it is the new growth engine for AEC market, transforming industries." The total spend in Digital Engineering is going to account for 37% of Total ER&D spend by 2023 i.e. US$ 642 Billion.
Reddy also highlighted five imperatives for the construction sector to keep pace with the digital transformation – In-house innovation, collaboration and cooperation, re-skilling and redefining the supply chain, programmatic M&A and ability to integrate to finally create value for the customer.
Anantha Sayana, Chief Digital Officer at Larsen & Toubro, an infrastructure major in India, talked about the many digital and geospatial technologies used by his company for a collaborative digital engineering model. He explained how the organization is using the power of GIS at various level of project completion.
Highlighting how Cloud-based tools, IoT, real-time rendering applications, virtual and augmented realities are helping project teams to be more productive and efficient, Andreas Gerster, Vice President, Global Construction BIM-CIM, FARO, Germany, said construction projects are becoming increasingly complex and expensive and to simplify them the only answer is technology integration.
In the backdrop of fast-paced technology advancements that are disrupting the global market like never before, the third plenary for the day was focused on 5G+Geospatial — Shaping Digital Cities.
"We have more dynamic data coming for which you need more dynamic technologies. Transformation or re-projection causes errors if the technology is not smart," said Christopher De Preter, Chief Sales Officer, Hexagon Geospatial, Belgium.
Mohamed Mezghani, Secretary-General, International Association of Public Transport, Belgium talked about how transportation bodies around the world are embracing geospatial technologies. Taking his argument further, Mezghani said, "For public transport, location is key to planning and monitoring especially for navigation, geospatial is important for land use information, autonomous vehicles and policy making for development."
Malcolm Johnson, Deputy Secretary-General, International Telecommunication Union, Switzerland said, "ITU has a crucial role to play in the digital economy; the participants of ITU are looking to collaborate with diverse industries. Satellite spectrum for 5G being revised; also includes standards for radio technology. When it comes to Smart Cities we need to work in collaboration specially in terms of technology and standardization."
Similarly, Jeff Glueck, CEO, Foursquare, USA, said, "For 5G we need a multi-sensor approach. It is important to add the human element on the physical element for innovation." He also stressed that Google and Facebook should not have the monopoly over data when it comes to innovation.
Highlighting that Transition to smart infrastructure requires deep understanding of current structures and subsurface, Wim Herijgers, Group Director, Digital Innovation & Technology
Fugro, Geospatial data is the key to design, build and improve. "The Digital Foundation is a four-dimensional digitized, spatial and geo-data framework; that is aimed at providing clients with a deep understanding of the sites and assets," he added.
Frank Pauli, CEO of Cyclomedia explained how Geospatial Insights are key in network planning for 5G for unprecedented speed as it Expedites design and permitting, asset management, and provides immersive, overlay and point cloud view for decision making
The fourth and the final session for the day was focused on Power of Sharing: Geospatial Knowledge Infrastructure Building Sustainable Economies. During the course of the session, a group of eminent speakers agreed that sustainable development in its true sense is not possible without embracing the geospatial technology. The panelists discussed that the 21st century is the era of cities, big cities and as we work together to help build smart sustainable cities and villages, geospatial technology can help unlock tremendous opportunity for progress.
Over the course of the next two days, 1,000+ delegates, 200+ CEOs and senior government officials from 75+ countries will use the GWF platform to interact and collaborate, and demonstrate the collective vision of the global geospatial community. CEOs of top brands in the industry, including Hexagon, Esri, and Trimble, will address the audience at the conference, to give insights on the evolving technology trends, new business models and share how geospatial is becoming an integral part of all businesses, government and our daily lives.