What are you always looking for in a conference? Captivating orators? Impressive guests list including titans of the industry? Insightful discussions on the latest trends in business? At Geospatial World Forum 2017, expect all of this and more.
Scheduled to take place from January 23- 25, 2017, in the city of Hyderabad, India, Geospatial World Forum 2017 is expected to witness participation of 3000+ delegates from 100 countries. The event will be action packed with more than 30 thematic sessions and workshops with over 300 presentations.
Why is Hyderabad our host city you ask? As the newest state of India, Telangana has the highest level of commitment to development of all spheres of economic activity. The government of Telangana recognizes the potential of information technology in ushering the state towards rapid path to progress and is leaving no stone unturned to establish itself firmly as the preferred destination for the IT companies. The Industrial Policy and the Information Technology policy are testimony to this. The advent of technology is also heralding a new era of governance. In conjunction with the central government's Digital India program, the Telangana government has embarked on Digital Telangana program, with an objective of enabling digital empowerment of citizens, facilitating digital infrastructure as a utility to every citizen and providing governance & services on demand. Such initiatives are poised to fuel exponential growth of Internet of Things (IoT) market. 
With this shared outlook, Telangana is the most appropriate venue to host Geospatial World Forum 2017, which will place special emphasis on the exciting possibilities facilitated by the convergence of geospatial with the world of Artificial Intelligence and Deep Learning making our lives more comfortable, safer and better.
Here's what we're offering:  
2-days of pre-conference to gear up the momentum
Up to 9 industry segments to be covered
Exchange forums connecting industry with government and academia not to be missed
Exclusive bi-lateral forum connecting nations
Various partners and user meets in the platter Create your own agenda
Find more information on programs over HERE
Now for the MOST exciting part, and allow us to be a little nostalgic here. We can't possibly hide our enthusiasm as we announce the 'Geospatial Hall of Fame', a platform that celebrates and recognizes the unsurpassable legends of the geospatial industry. We're celebrating individuals who represent the uniqueness, the innovativeness and the diversity of the geospatial industry. They're as iconic as they're unforgettable. In a world where location is becoming fundamental to all decision-making, these individuals have not only taken our industry to new heights, but have also made the term 'geospatial' a term of common man.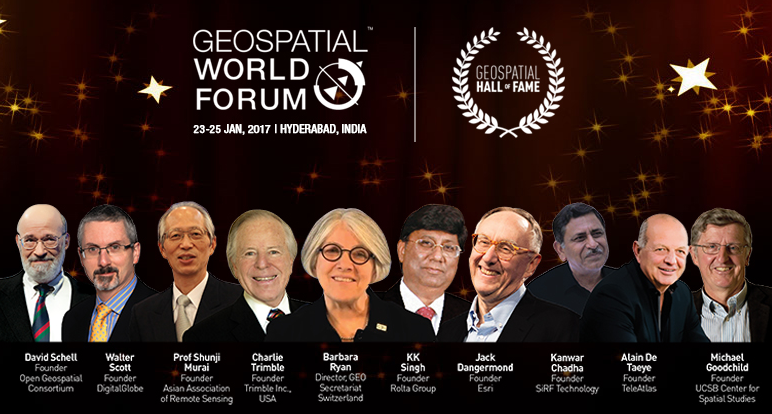 Ten visionary leaders, whose passion, vision, knowledge, leadership, and business acumen have brought geospatial industry to a global arena, will be felicitated and added to the 'Geospatial Hall of Fame' on January 23, 2017, during the Gala Dinner of Geospatial World Forum 2017, at Hyderabad International Convention Centre, Hyderabad, India. What's more? Suresh Prabhu, Minister of Railways, Government of India, will grace us with his presence as chief guest for the occasion.
Geospatial World Forum is just around the corner. Download the updated brochure and plan your participation now. The first 300 paid registrations will receive a complimentary Hall of Fame & Gala Dinner ticket! Register HERE
Want more information? Drop us a line at [email protected] We check our mails even when we're walking our dogs.