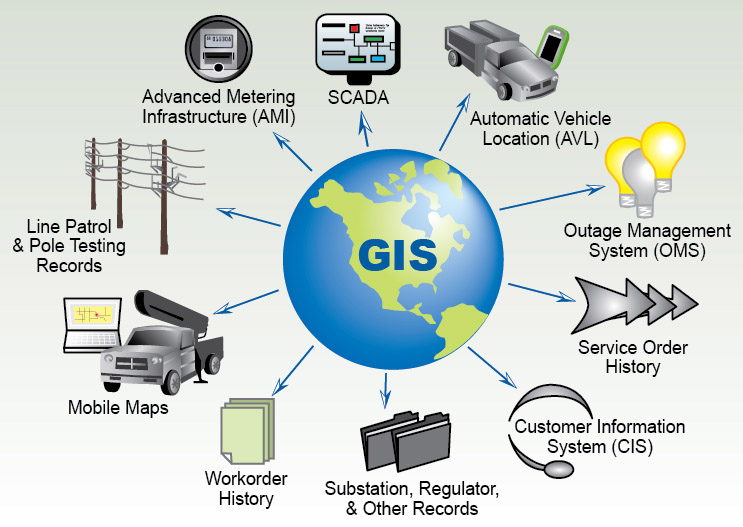 Geospatial technology has wide applications in all utility sectors, including electricity. For an electricity company, the cost of maintaining its most important assets – transmission and distribution facilities – represents a huge portion of its annual operating budgets. Geospatial technology simplifies records management for these key assets of a utility company, thus leading to a decrease in operational costs.  Linking the customer and asset data to a geographic location on a map allows the service providers to look at the bigger picture and thus makes for a powerful decision-making tool.
Besides, the ability of GIS to integrate with other software like ERP or SCADA in an organization makes it an easy to use tool for every utility organization. GIS plays a significant role in power generation, transmission and distribution. GIS is an effective tool that can bind together the various pieces of an electricity distribution system and thus ensure better asset management, improved customer service, improved outage management and more accurate data.  The DMS system from SCADA gives the information on which transformer is off in case of a tripping. Another major advantage is asset management, which can give a reality check of things at ground level.
India's energy scenario 

India is the 3rd largest producer of electricity in the world  

The world loses $89.3 billion annually through power theft  

India loses $ 10- 15 billion annually  

240 million Indians live without access to electricity  
A smart grid is a computerised electric utility grid, which entails adding two-way digital communication technology to various devices in a grid. Each individual device in the grid is fitted with sensors to gather various types of data such as power consumption, voltage, fault detection etc. Another feature is the two way communication that takes place between the field device and the utility's operations centre. Integration of GIS with other available software can also enhance the efficiency of the distribution system. Integration with SCADA (Supervisory Control and Data Acquisition), ERP (Enterprise Resource Planning) and SAP (System Application & Products) can provide real-time data from these systems on a geographical view of the electrical network. Both SCADA and GIS are key operational tools in electricity distribution, and integration between the two results in increased efficiency.
For Tata Power Delhi Distribution, successful software integration has resulted in improved operational efficiency. Arup Ghosh, Senior Advisor, Tata Power DDL says, "All our assets, including the distribution and transmission networks, are on GIS. Further, the GIS is integrated with our ERP and SCADA, which means that the entire asset management cycle, from planning for and implementing the assets at site to maintaining and finally retiring the assets, is supported by our GIS." He adds, "We do find value in GIS, there are 18+ lakh assets of Tata Power DDL on field. GIS helps us track of our assets." Another step in addressing the revenue challenges is Smart Meter. Smart Metering is still at a nascent stage in India, where it is being tested and implemented by only a few utilities equipped with technology and deep pockets to do so.  However, it provides a sea of possibilities in streamlining and advancing energy infrastructure. Tata Power is the first Indian power utility to launch the Automated Demand Response (ADR) project with smart meters in Delhi. It is one of the first projects in the world where ADR and AMI (Advanced Metering Infrastructure for Smart Meters) are conceptualized together. The project is implemented in partnership with IBM, Honeywell, Landis+Gyr with participation of select industrial and commercial consumers of Tata Power Delhi Distribution; and has been rolled out post the approval of the Delhi Electricity Regulatory Commission (DERC). This was a pilot project and soon the company is planning to pilot it in West Bengal and Maharashtra.
As a stepping stone towards implementing smart grid practices for power distribution utilities, Tata Power Delhi Distribution (TPDDL) has launched a 'Smart Grid Lab' for demonstration of various foundational and advanced operational technologies, information technologies and benefits derived by convergence of information and operational technologies. The focus will be towards hands-on demonstration of new technologies, products and operations for different organisations and institutions including utilities. In the smart grid lab, visitors can see various smart technologies that have been implemented in the field by TPDDL. The smart grid journey starts with the advanced distribution management system (ADMS) and represents one of its kind implementation in India. ADMS would replace the conventional SCADA-DMS-OMS with features like integration of smart meter data/distributed generation integration and single data model from GIS.
Although geospatial technology has been implemented by a large number of utility companies across the globe, there are a number of challenges that hinder the further growth and usage of this technology. Arup Ghosh cites mapping the assets and keeping the asset register up to date is another hurdle that needs urgent attention. "Mapping the assets was a major challenge. Our first challenge was to get suitable land based maps and to turn them into vector maps. Another challenge was to fully map all the assets, which required us to find those assets, correlate those with paper records and then mapping that effectively in GIS," says Ghosh. The next challenge is to keep the asset register updated. "People tend to replace assets on site or take those out for repairs. Keeping track of all of that on a real time basis is a big challenge," he adds. He also pinpointed government's role, "The authorities need to see that the data is re-engineered and is non-isolated.