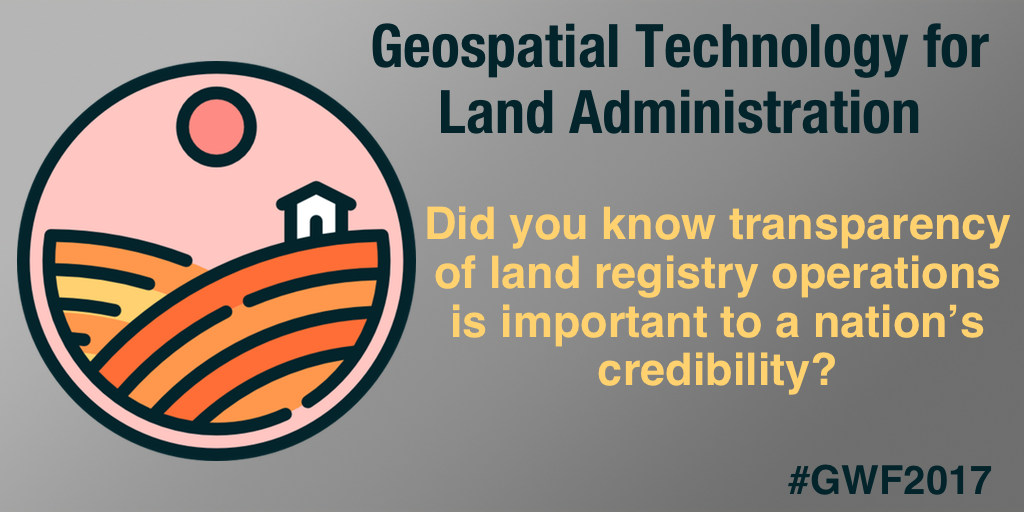 Creating and maintaining an effective land administration system is an intricate process often managed by various agencies and organizations. While separate GIS applications have been used to manage individual aspects of land records in the past, the complete effectiveness of GIS can be realized when applied across the entire cadaster workflow 
Where does GIS fit in?
The Geospatial Land Parcel Data Model helps users manage land parcels using core GIS capabilities.

Standardized Modeling support for maintaining data Thematic layers in the land parcel data model, such as parcel framework, ownership and taxation, and administrative areas, are mapped to the geodatabase structure.

Users can model spatial relationships, such as adjacency, and manage the integrity of coincident geometry between feature classes such as coincident parcel boundaries and subdivision boundaries.
Benefits:
Improved data quality

Integrated workflow for creating and updating a cadastre

Dodge duplicate efforts

Can be easily shared both between and within organizations

Efficient Map production

Using Geospatial technology, can streamline workflows and enforce cadastral procedures in the correct and legal way through efficient job management

Cost efficiency makes sure that quality is consistent throughout the process.
Did you know transparency of land registry operations is important to a nation's credibility? Did you know that land is the geo-fabric of any economy? The Land Administration Symposium at the Geospatial World Forum 2017, taking place from January 24th 2017, will shed light on how technology is leveraged to build a better Land Administration System. Read on to find out what our esteemed speakers have to say about the role of technology in cadastral surveying, securing land tenure, and developing economies through a well-planned Land Information System.
Dr. M.K. Munshi, Chair, Open Geospatial Consortium (OGC), India
How has Geospatial Technology changed the field for Cadastral Surveying?
Traditionally cadastral surveying (in India) utilized theodolite traverse. So most of the maps and records of ownership were paper-based/manual. Geospatial technology revolutionized geomatics in cadastral surveying discipline and ushered in GIS with backend RDBMS (Relational Database Management System) for the computerization of cadastral records. Between 1974 and 1984, the survey of India advocated the use of large scale 'rectified aerial photographs', which greatly aided the delineation/demarcation of cadastral boundaries in flat/gently undulating terrain in the country. Today, advances in Geomatics/data acquisition technology can greatly aide this process.
How can Geospatial technology advances play a unified role in securing land tenure?
It needs to be understood, that in the strictest sense, it is not possible to 'own' land. One can only access the right to use a piece of land. It is the manner in which land rights are held 'historically' or legally, leading to land tenure. This geospatial technology can be a great boon in securing land tenure, provided the technology benefits are recognized by the government/ legislators/ administrators. In India, the DI-LRMP is a step in the right direction. However, the importance of Open Standards as advocated by OGC or other international organization needs to be recognized. This will ensure that pan-India programs are implemented on the foundation of standards.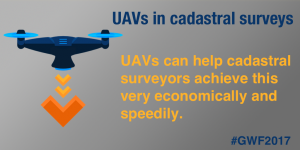 What are your views on the role of UAVs in Cadastral surveys?
In India, cadastral boundaries are usually not delineated/demarcated on the ground this posing major challenges for cadastral surveys. In this scenario, a 'photo-map' base of the terrain I, where every physical feature (from a field 'bund' to a tree or a rock is faithfully captured on the aerial photo or high resolution satellite image) is a great aid for the delineation /demarcation of cadastral holdings on the ground. UAVs can help cadastral surveyors achieve this very economically and speedily. However the regulations governing the operation of a UAVs / drones in India, mandates the need to obtain a Unique Identification Number (UIN) for the UAV (similar to a car registration number) and thereafter obtain permission from 'Local Administration' for flying a drone below 200 feet altitude. In case the proposed flying height is above 200 feet, permission from the Director General Civil Aviation (DGCA) is required. In fact the DGCA is expected to come out with a final Policy on drones in the near future.
Dr. Elshad Khanalibayli, Chair of UNECE Working Party on Land Administration, Head of International Cooperation Department – The State Committee on Property Issues the Republic of Azerbaijan
What role does technology have in Land Administration systems – to improve land access and productivity of land use?
Land, a finite resource, provides food, shelter, and safety to the inhabitants of the world. Its effective administration is necessary not only for us to fulfill core needs for human survival, but also for making lives of people more connected, comfortable and prosperous. With effective land administration, comes better-managed cities, efficiently laid/managed infrastructure and utilities, secure and equitable land rights for all including women and indigenous people, lesser disputes over land rights and higher economic stability and growth. On the other hand, all land administration organizations need to become less bureaucratic, simpler, cheaper and more transparent. Design and implementation of traditional approaches is so time-consuming that land laws are adapted to provide for simpler procedures. Unconventional approaches are urgently needed, whether they are conceptual or technological. One cannot therefore overemphasize the need (and role of) fit-for-purpose, affordable and inclusive land administration systems anchored in enabling technologies.  
Various types of technologies have been deployed within the land administration environment. With the advent of web based technologies, and the proliferation of the Internet as logical platform for businesses to interact with their customers, came the e-Government wave. Governments around the world embraced the Internet and most have adopted e-Government strategies and programs. This catapulted the old-fashioned paper based cadastral system to become an e-Cadastre.
Another trend in the technology is the concept of 'Open Source' technology. Open Source refers to computer programming where the source code of the programming or software is available freely (as opposed to proprietary) to the general public for use and or modification from its original design free of charge. In one word, geospatial technologies like GPS surveying, mobile GIS, web based GIS, photogrammetry, etc. together with a well-established land policy, play a unified role in improving land access and productivity of land use as well as securing land tenure.
What, according to you, are the dynamics of responsible land administration?
In 2014, the United Nations Economic Commission for Europe (UNECE) Working Party on Land Administration developed the Survey on Land Administration Systems in the UNECE region (56 member States). According to our analyses within this Survey, since the last thorough inventory of UNECE land management systems (2005), land administration and land registries in the European region have undergone divergent and varied changes. This is due, in part, to the volatility in property markets and world finances in recent years. Public-sector reforms have affected some administrations more than others.
Nevertheless, we find general trends across the region. For example, in most jurisdictions, online services have become more accessible. This brings both the potential to expand the public function and breadth of the registry and new risks to security and confidentiality in electronic systems. Countries make decisions concerning which processes should remain manual and which should be expedited through online access. There are more and more features, which land registries can capture and display in the digital environment.
The digitization of land registration information and the provision of online information and registration services have advanced significantly since 2005. In total, according to our Survey, 17 out of 23 responding jurisdictions have 100 per cent of their maps in digital form and available online. In 14 jurisdictions, more than 80 per cent of title inspections are carried out online. There is room for growth – only 20 per cent of jurisdictions process all transactions fully electronically, while 32 per cent do not process any transactions on a fully electronic basis.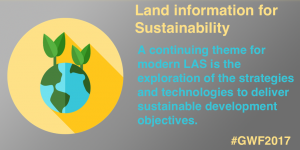 How important is land information for Governance and Sustainability?
Accessibility of land information, especially through the creation of an SDI, can transform the way governments and private sectors do business in modern economies. The transparency of land registry operations, given that they document private ownership of land, is important to a nation's public credibility and ability to monitor subsequent changes in land ownership and secondary transactions. The development of e-government also makes land information more important. In the future, we believe, technology-driven, spatially enabled Land Administration System (LAS) will service a larger range of functions by matching people and activities to places and locations, basically through the spatial identification of a land parcel in a cadastral map. Also a continuing theme for modern LAS is the exploration of the strategies and technologies to deliver sustainable development objectives, particularly through delivery of information in a form that can be used for sustainability accounting – the emerging systems for monitoring and evaluating achievement of sustainability objectives and initiatives. 
An efficient Land Administration System helps build economies – thoughts?
Land administration is the process of determining, recording and disseminating information about ownership, value and use of land when implementing a land management policy. It is a process and an instrument for government to offer security of tenure, regulate land market, implement land reform, protect the environment, levy taxes, etc. as well as serve the peculiar development needs of its citizens. Land administration is the way in which the rules of land tenure are applied and made operational. A good land administration system aims at equal and unbiased distribution of wealth to encourage economic growth and development. 
Contributing Author:
Ms. Ananya Narain
Research Analyst, Market Intelligence & Business Consulting
Geospatial Media and Communications
[email protected]