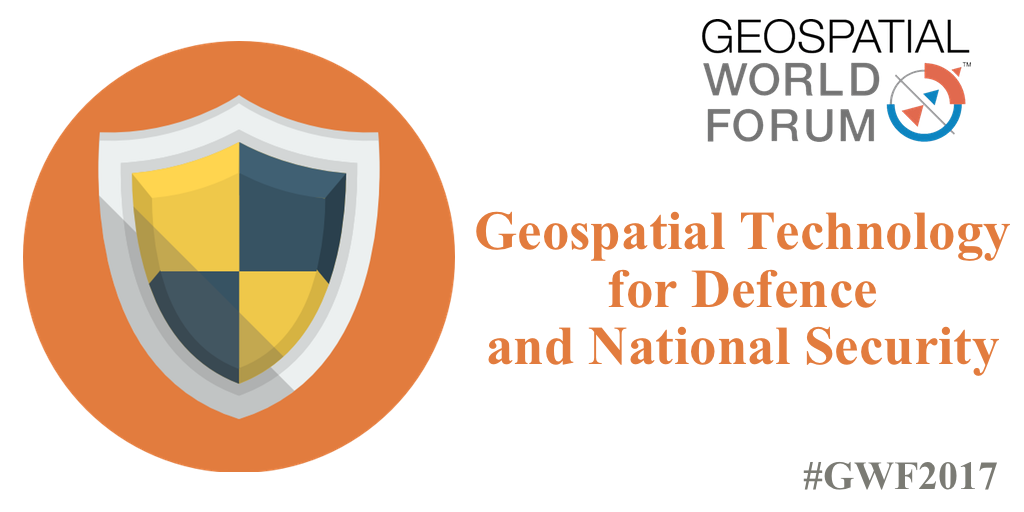 Time and again, we have realized that the defense industry needs modernization in military technologies and security reforms. Today, nations are fighting against guerrilla and insurgency tactics. Hi-tech weaponry and 'virtual' warfare are making prediction and prevention of such movements just as essential as on-the-ground combat operations. Geospatial tools offer the capability of monitoring, predicting and countering threats, while helping to strategize and support field operations.  
Keeping this in mind, Geospatial World Forum 2017 is bringing top-notch experts from across the globe to provide insights into technology solutions for security challenges, and more. The event will be hosting an exclusive seminar on Defense & National Security, on January 24, 2017, to focus on how geospatial intelligence can support the fight against emerging security situations across the globe. The groundwork for all these activities were played out by all of them. Some
VINAY BABU ADIMULAM, SENIOR MANAGER – TECHNICAL SERVICES, HEXAGON GEOSPATIAL, INDIA
How is geospatial technology empowering national security and public safety?
The ability to support first responders and military personal with actionable insights and real time data has proved to be invaluable. We have seen vast improvements in the management of data – leading to vastly improved standards and interoperability. Advances in sensor resolution and fusion have had a big impact. The geospatial technology not only is supporting forces in their strategic decisions and operations but also for countering asymmetric threats. Changing conditions on the ground require an up-to-the-minute situational awareness and adjustment. In modern day warfare, the technology is playing a crucial role to exploit the capability and preparedness of a nation to respond to surprise attack or otherwise.
What are the initiatives to take the technology to the on-ground staff in both these sectors for quicker actions?
We at Hexagon Geospatial are combining our experience in technology development in building smarter warfare. Hexagon Smart M.Apps: Dynamic, interactive map applications that quickly and intuitively merge location and statistics, backed by real-time data. Help build safe neighborhoods and borders by understanding the relationship between statistics, demographics, political boundaries, and other factors.
What can the audience expect from your presentation in the Defense and Public Safety program?
Learn how to quickly analyze reported crimes and other incidents using Hexagon Geospatial solutions. Visualize where and when they most often occur, identify patterns to prioritize and position your resources.
DR SIVA RAVADA, SR DIRECTOR, SPATIAL AND GRAPH DEVELOPMENT, ORACLE, USA
How is geospatial technology empowering national security and public safety?
Geospatial technology is being used as main key that is used to tie all events that can affect national security. With so much data being generated these days from social media, and IOTs spatial key is a very natural attribute that can tie all the data that relates to a location. This gives the national security agencies a tool to take a comprehensive look at all the data gathered from hotspots to quickly narrow down relevant data to do the analysis and take preventive steps.
Geospatial technology is used to predict future problems, bring visibility to hotspots, and to develop what if scenarios. Similar trends are seen in public safety as well as we see more and location based services used by agencies to tackle public safety issues. For example, future hotspots can be predicted by mining social media data and past events to predict if a future demonstration can lead to public safety issues.
What are the initiatives to take the technology to the on-ground staff in both these sectors for quicker actions?
One of the biggest initiative is to build systems that can quickly analyze the large volumes of data is generated from IoT and social media. Today we have a data deluge problem, so any technology that can quickly cut through the noise and identify important trends is very useful. With new focus on machine learning and data mining these technologies can quickly send intelligence to on-ground staff.
Similarly, developing cloud-based solutions that can easily ingest the data and produce intelligence is another major technological initiative, which will help the national security and public safety. These cloud-based systems will make the technology easily accessible for these agencies and provide solutions that are created by learning systems that are enhanced by data for different locations.
What can the audience expect from your presentation in the Defense and Public Safety program?
In my presentation audience can expect to see more details about cloud based systems and system level discussion about how location data can be used in national security and public safety applications. They can expect to see how different data sources can be put together in a spatial analytical system and data mining and machine learning can be used to build systems can help these industries.
LT GEN K T PARNAIK (RETD), JOINT MANAGING DIRECTOR – DEFENCE & SECURITY, ROLTA INDIA LTD, INDIA
How is geospatial technology empowering national security & public safety?
Geospatial technology and security informatics are aimed at developing advanced information technologies, systems, algorithms and databases for national and homeland security related applications. Advances in visual analytics tools show promise to support time-sensitive collaboration, analytical reasoning, problem solving and decision making ability for crisis management and internal security of a nation and its people. Thus geospatial technologies are vital for surveillance, reconnaissance and target acquisition, in a security domain.
Military commanders of all modern armies working in 'digital' battlefield environment utilize geospatial information of intelligent maps and geospatial data as the foundation, on which they operate the C4ISTAR solutions to make effective command and control decisions. 
The geospatial technology enables synergizing the military, bringing them on a digitized platform, to combat plethora of conventional asymmetric and sub-conventional threats we face. There is a need for a roadmap to digitally integrate the military and security sector over and above Digital India, in order to combat the 21st Century threat we face today.
What are the initiatives to take the technology to the on-ground staff in both these sectors for quicker response?
 The armed forces are in the process of transforming to net centric platform for information sharing, improved situational awareness, quick decision making and enhanced mission effectiveness. In essence, there is a thrust towards "informationaising" the force by integrating Operational Information System (OIS), Management Information System (MIS) and GIS, with matching communications that enable near real time exchange of information during the fast paced operations, through the C4ISTAR applications.
Similarly, public safety is being addressed through Police Modernization, Coastal Security, Smart Border Management, employing Geospatial technologies as well as Big Data Analytics and Cloud Computing. The C3I projects built over the GIS backbone seamlessly integrate with GEOINT using spatial skills and disciplines like photogrammetry, cartography, imagery, remote sensing and terrain analysis to achieve near real time operational intelligence and form the basis of a quick response by the Armed Forces.
What can the audience expect from your presentation in the Defense and public Safety programs?
The focus of the presentation will be current Defense programs and networking in C4ISTAR domain that leads to digitization of the Force, to counter conventional asymmetric and sub-conventional threats. A brief glimpse of the Battlefield Management System, which will digitize the soldier and enhance his battle effectiveness. It will also dwell on application of Geospatial technologies for countering terrorism and finally challenges faced by the Armed forces to achieve complete net centricity.
Join us as we discuss critical applications of counterterrorism & border security, and understand how automation is taking over military operations. Register now!
Contributing Author:
Deepali Roy
Regional Product Manager- APAC