Asia-Pacific, as the world's most disaster-prone region, has shouldered the burden of more than two million lives lost with economic damage of approximately $1.3 trillion between 1970 and 2016. Disasters widen the socio-economic disparity, make the poor poorer, and lead to more conflicts. The loss a disaster brings in, impacts not only the physical and financial health of an economy, but the psychological well-being of the people. The effects last much longer than accounted for. The recent wrath of the Kerala floods is the perfect testimony to this fact.
The faster the response to a disaster, the lesser the impact could be, and location based services combined with Geospatial Intelligence is proving to be highly effective in monitoring disasters as well as in relief efforts.
While the government does its bit, it is the efforts of private organizations like GeoSpoc and SatSure that can make a huge difference. It is a pleasure to interact with Dhruva Rajan, CEO, GeoSpoc, Devdatta Tengshe, GIS Solution Architect, GeoSpoc and Prateep Basu, SatSure and learn about their recent collaboration to create an interactive map of the Kerala floods that is helping substantially in disaster relief efforts.
According to Dhruva, "Geospatial tools and techniques are the easiest way to get a synoptic view of the impact of any natural disaster. When you are faced with something that impacts the whole state, like the Kerala floods, you require data that covers the entire area. Modern techniques like SAR and UAV-based data collection have the advantage of surveying areas that might not be reachable using traditional means and on the ground. The strength of GIS in these situations is that you can overlay different kinds of datasets together and extract useful information by comparing and contrasting the datasets. For example, by combining height information from DEMs and the flood extent from satellite imagery, one can estimate the approximate flood height at a glance."
How did the project begun? 
As Prateep shares, "SatSure was approached by Kerala Startup Mission folks, due to its relationship with the state (all co-founders from first batch of IIST, Trivandrum) and we did the flood modeling using the SAR data, while also acquiring additional datasets from the state government."
Why the collaboration?
"The partnership was natural, because SatSure is a products company into multi-source data modeling, with high volume satellite imagery being the primary input, while GeoSpoc is a leader in geospatial services. Together, we have been able to provide best in class solutions to clients and this flood portal, which was brought up within 48 hours by us jointly, is an example of our agility."
"We requested GeoSpoc, as a key partner of ours, to help build something which is interactive and useful so that the information could be used by the decision makers. The portal, containing all datasets was built by GeoSpoc while SatSure did the data modeling and government liasoning. Regarding future such projects, we have been jointly approached by some people but we can't say much at the moment on these requests," Prateep mentions.
Overcoming obstacles
The journey was not smooth. Devdatta reveals, "We required satellite data to calculate the flood extents and submergence area. This proved to be difficult given the pervading cloud cover at the time, so we switched to using Microwave/SAR data instead. We narrowed down on using SENTINEL-1 data, as this proved to be the only freely available data source. Other sources were commercially available, but at prohibitive costs. We could only find two usable images,  dated August 14 and 21. In an ideal scenario, we would have liked to have more datasets in order to get a more comprehensive view of changes in flooded areas."
The outcome
On the basis of the data acquired by SatSure, GeoSpoc created density clusters using the locations to generate the heatmap. The heatmap was created by mapping the rescue locations that people had sent to the authorities over Whatsapp. The flood height and extent was calculated using SENTINEL-1 SAR data in combination with a few other datasets.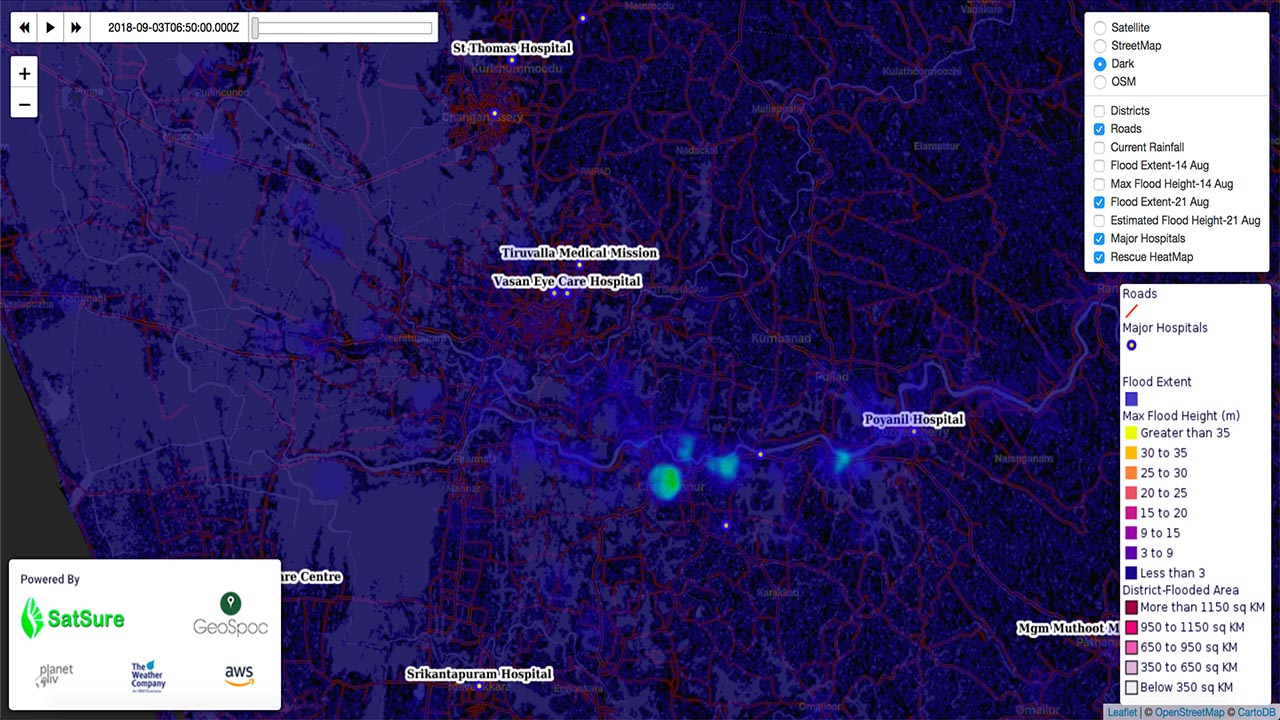 The timely initiative of GeoSpoc and SatSure reaffirms the fact that geospatial intelligence can play a very effective role in disaster management planning in India. A data driven approach to solving problems has proven to be effective in organizations around the world, from Fortune 100 companies to emerging startups. There is no reason why government organizations cannot use such data-driven techniques for effective planning and management. Local government bodies and departments are usually more concerned with immediate needs in these situations, where rescuing stranded people and providing relief to affected areas is of prime importance. It is imperative in these situations, that the private and public sectors join hands to enable private players to contribute their skills in these emergencies.
One way to encourage private-public partnerships in dealing with disasters is for the regional and central governments to make open data more widely available. There have been steps taken recently to declassify data stored by government bodies. Investing more efforts in making geospatial and satellite data more widely and openly available during emergency situations can speed up the process of assessing the extent of damage, and locating areas in dire need of assistance. Open and free availability of certain datasets can also help in disaster mitigation and prevention. For example, freely available river line and water body data on a public GIS portal can help citizens understand if their residences may be affected in case of floods, or are situated near a dry river which may inundate the surrounding areas in case of heavy rainfall.
Dhruva concludes by saying, "GeoSpoc is open towards collaborating with organizations, governments and NGOs in India and around the world. We aim to make our services available during disasters and for disaster prevention, so that those most in need of assistance are attended to efficiently and in a timely manner. We hope that our expertise in geospatial analytics can help save lives and livelihoods when faced with these devastating phenomena."
The world surely needs more such thoughts and initiatives to create a safer haven for all.
Also Read