In some of the earlier blogs, my colleagues highlighted facts about the Indian geospatial market and also wrote about the most popular geospatial technologies in India. Both the blogs emphasized the growth story of the geospatial market and adoption of geospatial technologies in India. Now let's look into the status of Geospatial for Urban Development and Smart Cities in India.
How will urban growth sprawl in India?
The adoption and application of geospatial technologies, the benefits, and challenges, and the investments in each sector is unique.  India's economy is expanding rapidly and making a steady shift from 'rural' to 'urban'. India is anticipated to have grown its economy by five times by 2031, sustained largely by the country's urban centers. The Indian urban sector has been a key engine of growth acceleration in the last decade, igniting urban consumption, services, and infrastructure and hence this is where geospatial technologies come to play.
Why geospatial for urban development in India?
Geospatial information and technologies is a vital element in the quest for sustainability in urban and regional development. One of the major requirements for urban development is to have accurate and timely geospatial information that allows generation and use of data in various forms in the form of digital maps provided by various urban development and city planning applications.
Geospatial technologies play a vital role in urban development and planning by serving as a platform for integration and storage of multisource data, maintenance of data consistency, flexible data storage and efficient update of data as and when required.
Status of use of Geospatial Technologies for Urban Development & Planning in India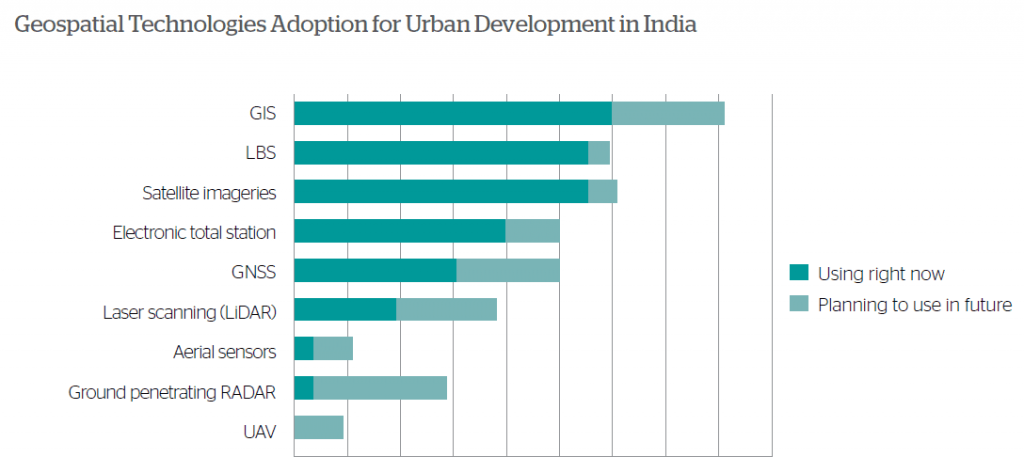 Based on questionnaires and direct surveys conducted to a focused cluster of people who are enthusiastically involved in the urban development activities, primary insights have been drawn for adoption, application, and implementation of advanced techniques. The research reveals that GIS is the most widely used technology closely followed by the location based systems applied prominently in the areas of city planning and management, traffic monitoring, urban expansion and property valuation.
The scope for the adoption of geospatial technologies is surging. The recognized benefits of existing ICT technologies combined with the innovative geospatial technologies are far better than the existing ones.  The geospatial component in the urban development process along with supporting government policies, give a package of information systems by which a roadmap can be made efficiently and effectively.
Geospatial Technologies and Their scope in different aspects of Urban Development
| | | |
| --- | --- | --- |
| Focus Area | Technology | Scope |
| Zoning/Site Selection | Satellite Images, GIS, BIM | Satellite images can be analysed with advanced GIS analytic tools |
| Construction Management | BIM, GNSS | Data integration in one complete system |
| Energy Efficiency | BIM, GIS | Monitoring the usage |
| Solid Waste Management | GIS, Satellite/Aerial images, Sensors | Dumping site selection & route optimisation – reducing generated waste |
| Smart Transport | Smart tools, GIS, Integrated Transport Management system | Advanced technologies with geospatial component will ensure safe & sustainable mobility |
How are Government Initiatives & Programs promoting the use of geospatial technology for Urban Development?
There is a lot of investment required in the urban development sector in the next 20 years thereby roughly indicating the parameters to imply the opportunity available for the adoption of geospatial technologies. Recent government programs in the urban development like Smart Cities, AMRUT, and Metro rail projects enable the adoption of geospatial technologies along with various other technological advancements.  With an investment as high as 73.5 billion for the Heritage City Development and Augmentation Yojana (HRIDAY) and 14.7 billion for Smart Cities; the government is increasingly encouraging the use of the geospatial component in these projects. Spatial Modelling, GIS-based centralised city information system, satellite imageries and aerial photos, laser scanning, etc., are few of the major geospatial components of all government initiatives and programs.
This is just a snapshot of the information, but the outsized potential of geospatial technologies is analysed in detailed and explained in the urban development chapter of the "India's Geospatial Market and Prospects"
Want more insights on 
India

 Geospatial Market?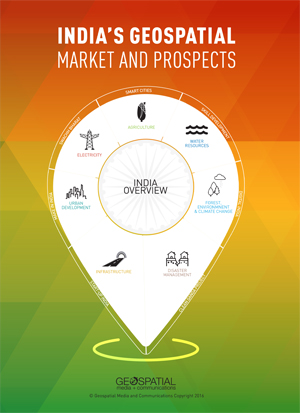 If you are looking for more of such detailed insights, refer to the report India's Geospatial Market and Prospects conceived by Geospatial Media highlights how geospatial technology can contribute to the success of these flagship programs and also in sustaining India's growth curve. The report provides a detailed analysis, trends, and applicability of geospatial industry in India.