As part of the first SAP + Esri Spatial Hackathon, GIS developers, enterprise architects, data scientists, BI developers, and students got together to solve a variety of challenges through the use of geospatial analytics and machine learning technology. With the help of NextGen and the SAP Co-Innovation Lab – who ran the technology behind the hackathon – teams were given 40 hours to define the issue at hand and develop compelling platforms that provide an effective solution that can be applied in real-world scenarios while 89% of participants had no prior experience with SAP HANA Spatial.
Objective/Problem
Finalist team, We're Working on It, was a corporate team from Southern California Edison (SCE), the primary electricity supply company for much of Southern California. This team developed a solution to predict grid usage for solar, using SAP HANA, ArcGIS Pro, and R-ArcGIS Bridge to show which parts of the grid may need modernization to maintain reliability and support clean energy. The picture below shows the SAP HANA as the enterprise geodatabase for ArcGIS Pro. The team used SAP HANA as the data lake to feed Esri ArcGIS.
"SAP HANA, spatial edition as a backend warehouse for our geospatial analytics in ArcGIS Pro was seamless, fast, and easy to use. The benefits of in-memory processing in such a smoothly connected analysis ecosystem were palpable as we wrangled large datasets to build our model." – Matthew Mendoza, PhD, Data Scientist, Southern California Edison
Technology Used
• SAP HANA
• Esri ArcGIS Pro
• Esri R-ArcGIS Bridge
"I liked the feature to bridge ArcGIS data with R-ArcGIS Bridge in order to perform machine learning. It allows for more data to be incorporated for all future modeling." – Sophie Lellis-Petrie, Data Scientist, Southern California Edison
"At Southern California Edison, we work with numerous Big Data sets and having the ability to integrate SAP HANA and ArcGIS Pro is exciting because it gives us the capability to produce meaningful results with a high level of spatial accuracy." – Mark Turgeon, GISP, GIS Technical Specialist, Southern California Edison
Solution/Benefits
As a benefit of this new platform, utilities will be able to better monitor areas that contribute large amounts of solar "reverse flow" which puts undue stress on grid assets. To that end, a predictive model of solar adoption will help better identify areas ripe for modernization in order to support our societal migration to cleaner, safer energy supplied and supported by a reliable energy grid. It not only enables the identification of trouble areas before they become problematic but can also help identify the impact of generation facilities on disadvantaged communities, helping create a more equitable, socially conscious energy for what's ahead.
This team also took advantage of one of the key values of SAP HANA—they combined business data from SCE with new dimensions of spatial data. For example, incident information and account information were combined with geolocation data. But why stop there when the team has data scientists? We're Working On It applied R machine learning capabilities to predict where solar consumption would grow in the future, allowing the company to plan for grid modernization as clean energy adoption grows.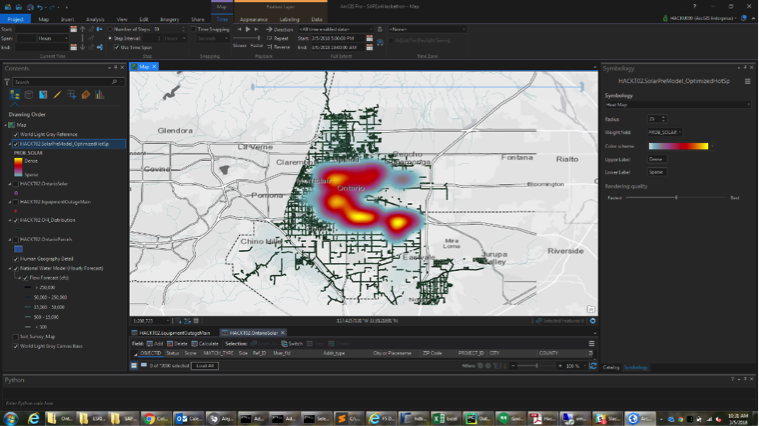 "Clean energy is the future, so it's the responsibility of the grid owners to build with that future in mind. Supporting the adoption of distributed solar helps balance the drive to clean energy against the practical need for reliable energy. To that end, our project helps predict the hot spots where distributed solar is likely to be adopted." – Alejandro Komai, PhD, Data Scientist, Southern California Edison
Team: All quotes and experiences are their own, and not an endorsement from SCE*
• Alejandro Komai, Ph.D., Data Scientist, Southern California Edison
• Sophie Lellis-Petrie, Data Scientist, Southern California Edison
• Matthew Mendoza, Ph.D., Data Scientist, Southern California Edison
• Mark Turgeon, GISP, GIS Technical Specialist, Southern California Edison