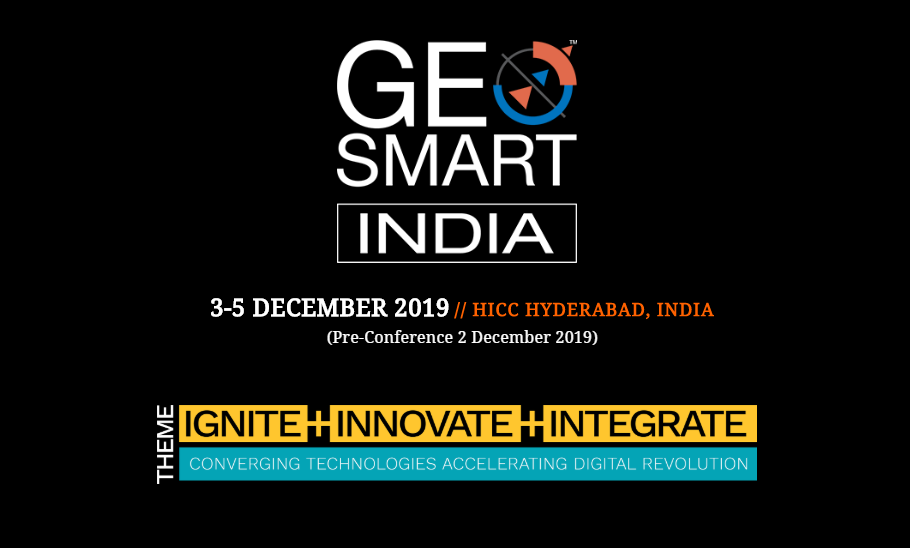 The 20th edition of GeoSmart India 2019 kicks off tomorrow, at HICC (Hyderabad International Convention Centre). The three-day event will focus on all aspects of geospatial technology and its implementation through interactive sessions, presentations, demonstrations, exhibitions and workshops. The theme of this year's edition is Converging Technologies Accelerating Digital Revolution.
Over the years, GeoSmart India has become a leading platform for companies to boost growth within the Indian market. With 2000 attendees from 25+ countries, 200+ speakers and a plethora of geospatial tech representatives, the conference will throw light on smart cities, digital construction, innovative startups and a lot more.
Key Highlights
The opening session would include BVR Mohan Reddy, Chairman Cyient, Usha Thorat, Former Deputy Governor, Reserve Bank of India, and Chairman, Foundation for Ecological Security. The plenary session on the first day would be on National Geospatial Information Infrastructure and Knowledge Platform wherein Dorine Burnanjee, Former Chair, Executive Board, Kadastre, Peter Hedlund, CEO, Ordnance Survey, and Dean Angelides, Corporate Director, Esri, will share their valuable insights.
Former ISRO Chief, AS Kiran Kumar, Lt. Gen Girish kumar, Surveyor General of India, Agendra Kumar, President Esri India, Pramod Kaushik, President & Managing Director, Hexagon AB, will discuss Geospatial strategy for New India. The session will be moderated by Sanjay Kumar, CEO, Geospatial Media and Communications. A comprehensive geospatial strategy is the need of the hour for preparing a framework for growth in the geospatial sector and facilitating the development of other domains.
The fourth plenary of the day would be on Data and Urban Innovation, with Nikhil Kumar, Country Head, HERE Technologies, Dr. Nadine Alameh, CEO, Open Geospatial Consortium, and NSN Murthy, Partner & Lead – Smart Cities, PWC India, sharing their views on how to best utilize data for boosting innovation. The session would be moderated by Laveesh Bhandari, Founder & CEO, Indicus Foundation.
The penultimate day would have insightful sessions on GeoSmart Construction & Infrastructure, GeoSmart Cities, GeoSmart Agriculture, Geosmart Water, Geo4SDGs, program by Hexagon, workshop by Forest Survey of India, and GeoInnovation by Esri.
The last day's sessions would cover GeoSmart Construction & Infrastructure, GeoSmart Cities, GeoSmart Agriculture, GeoIntelligence, Survey of India User Meet, NRMC Cadasta Round Table on Forest Rights Act, and OGC India User Forum.
Why geospatial is crucial for India?
As we move towards the Fourth Industrial Revolution, geospatial is becoming ubiquitous and by default the go-to technology in all domains. It is not only a great enabler but also the linchpin of future innovations. Be it our day-to-day activities or cutting edge futuristic research, modern day agriculture, construction, or business planning, geo information has become a prerequisite in every field.
There is also a direct correlation between robust geospatial infrastructure and social and economic development of a country. The top 5 countries in the Countries Geospatial Readiness Index ( CGRI) are USA, UK, Germany, The Netherlands, and Canada. This more than anything highlights that geospatial is indispensable for India's growth story and the realization of the New India Vision.
India stands at 26th among 50 nations covered in the CGRI 2018, and as a major economy fares much poor compared to other emerging nation economies — including China (Rank 6) — which are key to shaping the future of global economy and development
India is among the key engines of global economic growth and progress on development goals. It is the world's seventh-largest economy, growing second fastest among large economies after China, and is projected to be the world's second-largest economy (behind China again) by 2050. However, the Indian geospatial sector ecosystem, despite its long history of survey agencies and globally visible accomplishments in Space and ICT domains, stands "below-par" and "under delivering to national growth and development objectives", as per the Countries Geospatial Readiness Index (CGRI) 2018 brought out by Geospatial Media & Communications.