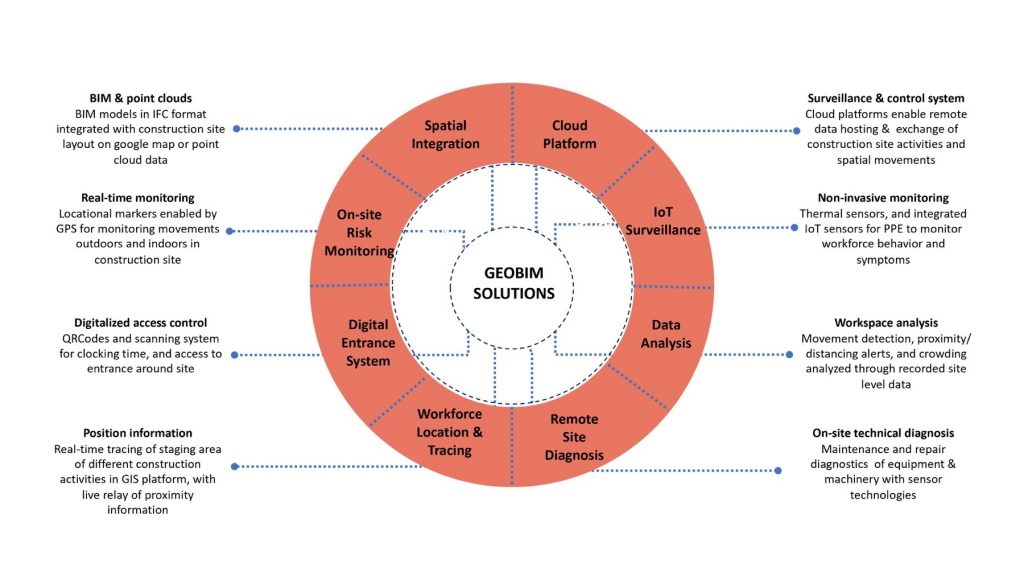 Construction workforce across the globe have underwent major shocks due to the Covid-19 pandemic, leading regional employers of the workforce like middle east and the gulf cooperation council had to terminate large sections of their construction labour due to the combined shock of coronavirus pandemic in realty market and collapse of O&G industry. About 20 million migrants in workforce from these region are faced with uncertain future pertaining to their livelihood, significant proportion of these workforce are related to the construction industry and had their work contracts abruptly terminated due to the complexity exerted by Covid-19 related proximity/ social distancing measures on work sites, which lead to closure of major portions of construction site.
The construction industry has begun to gradually resume work, and there is surge in mandate across the regions to protect on-site workforce in engineering, construction and building materials. Countries are in the process of developing physical distancing and isolation policy guidelines for industrial work sites. This includes measures from self-contained crews, changes to shift patterns, temperature checks, health check-up to personal protective equipment, advanced sanitation facilities and alternative transportation plans. Some of the alternative measures include identification of work in the construction project lifecycle which can be transitioned to off-site locations under a controlled environment. These heightened measures require stringent monitoring and tracing mechanisms.
Also Read: Which are the most GEOBIM ready countries in the world?
GEOBIM Solutions for Tracking & Tracing
Monitoring, controlling and analysing data from construction site can facilitate an understanding of worker activities which is crucial in containment of Covid-19 infection. Digitalization of project site monitoring with GEOBIM technologies play a significant role in resolving unprecedented site conditions due to Covid-19 pandemic. GEOBIM technologies enable risk analysis and provide enhanced support in tracking and tracing of workforce movement and construction site activities. Prior to Covid-19 many C&E companies embraced such digitalization solutions to achieve improved productivity by leveraging the power of data-producing computing technologies in workers, machines and materials.
For instance, L&T construction developed integrated technology solutions with AI, IoT, AR/ VR, Robotic Process Automation (RPA), geospatial & BIM technologies and created an interconnected data flow between 10,700 equipment across 450 worksites. This interesting mix of technology has resulted in:
Workplace safety: Improved safety with the support of immersive technology (VR), and sensors for hazard alert
Benchmark improvements: Measurement of project component benchmark with GEOBIM monitoring
Equipment efficiency: 25% improvement in efficient utilisation of equipment and fuel consumption with identified benchmark
Productivity: 15% increase in worker productivity, and 10% increase in machinery productivity
L&T construction facilitated 'digital' across the workforce hierarchy to bring about change at every level. This includes sensors on worker's helmets and equipment and RFID tags on materials. These measures enabled successful identification of unsafe practices, and optimal workflows for improved productivity. Subsequently, the workforce were provided with additional training based on sound analysis gathered from the abovementioned tracking & tracing sensors for safer workplace practices. Thus, GEOBIM technologies have become imperative in predictive risk management and safety.
GEOBIM – Spatial integration and point cloud
Spatial intelligence of construction site has to be monitored closely to negate potential risk associated with proximity and unequal distribution of workforce movement. Integration of GEOBIM platform with point cloud data through open IFC format to track worker movement and activities creates a strong foundation for precise site monitoring.
Site monitoring of project workers are conducted through localised markers derived from site layout, the site model in BIM can be integrated with spatial data retrieved from Drone/ Point cloud dataGoogle maps orOther Very-high resolution (VHR) satellite images
GEOBIM – Real-time location monitoring
A mix of outdoor (GPS-enabled) tracking of workers in construction site, and indoor (sensor) localized tracking of activities and movement can be fed to geospatial platform for real-time monitoring over cloud by site managers. Entry and exit points of the under-construction structure, crowded routes and other areas defying social distancing measures can be avoided with this monitoring platform.
GEOBIM – On-site risk assessment and surveillance
Site risk assessment requires an effective surveillance system which can diligently integrate diverse set of technology solutions to enable the construction site supervisors to monitor underlying risks, and provide dynamic solutions on-site. GEOBIM technologies facilitates such assessment and real-time measures by:
Alerting: Remote site supervisor can alert workers in different staging area of proximity alerts due to overcrowding, to not access a specific place or equipment failure. In case worker(s) of particular site come in contact with Covid-19 positive worker, the site manager can alert the crew and cordon off the area
Tracing: Real-time tracing of worker activities, movement and contact with equipment and machinery are constantly updated in the cloud platform. This helps the site supervisor perform contact tracing in the event of positive infection, and alert the workers and health authorities accordingly
Surveillance: Thermal sensors, IoT-based sensors integrated with worker's protective equipment to monitor their real-time health condition and work place behaviour for potential Covid-19 symptoms for immediate segregation of symptomatic workers before contagion
Technical diagnosis: Remote access for diagnosis of equipment and machinery with advanced sensor technologies in order to avoid on-site inspection. Such diagnosis supports technicians to remotely resolve issues, instead of on-site inspection
GEOBIM On-site Construction Solutions
Furthermore, GEOBIM technology measures allow predictive analytics of site conditions for contractors to take decisive call over safe practices and efficient workflows under these pandemic circumstances. Data analysis conducted on gathering records, movement in staging area, zonal alerts, and automated estimation of workforce in different site area can help create anti-contagion measures and optimise existing on-site guidelines.
Construction industry is challenged by diverse set of issues across the value-chain in these unprecedented times. With recent uptake of technology adoption for smarter project management and increased ROI, industry leaders have begun incorporation of GEOBIM solutions in various stages of project lifecycles. If you are in the construction ecosystem, and keen on utilising technology to overcome modern day challenges – you should not miss out on the recently released market intelligence report of 'GEOBIM Market in AEC Industry'.
The report provides holistic view of technology trends and more information on how integrated GEOBIM technology can offer innumerable features that can improve your construction project at any given stage. Further, the report includes a collection of 15 best case practices, selected categorically on the basis of return on investment, and benefits derived from the use of integrated geospatial and BIM solutions in construction overflow. If you wish to know more about the report – read the report description. To purchase the report, click HERE.
Also Read: Mixed Reality in Construction