With her geo art project, German artist Susen Reuter wishes to develop a connection between science and art. She is using art as a medium to give understanding about the work of scientists. In her collaborations with Prof. dr. Christiane Schmullius, we see richly coloured and shaped details of earth observation data. Consequently, Reuter interpreted them artistically in form of large sized paintings.
Paintings based on earth observation
Reuter based these paintings on earth observation with optical and radar satellites. Of course, remote sensing itself provides an insight into patterns and structures that are invisible to human eyes. The paintings produced as part of this art-science project deal thematically with the wilderness of South Africa as well as the recordings of radar remote sensing. She produced these during a research project over several years. As Susen Reuter herself states: "The impulses for this project are my biographical interfaces: the study of geography and the intensive examination of art as a visual means of expression."
Read more: Music and art project utilizing Australian satellite imagery
Landscapes in Motion I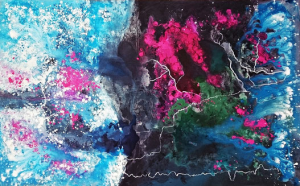 Susen Reuter created this painting based on a radar image of the Space Shuttle Endeavor in 1994 over the Kruger National Park. Prof. Dr. med. Christiane Schmullius analyzed the radar data. She had them colored in for ecological issues of the National Park Administration regarding fouling of a flood area. The extraordinary use of color through remote sensing methodology and the clearly identifiable river veins of the wilderness are the main source of inspiration for this work of art.
Landscapes in Motion II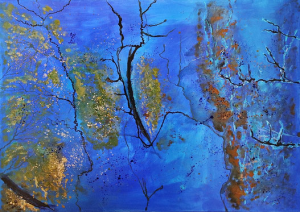 Wide plains in the Kruger National Park are interrupted by elevations with gradients of more than 40 percent. Thus, they shape the landscape. In order to be able to use altitude information more efficiently for the determination of vegetation changes in the future, Kai Heckel (Institute of Geography, FSU Jena) has been working on the derivation of highly resolved elevation models. Aerial photographs taken by aircraft-based cameras form the basis for this painting. A Sentinel-2 false-color composite inspired Landscapes In Motion II. It was created in the southeast about 10 kilometers from the border to Mozambique.
Landscapes in Motion III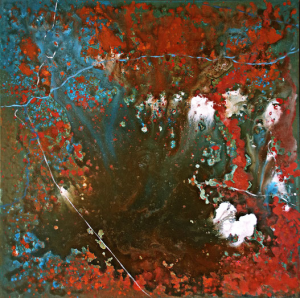 Reuters Landscapes in Motion III is a high-contrast painting, which refers to the southern part of the Kruger National Park. This re-working originated over an area in the southern part of the national park near Skukuza. The vegetation of the savannah is subject to constant change, even in protected areas. To explore their temporal change in the Kruger National Park, Dr. Christian Berger (Institute of Geography, FSU Jena) in the framework of the project EMSAfrica (Ecoysystem Management Support for Climate Change in Southern Africa) deployed both radar-based and optical Earth observation data. The source of inspiration was an optical image of the Sentinel-2A satellite.
Landscapes in Motion IV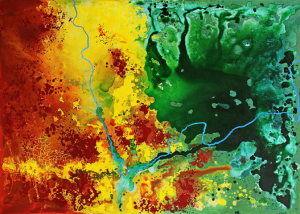 Finally, Landscapes in Motion IV is another high-contrast painting, which refers to the southern part of the Kruger National Park. Susen Reuter created this work on the basis of a GIS survey for the research project 'Contemporary and long-term erosion in a pristine African Savanna, Kruger National Park, Republic of South Africa'. PD Dr. med. Jussi Baade (Institute of Physical Geography, Friedrich-Schiller-University Jena) conducted the project.