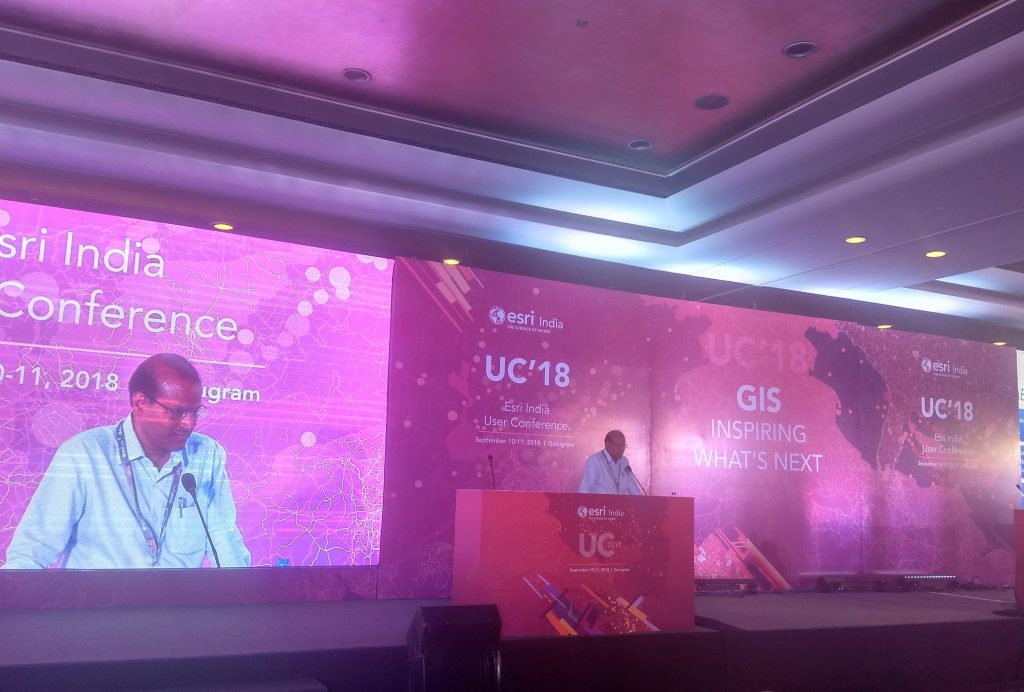 From disaster management to municipal governance, the gamut of GIS applications discussed at Esri UC Delhi 2018.
The two-day Esri User Conference Delhi inaugurated today at The Leela Ambience, Gurugram.  At the conference, the role of GIS in various fields was discussed. GIS is no longer a geographer or a specialized analyst's tool only but it is being used widely in a wide variety of disciplines by people from all walks of life.
Esri UC also commemorated the legacy of Dr. Roger Tomlinson, who was the first recipient of 'Esri Lifetime Achievement Award' in 1999. Dr. Tomlinson is regarded as the 'Father of GIS'. He developed the first GIS in 1967 and mentored the GIS fraternity for long
Delivering the Roger Tomlinson Memorial Lecture, Dr. PG Diwakar, Director, Earth Observation and Disaster Management, ISRO, threw light on ISRO's achievements and how using GIS and geospatial technologies ISRO provides assistance in disaster mitigation and relief and rescue operations.
He said, "OceanSAT series has provided a new role that allows weather forecasting. INSAT 3D and 3DR helped in evacuating a large number of people during the recent Kerala floods".
GIS is also being used in urban planning and municipal governance. Mumbai Municipal Corporation has incorporated Esri ArcGIS for a host of services for increasing transparency, ease of doing business and improving the quality of services
Mumbai Municipal Corporation is one of the largest Municipal corporations in India. It is the largest service providing organization.
"Based on desktop based and web based GIS map applications, Municipal Corporation provides development plans. It is integrated with payment gateways so that there is no difficulty in transactions", said Sanjay Nirmal, Assistant Engineer, Development Plan Department, Mumbai Municipal Corporation.
Sanjay Nirmal said that previously there were many challenges in using GIS. And there was no standard data sharing policy. But today around `10 departments have been identified.
"The key focus is on transitioning from GIS enabled to GIS-centric", he added.
There is a common application platform and a centralized platform in Mumbai Municipal Corporation that uses GIS. All the departments' data can be viewed on a single portal with just one click. "We can identify anything using Geo-Referencing. Facilities are developed and available for all. We launched the portal through the government of Maharashtra", said Sanjay Nirmal.
The initial challenges faced in integrating GIS in municipal governance were due to the local spatial database, no common base map, unavailability of attribute and department GIS data, lack of end-to-end GIS data management, isolated policy making, lack of skilled people and no standardization of GIS
Number of properties available in a particular field can be found out easily and also how many projects are ongoing can be found using GIS.
GIS Experts give a unique identification number. So based on both, the world can be mapped. And the bill is reflected on the dashboard. So how many roads are also to be seen through GIS. Mumbai Municipal Corporation has also created an ArcGIS based location app.
In the future, the Municipal Corporation wants to improve ease of doing business and start integration with IoT sensors. For this, data required through GIS would have to be synced through the application. This would make the process even smoother and drastically reduce the time taken.