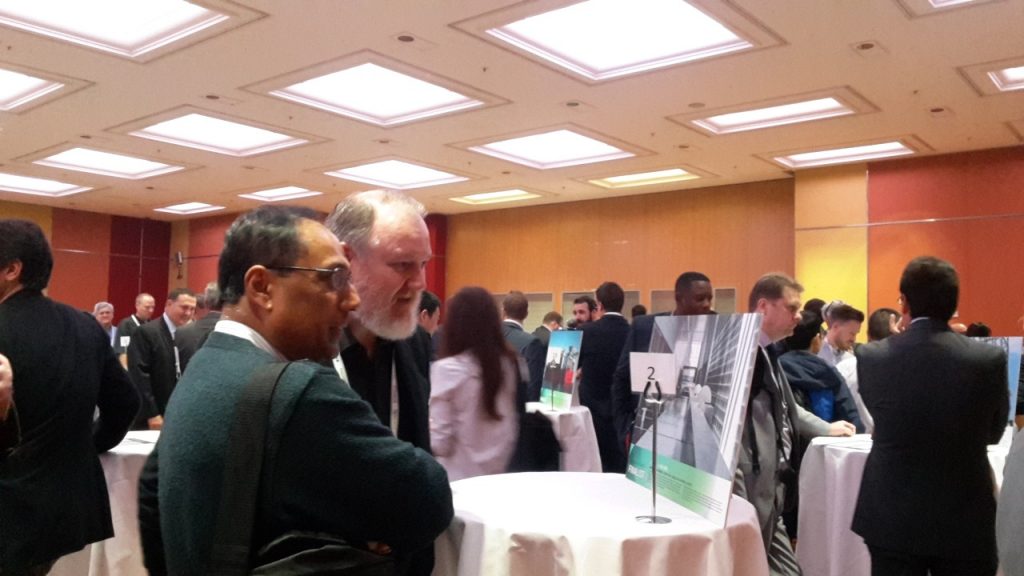 If anyone is looking for evidence of how far the concept of geospatial has advanced and embraced every aspect of our lives and decision making, Bentley Year in Infrastructure is always a case in point. But what sets this year's event apart is the focus on futuristic technologies – augmented reality, 3D and reality modelling, explorative design, performance simulation, Big Data and analytics, and much, much more — and the integration of it all with geospatial.
Futuristic Focus
Likewise, the conference agenda is heavy on a futuristic focus. The dedicated 'Visions for the Future Forum' explores the latest research and future trends with a focus on infrastructure performance, design, and modelling. New and innovative technologies such as explorative design and augmented reality are becoming mainstream in the context of application and analysis.
This is not to say these technologies have come up all of a sudden. They were being talked about for some time now, and were very much part of Year in Infrastructure 2015 too. But they were on the sidelines as 'also there'. "This year, they are in the very forefront. And it's amazing how fast this shift has come," said a senior Bentley executive on the  sidelines of the conference.
Even presentations from finalists as they showcased their projects reveal how much some of these new technologies are driving them and helping them innovate. It is no more about tech companies telling people what to do. It is all about how users themselves picking up bits and pieces of all kinds of technologies, as they want, and then putting all that together to create amazing stories.
With two more days to go into the conference, and keynote addresses from senior industry leaders still to come, we expect further talks and discussions around these technologies.
Augmented reality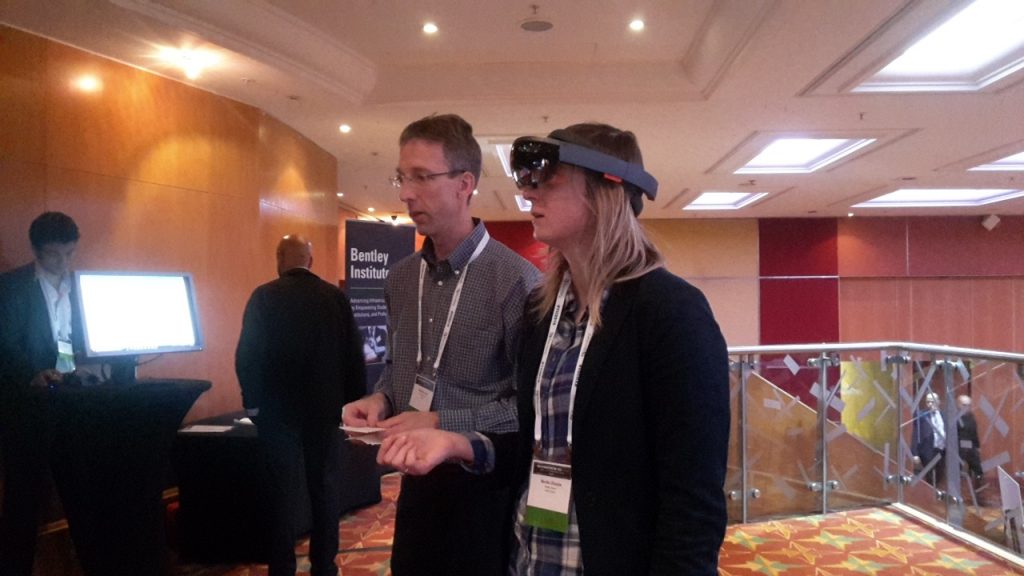 One of the most interesting aspects was the HoloLens live demo counter. The demo area, which will be open all days, is not only showcasing how augmented reality helps in complex engineering and maintenance processes, but visitors also have an opportunity to try out the device themselves.
Tracking has been one of the main impediments in the development of reliable augmented reality applications in engineering. "To enable accurate augmentations, the AR application has to know the position of the augmentation device (tablet, phone) within a millimeter accuracy, which was quite a challenge to achieve," said Stephane Cote, Bentley Fellow, Bentley Systems, who was giving the demo. Cote, who will be giving a presentation on the 'accurate augmentation of city and plant environments for efficient operations' on Wednesday, explained how HoloLens (and other such devices) offer very stable indoor tracking, providing a very strong foundation from which AR applications can be developed. His presentation tomorrow would describe Bentley's latest work in the field of augmented reality, showcasing accurate outdoor augmentation of city environments, rendering of subsurface utilities augmentation offering very good perception, and the use of the devices like HoloLens for plant operations.
3D and beyond
You cannot talk engineering without talking about 3D today. Intelligent 3D models are at the heart of every engineering and business process. Digital engineering and their combination with information modelling, visualization and simulation are increasingly playing a key role during design and analysis. And with technologies like 3D printing, people have the access to perfect models with even millimetre accuracy. "Digital engineering models are the basis for integration and exploitation of data from a variety of sources and when maintained and extended throughout the entire asset lifecycle, provide the basis for performance based decision support and better operating utility infrastructure," said Robert Mankowski, VP, Asset Performance Product Development, Bentley Systems, as part of his presentation.
With advancements in computer applications, visualization is taking the centre stage in all kinds of decision-making, thus leading to mainstreaming of augmented reality and 3D modelling and printing.
Big Data and analytics
As Big Data becomes a ubiquitous phenomenon, analytics is becoming the only means to extract and derive the useful information from big datasets. Infrastructure of the future are thus seen to be embracing latest numerical and visual analytics  — again powered by augmented reality —  to address the challenges for constructing a semantic reality model, undertaking data-driven predictive modelling, and conducting model-based asset performance assessment. Innovative methods and software tools were showcased to exemplify the advancement of performance-based design, operations, and lifecycle asset management with the real use cases in fields like buildings, roads, bridges, water systems, transportation etc. 
Another noticeable aspect was mobiles, app and Cloud as other aspects driving this Big Data revolution. Special sessions delved into mobility management, mobile devices and apps and Cloud-based approaches, demonstrating how Mobile and Cloud technologies can improve both field worker productivity and customer satisfaction.