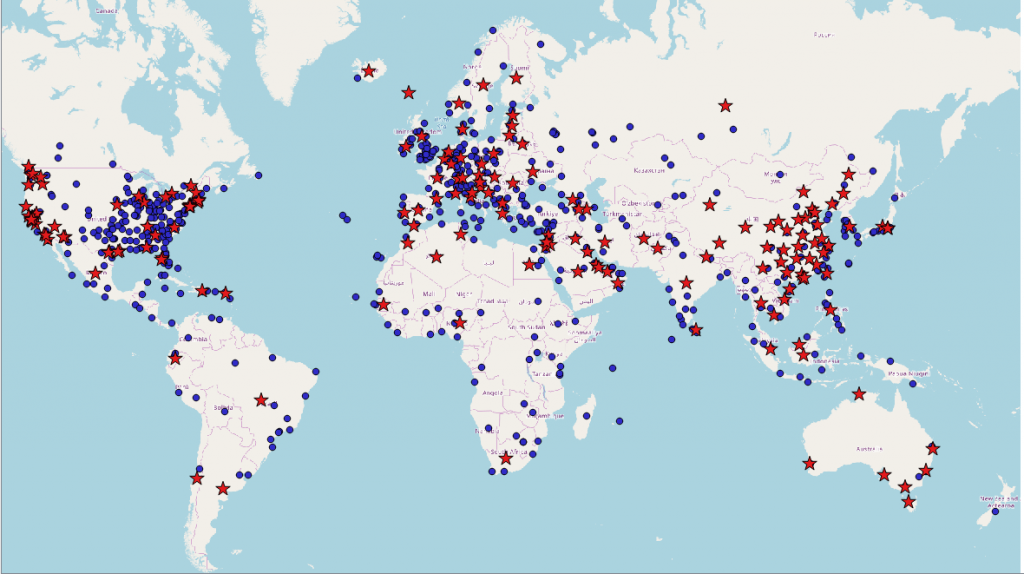 As the fierce coronavirus leaves a deadly trail behind, it seems to be one of the monsters that Antonio Gramsci warned as a sign of the death of the old world and the rise of the new one in the past century. The wake of this global threat also reveals major gaps in official data and statistics. Integrating geospatial data with statistics can help understand the spatial behaviour of a global phenomenon like a pandemic. This makes it a great tool for decision making in the short term as well as for achieving the 2030 Agenda for Sustainable Development over the next ten and a half years.
Although governments and NSOs have been restrained in their ability to generate, share, match and disseminate geospatial and statistical data in a timely and reliable manner, partnering with external parties appears as a promising solution.
Data partnerships and NSO geospatial responses to COVID-19
Fortunately for the many people whose lives have been saved already, a handful of NSOs have embraced the geospatial data challenge. However, their offered solutions have had varying levels of value for decision-making.
Different strategies for responding to COVID-19 using geospatial data and statistics are found in all kind of countries around the world, and have been made possible through data partnerships – both government-to-government and government-to-business.
Table (please check technical note below)
| | | | | |
| --- | --- | --- | --- | --- |
| NSO | Type of Analysis / Visualisation | Kind of Partnership | Source Data Layer | Data reusability |
| CSO Ireland | Geo Hive Hub / SDG chart | G2G+ | Several | LOSD |
| Eurostat | Travel time to health services | G2G | GDB of health services | Open |
| DANE Colombia | Vulnerability Index | G2G | 2018 + Census | Proprietary |
| INE Spain | Population Mobility | G2B | Real time | Proprietary |
| Statistics Estonia | Population Mobility | G2B | Real time | Proprietary |
| INEGI Mexico | Mapping of infected and Other | G2G+ | N/A | Open |
| GSS Ghana | Population Mobility | G2B | Real time | Proprietary |
Technical note: Table was produced by GeoCensos based on web searches of considered cases. Kind of Partnership was characterized based on classification established in Citizen to government data partnerships: What can we learn from and recommend to civil society groups working in the official statistics domain? In source data layer "+" means that there are other layers used. In Kind of Partnership "+" means other partners. LOSD means "Linked Open Statistical Data"
Not only has the European Union Statistics Office (Eurostat) procured the location of most health care centres in the continent but also NSOs from Latin America (México and Colombia) have mapped statistics on health related issues in close partnership with government agencies.
The Spanish Institute of Statistics, Statistics Estonia and the Ghanaian Statistical Service (GSS) ordered real-time studies using the location of mobile phones to gain an understanding of country-wide mobility when lockdown was in place. With the partnership of telecommunication companies, they managed to produce mobility indicators out of aggregated data.
All the above cases have been developed through a data partnership inspired by SDG 17 of the 2030 Agenda (partnership for the Goals). This kind of partnership is meant to mobilize and share knowledge, expertise, technology, and financial resources to support the achievement of the SDGs, in particular for developing countries. The practical impact of these partnerships for COVID-response have proved effective for saving lives in the deployment of actions in the territory.
Seven facts from COVID-19 data partnering
While the number and variety of initiatives is limited at this time, they suggest that ample opportunity exists to support issues related to the SDG through inclusive data partnerships. Some of the facts that these case studies reveal are:
The identified examples do not incorporate real-time geospatial analysis of contact tracing for those infected; available information is provided only in an aggregated fashion.
Before the outbreak, no cases of geospatial data partnerships between health statistics offices and NSOs were identified.
The reviewed experiences and geospatial response data laboratories revealed in a short time a great potential to scale up the integration of sources with different actors.
It was possible for some initiatives to involve private actors to organize data partnerships for the first time.
Statistical offices from less developed countries with little experience in data partnering managed to use administrative records or surveys from other official sectors of government.
Some examples needed concretely targeted communication campaigns to prevent confusion among the public.
Finally, no cases of data collaboration between civil society and NSOs in providing geospatial responses to COVID-19 have been found.  
What these facts are telling us?
Partnering of NSOs with external sources present some encouraging facts. Data partnerships are key for a "data revolution" and for enabling the fulfilment of the 2030 agenda. This plan, agreed globally by the United Nations, promotes sustainable development, recommends transformative measures for national statistics, and seeks improvements in the way data are produced and used to achieve goals in 17 key areas. Since 2015, the agenda calls on a wide range of actors – not just governments and their national statistical systems – to work together to generate timely and usable data, while facilitating informed decision-making, including actions during emergencies.
The available cases can be an inspiring solution in the context of a pandemic – and also for the data revolution – especially if pressures strike at the right moment and place. By integrating diverse sources of geospatial and statistical nature, innovative data partnership approaches could effectively help in the understanding of the territorial behaviour of many other "monsters" like poverty or climate change. Cases also suggest that the necessary institutional arrangements can be worked out also in the short term, if the right incentives are in place.
The mobilisation and sharing of knowledge and data amid limiting conditions can be achieved through greater leadership of NSOs in data partnerships, especially if inclusiveness and flexibility is at their core. This could be especially useful when related economic and social issues emerge in the future, especially within the return to a new normality. The statistical domain should capitalize as well on the costly lessons learned in the heat of this pandemic, including elaborated communication plans and the recruiting of civil society in data collection exercises. These should consider, among other, innovative remote spatial techniques, like crowdsourcing of data at grassroots levels and armchair mapping.
Monitoring coronavirus with an inclusive and communicative approach can revive implementation of the 2030 Agenda 2030 by helping to provide many of the indicators for the 17 SDGs. An intelligent strategy, for both, COVID-19 and the SDG monitoring endeavour, should be marked by a healthy emphasis on effective data partnerships so that no one is left behind.
HIGHLIGHTS
NSOs have been challenged by the pandemic outbreak to generate, share, match and disseminate geospatial and statistical vital data in a timely and reliable manner.
Data partnerships are a concept inspired in the sustainable development agenda SDG 17.
Partnering from governments with external data sources can be a suitable solution especially if incentives are right in moment and place.
Monitoring most of the indicators of the 17 SDG in an inclusive and communicative manner can revive the implementation of Agenda 2030.
Also Read: Collaboration is imperative to realize the value of geospatial