Indian Geospatial Market is poised for growth! Governments at all levels in India — national, state and local, need data in order for governance. Geospatial data and aided applications are helping departments across various sectors in India with the same.
Already many government departments in India use a variety of Geospatial technologies in India like GIS, Remote Sensing, LiDAR, GNSS, Surveying & Mapping etc. Government of India is also taking unprecedented interest and measures in connecting space and location technologies with development and governance.
Thus once can see that the use geospatial map data and applications in spread across a wide variety of areas, including legislative and policy development, the allocation and management of natural resources, defence and public safety purposes, spatial planning and many others are are supporting informed decision making throughout the sectors of importance to the economy.
All flagship programs be it smart cities, skill development, Digital India, Start-Up India, Make in India, the Clean Ganga project, or the push to infrastructure, industrial development, energy, or smart agriculture have substantial geospatial component.
How big is the Indian Geospatial Market?
So, once can ask the question – How big is the Indian Geospatial industry? To answer this question, here are the four facts you need to know about the Indian Geospatial Market!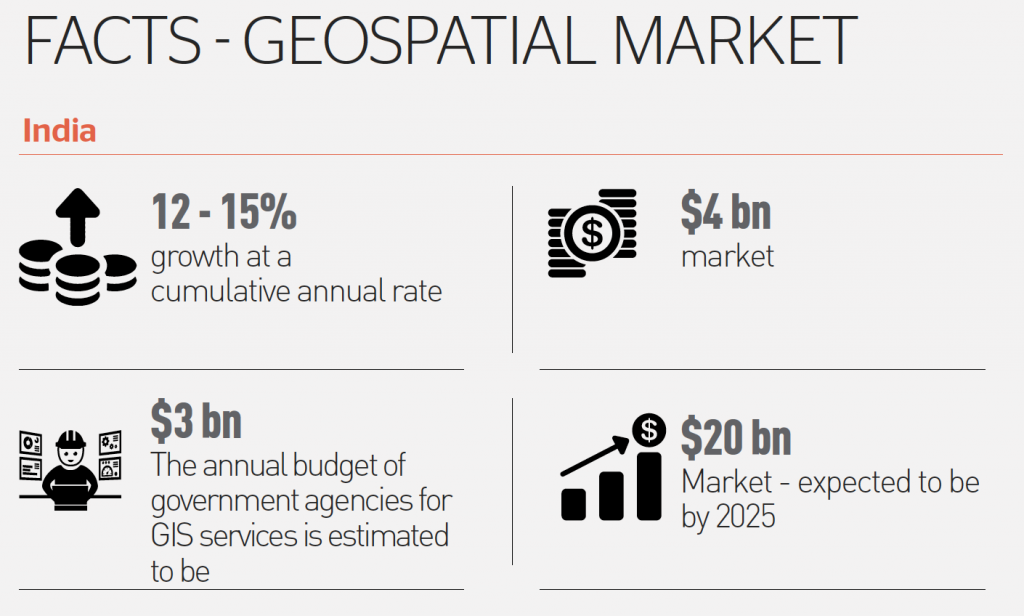 $ 4 billion > Over all size of Indian Geospatial Industry
12-15% > Cumulative Annual growth rate of Indian Geospatial Industry
$ 3 Billion > Estimated annual budget of government agencies for GIS services
$20 billion > Geospatial Industry / Market size expected to be by 2025
Also Read: Get to know the most popular geospatial technologies in India
Want more insights on India Geospatial Market?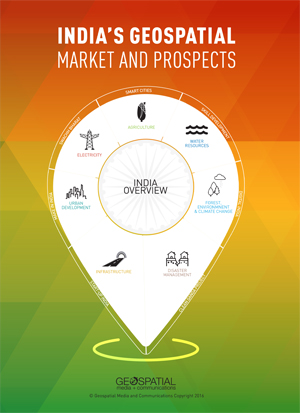 If you are looking for more of such detailed insights, refer to the the report India's Geospatial Market and Prospects conceived by Geospatial Media highlights how geospatial technology can contribute to the success of these flagship programs and also in sustaining India's growth curve. The report provides a detailed analysis, trends and applicability of geospatial industry in India.