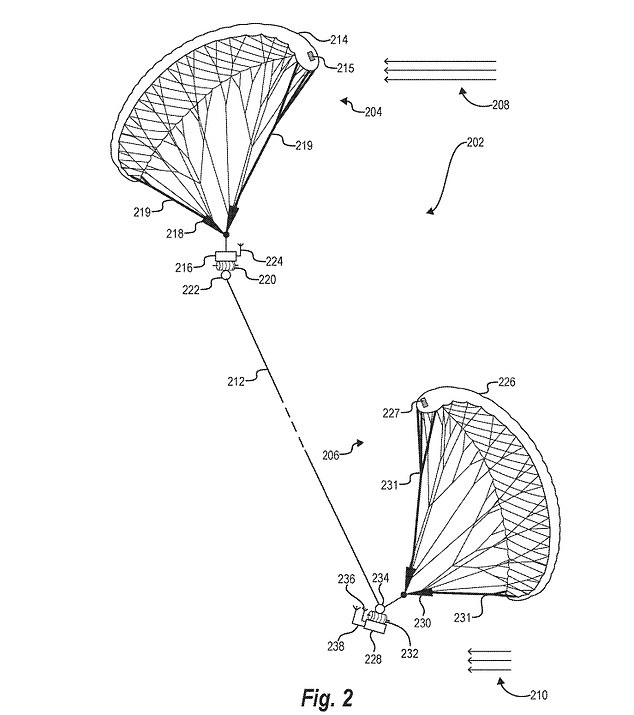 Facebook has come up with a new innovation in the drone industry and has filed a patent application with the United States Patent and Trademark Office (USPTO) for 'dual-kite aerial vehicle'. 'Dual-kite aerial vehicle' a system where drones would use two kites to fly in the air. The application was published by the USPTO on May 30 which though it was filed by Facebook in November 2018.
'Dual-kite aerial vehicle,' describes an unmanned aerial vehicle that is attached to two kites where both kites can be flown at different altitudes. The 'dual-kite aerial vehicle' comprises a single tether extending between the first kite apparatus and the second kite apparatus. It will be designed in such a way that both the kites could fly independently but when required would also work together when required such as for maintaining correct direction and altitude. 
The system includes components for generating electrical energy from the gradient air movement to extend a flight time of the dual-kite aerial vehicle.
Each kite will comprise a power generator that will convert mechanical force on the tether caused by the gradient air movement to produce electrical energy that will recharge batteries automatically installed in dual-flight drones. The system will be helpful in reducing fuel consumption as well as costs associated with storing and consuming fuel for powering the dual-kite aerial vehicle.
Facebook claims that the design of the proposed drone would be like a helicopter but will be lesser in weight, cost, and size.
However, it is still unclear how the system would deal with potential issues, like wind gust that can possibly cause one kite to become wrapped around the other and how will it deal with external objects in the air.
Also Read: We need humans at the center of emerging technologies