The European geospatial industry is being stimulated by the fourth industrial revolution laced with disrupting technologies, innovation, convergence, and integration with business processes of leading industry segments, such as AEC, manufacturing, IT, etc. Over the last decade, the industry has altered its approach to being just 'data' or 'content' provider to imbibing a solution-centric approach. The geospatial industry on a whole has transitioned into being an instrumental entity for not only expanding the size of the geospatial businesses but forwarding its unique economic value proposition to the forefront, opening avenues for future growth and development.
The European Geospatial Business Outlook report, an exclusive study by Geospatial Media and Communications, broadly segments the geospatial technology ecosystem into four categories, namely, GNSS and Positioning, GIS and Spatial Analytics, Earth Observation, and 3D Scanning. Further on, the report shares a harmonized view of the European geospatial market and business scenario, policies and strategies facilitating geospatial industry's development and user uptake, transformation of the traditional geospatial business over the past decade, convergence of technologies and innovations in phygital (physical and digital) world, disruptive business models transforming the industry fabric, influence of 4IR technologies in the expansion of the European geospatial industry and the focused application areas of the European geospatial businesses.
The European Geospatial Industry: Market Size and Growth
Driven by various market and technology trends, the European Geospatial Business Outlook report estimates that in 2017 the European region had an estimated market share of 26%, with a market size of €67.45 Billion which is estimated to grow at an estimated CAGR of 11.65% to reach €93.94 Billion in 2020. It is also seen that even though the market share vis-à-vis the global geospatial industry market, shrinks, the European geospatial technology segment continues to showcase a steady growth rate between 2017-2020.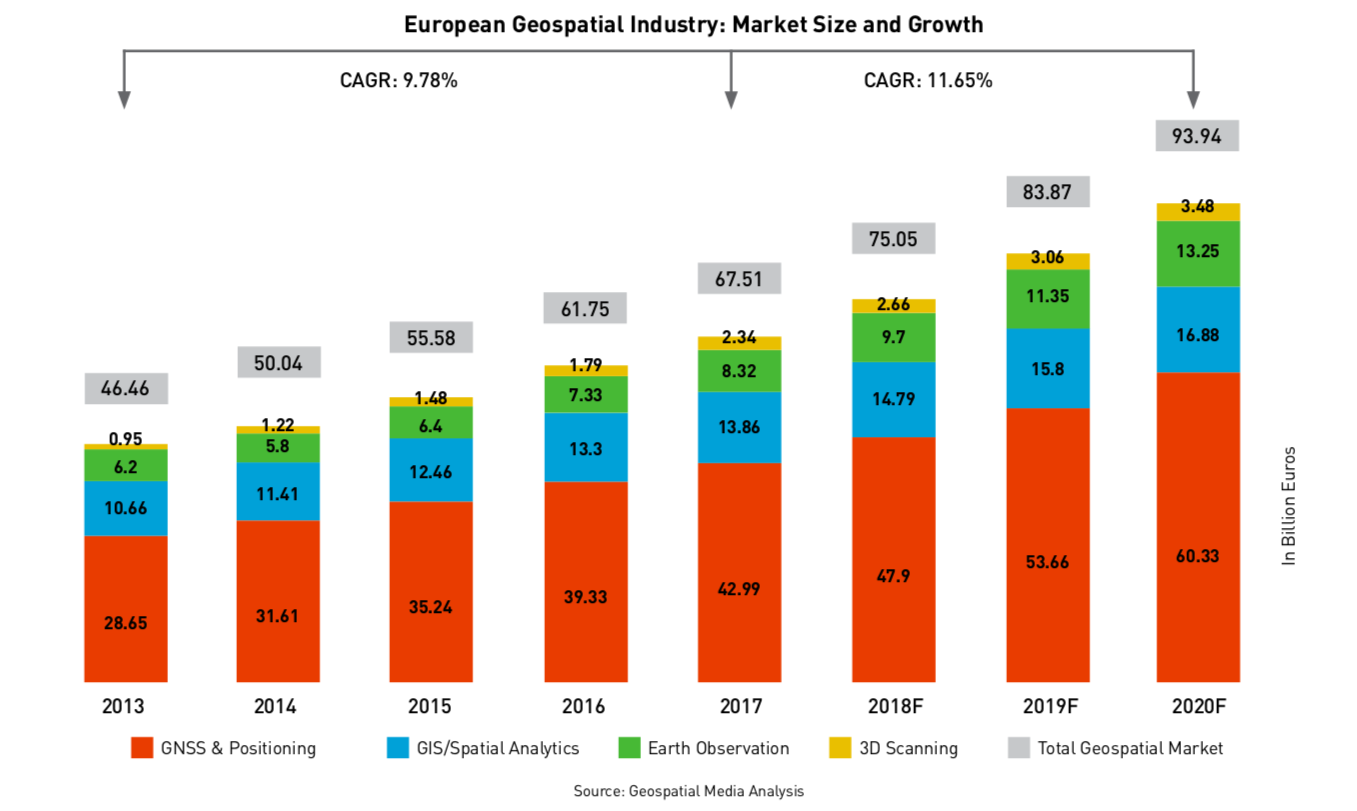 GNSS and Positioning: The report finds the total market share of the European GNSS and Positioning segment to be €42.99 Billion in 2017, projected to grow at a CAGR of 12% between 2017-2020 to touch €60.33 Billion in 2020 i.e. 26.6% of the global GNSS and Positioning market. Further, the market for GNSS and Positioning segment is defined by the upstream and downstream segments, surveying, and indoor positioning. Of these three segments, the indoor positioning segment is expected to grow at a CAGR of 39.9% between 2017-2020 to touch €3.54 Billion in 2020.
GIS and Spatial Analytics: The report finds the European GIS and Spatial Analysis Market to be valued at €13.86 Billion growing at a CAGR of 6.8% between 2017-2020. In 2020, the market share of the European bloc vis-à-vis the global GIS and Spatial Analytics market is expected to be 22% i.e. €16.88 Billion. Of the three segments defined, services and solutions are going to be the fastest growing market, followed by content and lastly by software.
Earth Observation: The GeoBuiz-18 report forecasts that the European region may witness a marginally lower growth rate from 2018 to 2020 than the global average. Resultantly, the European Geospatial Business Outlook report presents, that although the market size of the European earth observation segment is going to rise from €8.32 Billion in 2017 to €13.25 Billion in 2020 in absolute terms, its market share is likely to decline to 20.1% by 2020.
3D Scanning: The European 3D Scanning market is expected to hold 28.3% of the global 3D Scanning market by 2020 i.e., €3.48 Billion, predicts the European Geospatial Business Outlook report. With an approximate CAGR of 14.3%, this segment is going to be the fastest growing technology segment. This growth can be attributed to increasing investments made by major industry players on research and development, increasing adoption of 3D scanners in various end-user industries, and a greater focus on accuracy and quality control.
Geospatial Readiness: Key Observations
By leveraging the European Commission's INSPIRE Directive, many of the evaluated European countries of the index demonstrate a presence of mature NSDI with the availability of regularly updated high scale thematic layers. Adoption of collaborative frameworks by the European Commission (EC) and the European Space Agency (ESA) in the last decade has facilitated the overall leadership of European Countries in the policy domain.
European users of geospatial information and technology are able to integrate spatial information with IT and engineering sectors to provide unique and cost-effective solutions. Furthermore, the users of the leading geospatial ready countries, both government and private, are able to derive multifold benefits as they have the capability to integrate geospatial information with applications/hardware and software of different ecosystems such as IT and Engineering. The use of these solutions is not limited to traditional sectors like agriculture, construction, and disaster management, but is applied in specialized sectors like real-estate, building engineering, architecture, banking and financial services, retail and logistics, forestry, among many others.  Not surprisingly, these economies are developed and are able to sustain their position as leaders of the world economy owing to their apparent inclusiveness of geospatial strategy in all workflows.
Additionally, the leading countries have a vibrant geospatial industry ecosystem. These countries have dedicated geospatial technology business incubation programs (ESA incubation Centers (BICs)) as part of national programs; investment funding to promote ICT research and innovation and collaborative networks and associations solely dedicated for Geospatial (such as GeoBusiness Nederlands).
Scandinavian countries rank fairly well in four pillars of Geospatial Readiness Index, namely, data infrastructure, institutional capacity, policy framework, and user adoption level. However, the main reason why these countries rank low in the final index is that they perform lowly in the industry fabric pillars which is inclusive of innovation, incubation and accelerator programs, and industry associations and professional networks.
European Geospatial Business Outlook: Top Technology Drivers

The convergence of Big Data, the Internet of Things (IoT) and Automation is leading towards a world of connected cars, smart cities, smart devices, etc.  Keeping with the global trends, the report establishes that Big Data is also driving three out of four geospatial technology fields i.e. GNSS & Positioning, GIS and Spatial Analytics and Earth Observation while Automation is the max disruptor for the 3D Scanning segment.
For more such insights on the European Geospatial Industry (including business value chain, market share, policy environment, etc.) please download the European Geospatial Business Outlook Report, available for free. For more details on the report and its finding, please feel free to write to me at [email protected].