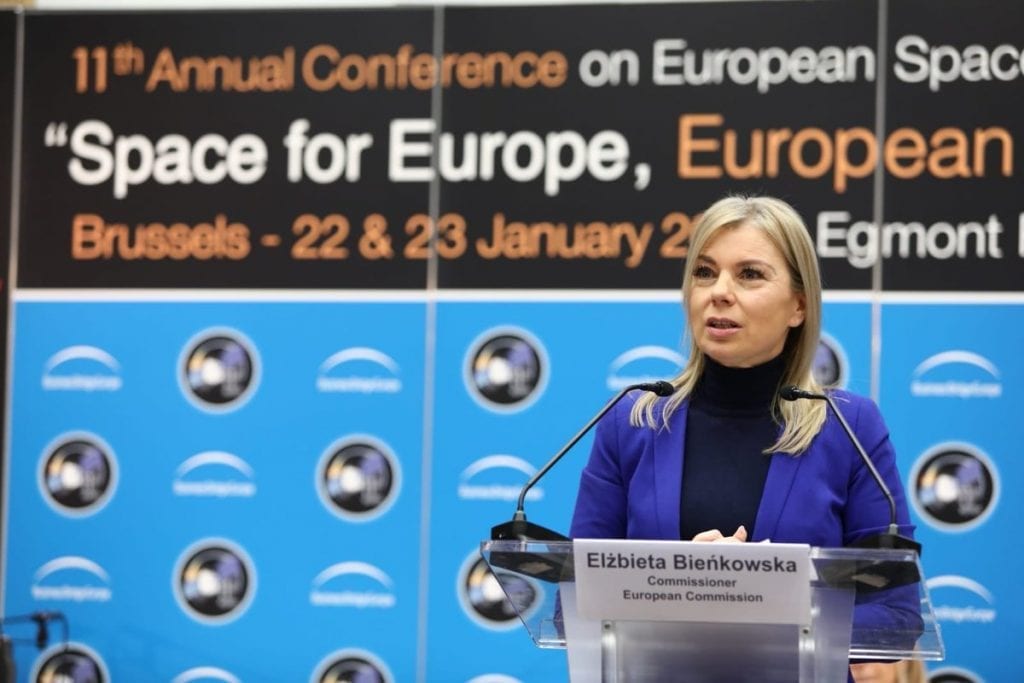 European Union has long sought to strengthen its space program to become a leader in space. In order to realize this goal, an ingenious new approach is required that would focus on fostering innovation in SMEs and boosting collaboration between governments and private companies.
In the opening speech of 11th Annual Conference on European Space Policy, Elżbieta Bieńkowska, EU Commissioner for the Internal Market, Industry, Entrepreneurship and SMEs, highlighted renewing the European approach to new space as a key priority.
New approach for New Space
The space industry is undergoing a radical transformation and in the age of convergence of different technologies, there is a need to reimagine the approach to Space.
For tackling the emerging challenges Europe must have an independent approach to 'New Space', believes Bieńkowska.
The New Space approach intends to overhaul the European Space Ecosystem and enable it to critically introspect its approach for new innovations.
A New Space Approach suited for Europe would not only involve change in economic structure but also a more fundamental change in the mindset of the space sector.
In the USA most private sector companies at the forefront of New Space are not necessarily core space companies and this example needs to be replicated in Europe, believes Bieńkowska.
This would require promoting the space industry and welcoming innovative SME's on board. However, this doesn't mean that big company would have a lesser role in the European NewSpace approach.
"This is not about opposing large companies with start-ups or traditional space companies with newcomers. Because we need them all here in Europe. We need you all. Both big and small. Traditional space companies and others", said Bieńkowska.
For the New Space Approach, it is also essential that European public procurement is more transparent and is not risk-averse. Designing a new contract approach for space start-ups is also important.
A New Space Fund, in collaboration with the European Investment Fund will be soon announced. The fund is expected to mobilize € 300 million of public and private investment dedicated to space start-ups and SMEs in Europe, said Bieńkowska.
She is also of the opinion that Europe also needs a separate Space Equity Fund.
"Beyond the EU Space Programme, other MFF proposals will support space.
Horizon Europe will support Space research through the launch a space partnership focused on large-scale space systems to boost innovation capacity and competitiveness in the global context", added Bieńkowska
Copernicus and Galileo
Last year in June, European Commission proposed to allocate €16 billion in the EU budget 2021-2027 to boost EU's space capabilities and enable it to tackle emerging challenges.
Out of the total budget, the lion's share went to Galileo and EGNOS, and Copernicus. This trend would continue and a further increase in investment could be expected.
The European Commission remains committed to the investment and the supporting infrastructure needs to be upgraded and maintained towards challenges such as climate change, security or IoT. Galileo would also become an enabler of internet of things, connected cars and app economy.
EU Commission also proposed two new programs: Space Situational Awareness (SSA) system to avoid collision and debris on key satellites, and Governmental Satellite Communication (GovSatCom) initiative to provide the Member States with reliable and secure satellite communication.
Autonomous Space Access
Autonomous access to space is vital for space policy, believes Bieńkowska.
To fulfil this, an unprecedented legal provision has been included in the EU text to bolster European access to space.
"We are ready to aggregate our institutional demand, to support ground infrastructures and the deployment of new technologies. This is a far-reaching provision which is the answer of the Commission on the call to support European launchers", said Bieńkowska.
Taking a cue from the US National Space Council that is under the President, Bieńkowska also proposed a European Space Council that would be directly under the European Council or its President.
In the era of New Space, the cooperation between defense and space will increase and just like the newly created US Space Force Europe may consider its own European Space Force.
European Commission has also forged a new partnership with ESA for supporting orbit validation and demonstration (IOD/IOV) of research experiments from technologies to missions. Around €100 million will be allocated for the program, which has the potential to herald pathbreaking developments in ridesharing services.