The unprecedented Europe heat wave conditions not only prompted space and weather agencies to make individual assessments, but also saw a variety of maps doing the rounds on the Internet. 
Europe has been feeling the heat like never before. Be it France, Spain, Germany, Switzerland or Italy, intense heat wave wreaked havoc in a large number of European nations last month. Reports suggest that relief is in sight, but not without new temperature records and unfathomable suffering. For instance, France recorded its highest temperature at 45.9 degrees Celsius last in Gallargues-le-Montueux. While temperature records are normally broken by tenths of a degree, the recent increase in temperatures exceeded the previous record, set during the heat wave of the summer of 2003, by an extraordinary 1.8 degrees Celsius.
The unprecedented spike in temperatures appalled experts all over the world, and also prompted some of the major meteorological and space agencies to take stock of the situation at their end. Here are a few examples.
NASA's ECOSTRESS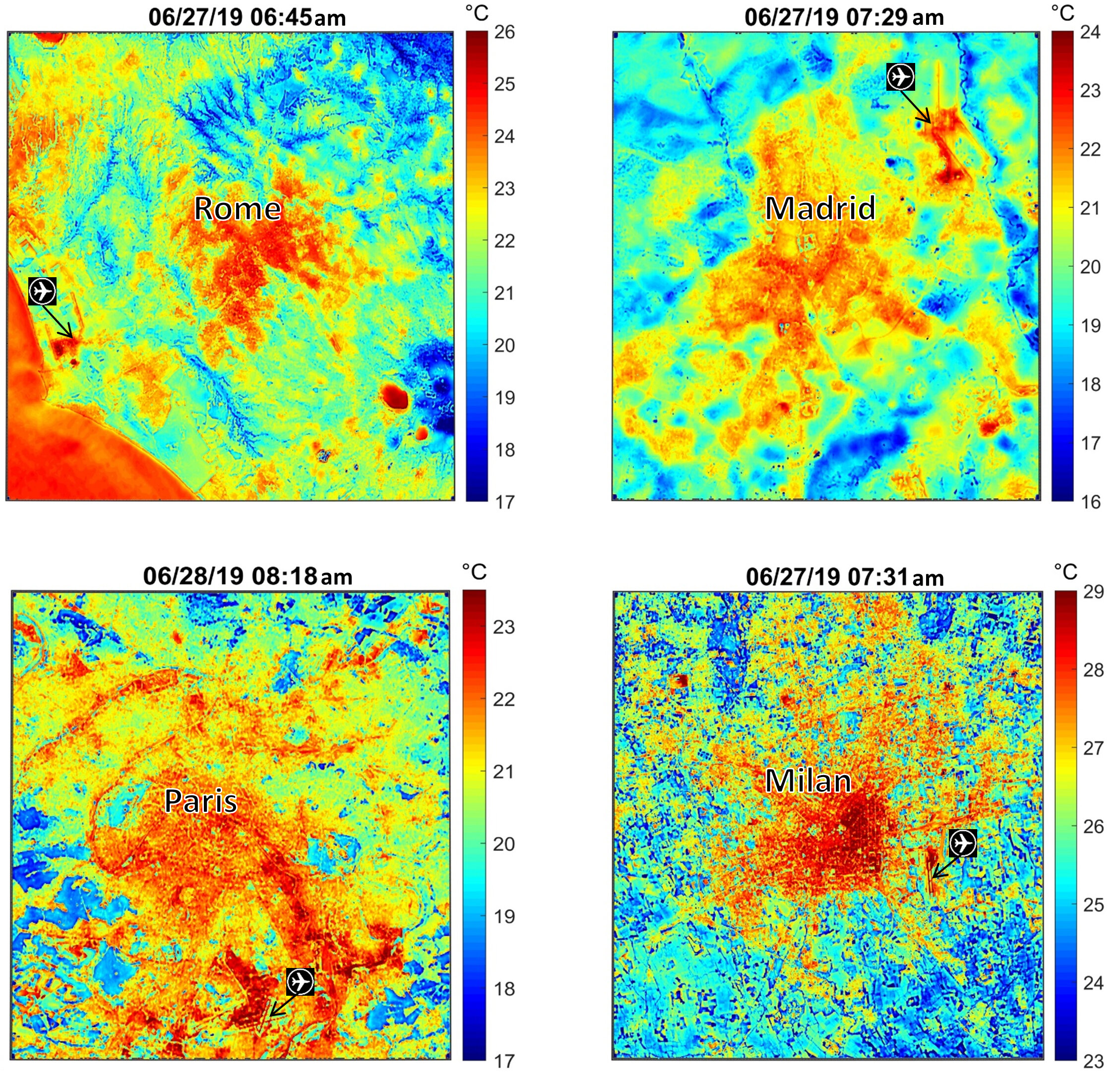 According to NASA's ECOSTRESS (ECOsystem Spaceborne Thermal Radiometer Experiment on Space Station) that has mapped European heat wave from space, in the last week of June, many countries in Europe were struck by temperatures above 104 Fahrenheit (40 degrees Celsius). Going by the World Meteorological Organization, June this year was the hottest month on record for the continent as a whole. ECOSTRESS measures Earth's surface temperature from the International Space Station at different times in a day.
ECOSTRESS mapped the surface temperature of Rome, Paris, Madrid and Milan on the mornings of 27 and 28 June. The images, showing hotter temperatures in red and cooler temperatures in blue, reflect how the central point of each of these cities is much hotter than the surrounding landscape. Temperatures as high as 77-86 degrees Fahrenheit (25-30 degrees Celsius) in the early hours suggested that heat from previous days was unable to dissipate, resulting in even higher temperatures (above 40 degrees Celsius) during the day.
European Space Agency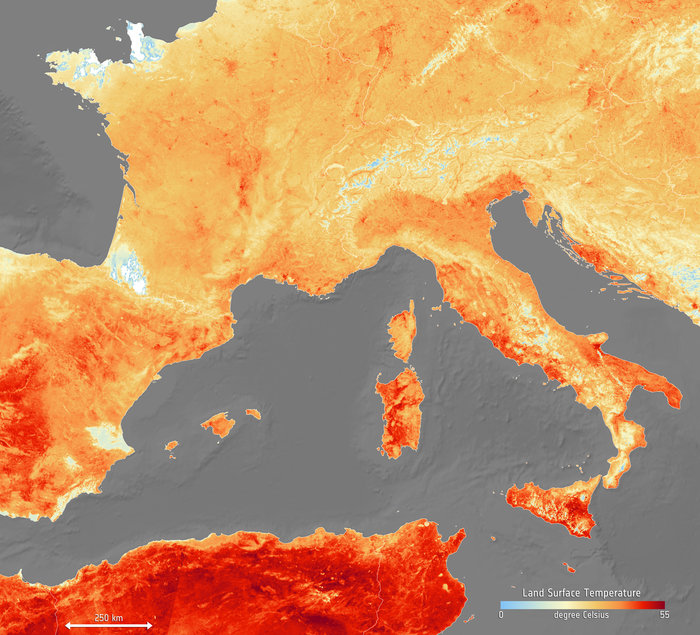 Earlier, a European Space Agency map generated using information from the Copernicus Sentinel-3's Sea and Land Surface Temperature Radiometer showed the land surface temperature on 26 June. The white areas in the map reflected cloud obscured readings of land temperature, while the light blue patches showed either low temperatures at the top of cloud or snow-covered areas. The nations worst hit by the unusually hot weather were Spain, France, Germany, Italy and Poland. According to a story on World Weather Attribution, the record-breaking heat wave that struck a large part of Europe last month was made several times more likely by climate change. The scorching heat resulted in wildfires in Spain and Germany and disruption in many more countries.
How Europe Heat Wave Set Social Media on Fire
Severe heat in Europe set the social media on fire quite literally. Almost every day — sometimes more than once a day — pictures and maps by a host of agencies were widely circulated and commented upon in the virtual world. Almost every post had words expressing shock, if not caution. In one of such posts, the weather map of France looked like a screaming heat skull of death (Potter fans would know what that means). The map, first created on June 20, showed the countries rising temperatures creating a giant, screaming face. Another such map, posted earlier this month, depicted a large part of Europe in an alarming red, and only a few countries in yellow.
While the reasons for soaring temperatures this year may take some time to establish, it is unlikely that Europe and its inhabitants will ever forget the June of 2019.
Also Read: Satellite data shows shrinking reservoirs that may spark major water crisis globally