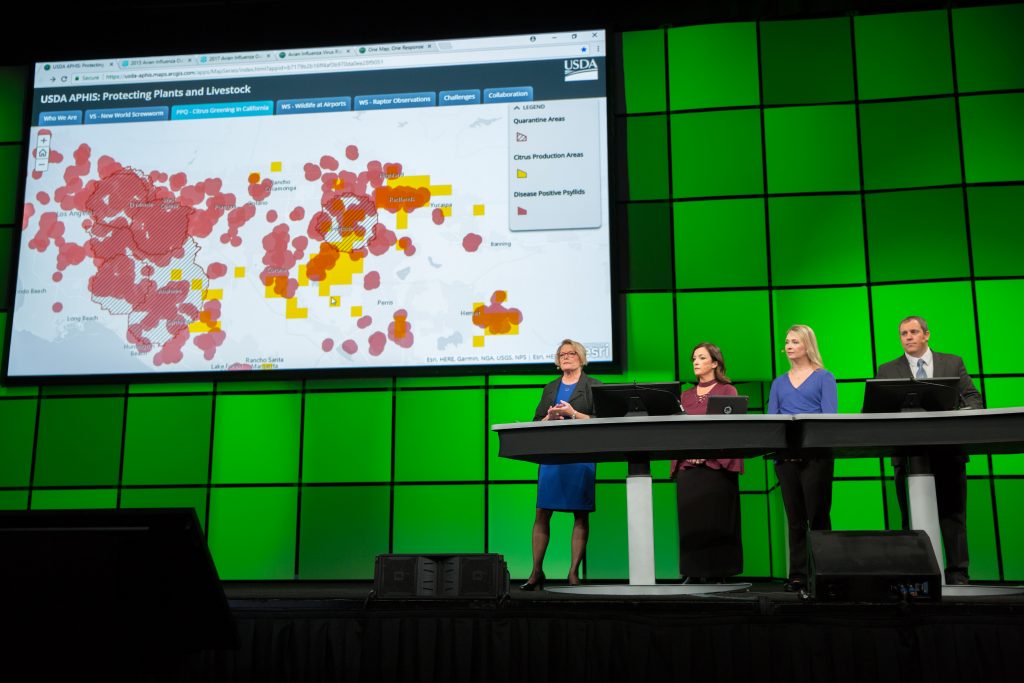 More than 4000 government thought leaders, GIS innovators and multi-disciplinary experts gathered at this year's Esri FedGIS Conference on March 20-21st in Washington DC. Attendees came to get inspired, participate in workshops, see amazing new technology, ask pressing questions and leave with armed with information about how location intelligence can help them achieve their ambitious goals.
The Opening Session featured Esri founder and president Jack Dangermond sharing his vision for the Science of Where and spotlighting inspiring federal government leaders and their exciting projects. Dangermond also introduced Esri technology experts to demonstrate new advances in GIS technology, and then enthusiastically announced the winners of the Making a Difference Award. Congratulations went to the National Oceanic and Atmospheric Administration, National Weather Service, National Centers for Environmental Prediction and the Office of Dissemination for their work together in GIS.
Dangermond began with his vision of the Science of Where, clarifying to the audience that it is the science of geography combined with the technology of GIS, and applying that to accomplish our most significant objective—"Creating a more sustainable future." He explained how the field of GIS is expanding, advancing, and changing to build better services and systems. On this last point, he referenced the ArcGIS geospatial platform, comprehensive from the desktop to the Enterprise.
"A big change has been happening under our feet, using services to integrate data dynamically as digital dial tones," said Dangermond. "We can read data from many sources and share it through the cloud to collaborate in new ways. The concept of spatial infrastructure has been around for years. There is a revolution now with how easy it is to share information through services. We can bring data together, mash it up, and create new understanding. It's available to everyone in an organization through simple maps on any device. at the high-end, it engages data scientists who apply analytics to drive policy planning and decision making. Distributed systems weave together information across individuals, teams, departments and organizations as well as between local, regional, national and global governments."
Next on the agenda was a special guest presentation featuring the U.S. Department of Agriculture – Animal Plant Health Inspection Service (USDA APHIS) whose mission it is to safeguard American agriculture and protect vital natural resources. Web GIS is being deployed in many ways at APHIS to protect the nation's animals and plants while also feeding the nation's citizens, here in this country and around the world.
Shannon Reid Hamm of APHIS explained, "Using Web GIS for a variety of APHIS programs, we seek to find new and innovative approaches to gather scientific data. With tools like Web GIS, APHIS can transform this data into usable information, share it with the public, and continue to protect the health and value of American agriculture and natural resources."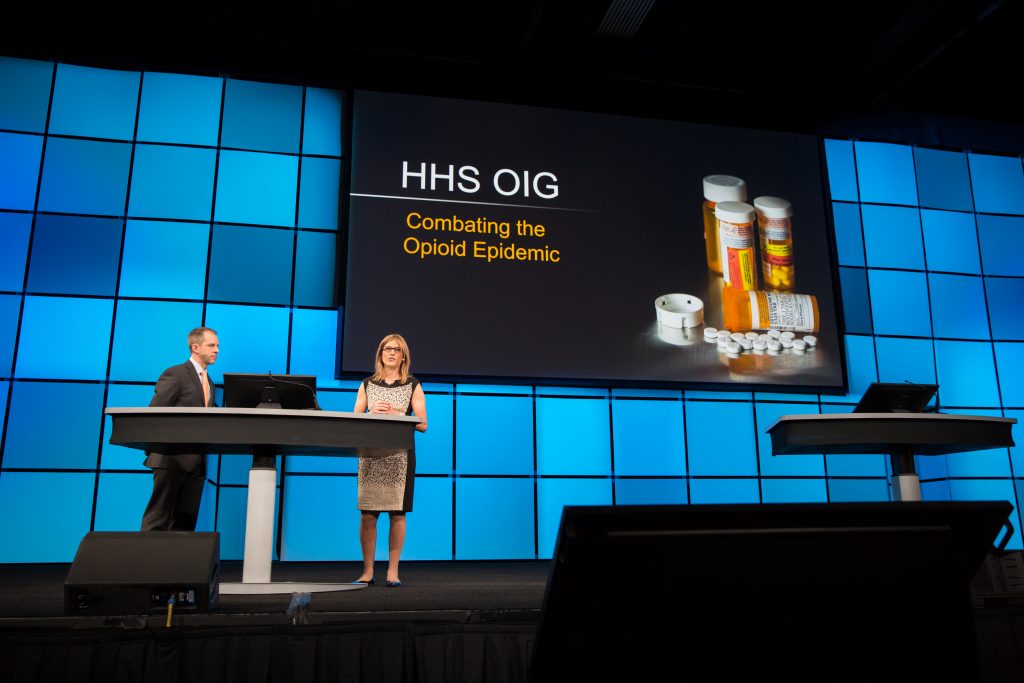 Another Special Guest presentation highlighted outstanding work being done at the U.S. Department of Health and Human Services – Office of the Inspector General (HHS OIG). HHS is deploying spatial analytics to combat fraud, waste and abuse. The goal is to improve the efficiency of more than 100 HHS programs, including Medicaid and Medicare. The OIG is starting to use Insights for ArcGIS to help guide resources to make maximum positive impacts on the opioid epidemic, exploring whether rates of oxycodone prescriptions are higher than average and are trending upwards.
Attendees came away from FedGIS with new insights into how location intelligence through The Science of Where can improve decision-making, create more efficient workflows, and lead to exciting, new innovations in the areas where government and technology intersect.