In the wake of the ongoing tropical storm Harvey, Esri is trying to help and provide assistance to people in this moment of crisis. The company has already opened its Disaster Response Program and offering 24-hour support to those who need help.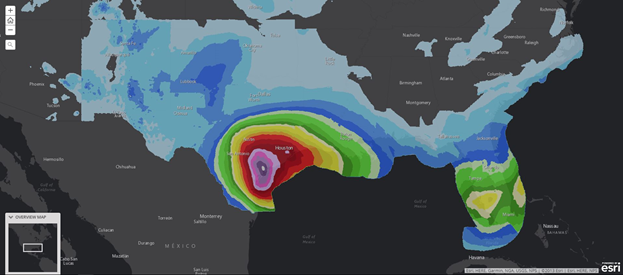 Esri is also working with various organizations and providing them with software, data, imagery, and technical support, to enable them to respond to the emergency calls.
The map below shows the updated US flooding information from the National Weather Service (NWS) of flooding locations, current & forecast precipitation, and flood warning areas. The map allows you to identify features to get specific information such as flooding height, weather related issue, and severity. This map also features geotagged social media and webcams that can be turned on / off and "filtered" in the Layers tab.
The company has also shared the Hurricanes and Tropical Cyclones Overview that maps and describes the current location of Harvey, as well as forecast positions and probable track of the storm. The shaded area around the forecast track is known as the "cone of uncertainty", that shows the probable track of the tropical cyclone.
This application shows data from NWS, and features weather forecast of the last 72-hour and its potential impact on people and businesses.
The emergency management agencies are using social media and crowd sourcing platforms for gaining insights on the situation. This is where Esri's Crowdsource Story Map comes into the picture. It works simply by submitting your photos on the platform and the images start appearing on the map by automatically picking up the location from your mobile device.
The platform is connected to social media and therefore, it allows people to know about your well-being. At the same time it helps first responders and emergency managers in identifying the requirement of the people.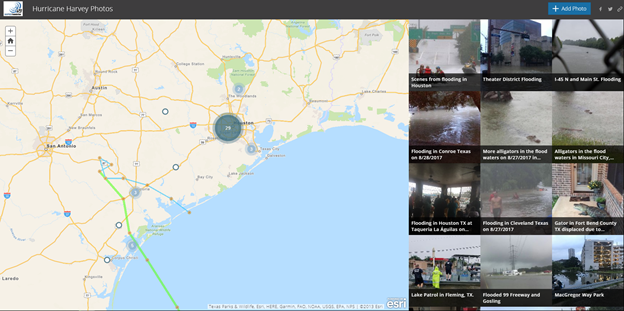 Another Esri application that can save you from Harvey is its Current Conditions Application, which besides tracking Harvey, provides information on traffic alerts, road closures, shelter locations, flood gauges and more.
Also, its map features live feed layers for severe weather across the United States and Canada. You may click on reports and warnings to receive information about the specific location and read a short description about the issue.