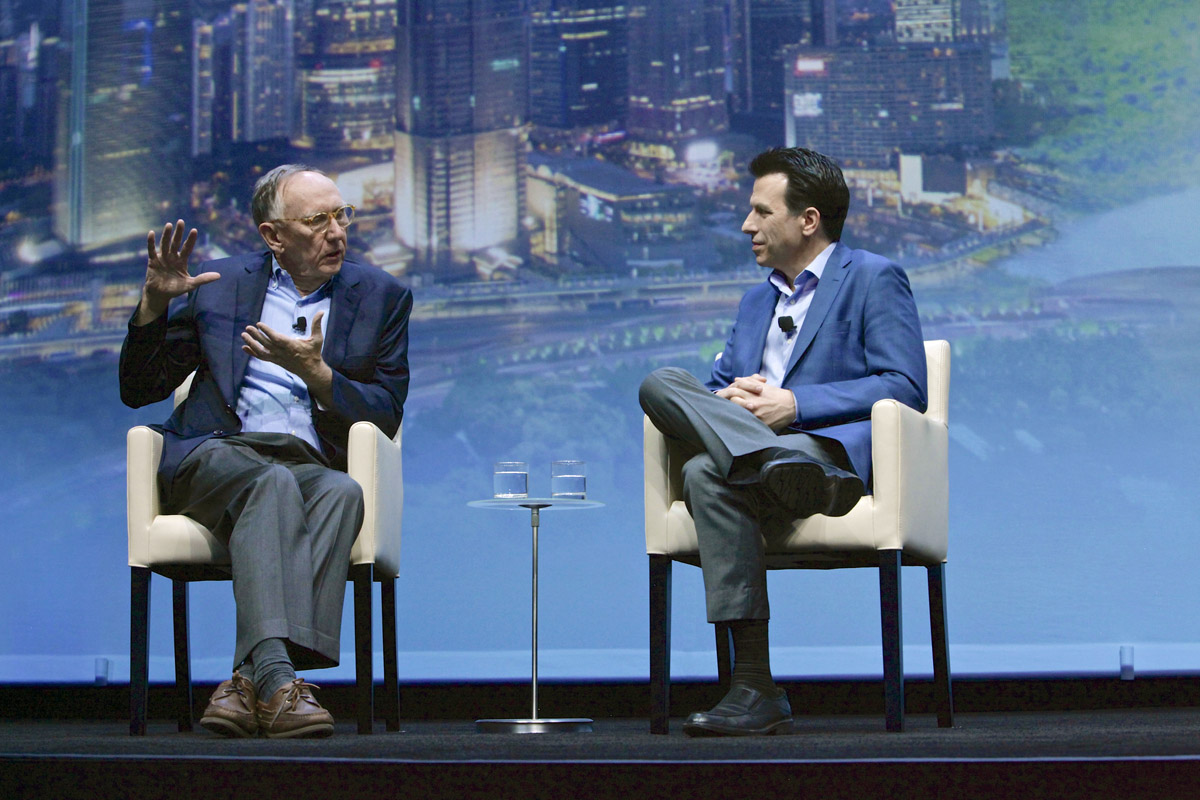 Global population growth and climate change are driving the global community to search for new tools. With these twin challenges touching every aspect of our everyday lives – from food security to urban planning, sustainability to industrialization – it is not surprising that they underpin explicitly or implicitly any study, research or meet on development, and weigh heavily on government programs across the world.
The ESRI–Autodesk partnership to build a bridge between BIM and GIS mapping technologies opens a whole new chapter in addressing some of the critical challenges the world faces today. While the partnership will broaden our overall vision on how to further drive integration of spatial intelligence and 3D design model information, it will also advance infrastructure planning and design by enabling a broad range of industries to gain better context by visualizing data of the man-made world, the environment, citizens and the networks that weave it all together.
As Esri President Jack Dangermond was welcomed on stage on Wednesday by Autodesk CEO Andrew at this year's Autodesk University in Las Vegas – probably a first for Dangermond to be present at another company user event – the bonhomie and excitement was palpable.
And why not!
Esri has for some time now been working on geodesign — what it calls a design framework and supporting technology for professionals to leverage geographic information, resulting in designs that more closely follow natural systems. The idea has gained popularity with city planners, especially in the developed world and Esri also organizes a popular conference under the same brand.
On the other hand, Autodesk, in the recent times, has been pushing the concept of design into new realms. From buildings to cars and movies, workflows from conception to fabrication, the company made a huge impact across industries. Cutting-edge innovative tools and subscription-based models that brought these innovations to the hands of millions around the world have completely disrupted the existing design and build processes.
Naturally, it was but obvious for the two giants in their respective fields to come together and join hands.
As Dangermond underlined, it is important to consider the needs of future generations during the design and building of projects today and the partnership with Autodesk will include securing sustainable resources for the growing population, a responsible human footprint on our natural environment, better use of our planet's resources and more resilient cities.
The power of BIM and GIS
The need to integrate geospatial and engineering design has been gaining traction for some time now. Dr Anne Kemp, Director of BIM Strategy & Development at Atkins, have for years been advocating the cause. Back in 2011, in an award-winning paper at an AGI conference, Dr Kemp, first asked the question "BIM isn't Geospatial, Or is it?", and then proceeded to make a strong case for integration of GIS and BIM to address the challenges of the 21st century: "BIM and geospatial are firmly inter-linked — and that the advancement of BIM relies, in part, on integrating geospatial skills and technologies into BIM solutions. A gap still exists between the BIM community and the geospatial community — this must be bridged … if the geospatial community is to contribute to the demands and requirements of the AECOO industry around the globe."
Another great advocate of this has been Prof Carl Steinitz of Harvard's Department of Landscape Architecture, who thinks that addressing the key global issues will require a new level of cross-disciplinary collaboration. In his book, A Framework for Geodesign: Changing Geography by Design, Prof Steinitz explores the potential for greater utilization of geographic data in the design processes of landscape architecture.
It would be interesting to note that Dangermond was Prof Steinitz's student at Harvard where he was studying landscape architecture back in 1960s. While his interest in the work at the Laboratory for Computer Graphics and Spatial Analysis made him start Esri – and what happened afterwards was history — one of his longtime dreams has been to use the science of GIS (or the Science of Where, as he branded it recently), coupled with the design framework developed by Steinitz and his associates at Harvard, with computer technology to represent geospatial information as a platform for doing design.
But this isn't about Dangermond and his visions. We are talking about what the combined powers of GIS and BIM can do.
For once, the Esri–Autodesk partnership opens a new world for infrastructure owners around the world — both public and private. The partnership envisages better integration of their respective technologies, allowing industry professionals to synthesize information from both BIM and GIS to enable a more connected infrastructure.
In addition to dramatically decrease workflow times and costs, enabling BIM and GIS mapping software to more seamlessly work together will optimize the ability of infrastructure owners to plan, design, build and operate assets. Benefits are expected to include unprecedented reductions in permitting through improved stakeholder engagement, more sustainable and resilient design through enhanced project insight, and reduced risk via improved end-to-end flow of materials, resource availability and scheduling during construction.
As Autodesk CEO Andrew Anagnost sees it, the partnership will enable shared customers to build anything, anywhere. "Our goals are to provide industry and city planners the ability to design in the context of the real world."
Essentially, it is all about Make Anything, Anywhere – with The Science of Where.