The countdown for GDPR has begun. From 25th May 2018, the European Union's new General  Data and Protection Regulation (GDPR) is all set to impose certain rules and regulation on the data collection, storage and its processing to safeguard citizens privacy and security.  With this rule, Europeans will have the right to protect their personal data collected, stored and processed by any source and means and regardless of who collected it.
Naturally, the drone industry will also come under its purview.  Data collected, stored and processed that contains someone's "personal data" like name, email address, phone numbers or "personal identifiable information" like aerial imagery or georeference of the person will have to comply the GDPR rules.
ALSO: Check out 10 key features of GDPR
Who will be affected?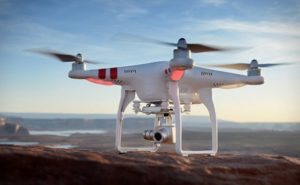 Needless to say, use of drones for any purpose is taking new ascent like anything. Drones are easy to fly, give data quickly which is ready to use and they focus on the target area and gives the data which is just required not a bundle of it where one needs to spend extra time in processing it and finding the one which is required. But now on using a drone for data collection in Europe will come under GDPR Act; so let's get to know who all will have to think about the rule while collecting, storing and processing data in Europe after 25th May 2018.
Drones used for photography or videography for wedding, real-estate mapping, for shooting for films or for any other commercial activity will have come under GDPR law, since they contain images of person and as GDPR constitutes that image which has identification information of where they can be identified are to be considered personal information and must be handled with care.
However, an exception applies when the pictures will be used for news or art, but in such cases, one must have consent from the person giving permission to publish the pictures.
Those who perform inspecting and monitoring where individuals can be tagged or identified will also have to follow GDPR.
However, those collecting data of towers, transmission lines, or oil rigs need not worry as it rarely attaches personally identifiable information or personal data to an individual.
Using drones for mapping and surveying will depend on the purpose for which data is being collected. If it is for the purpose of safekeeping then custodians may need to generalize and filter identifiable features or patterns of people from geospatial information.
If the data is for Cloud-based data services then as same as GIS one may need to filter information to safeguard the personal identity information of a person.
However, those who use a drone for agriculture purpose need not think of GDPR as data collected for the purpose rarely contains personal information.
Drones used for delivery won't come under GDPR since they already have the address for delivery and also have the consent of the person who has asked for the delivery. However, if such drones collecting extra information while on its way, it will need permission.
ALSO READ