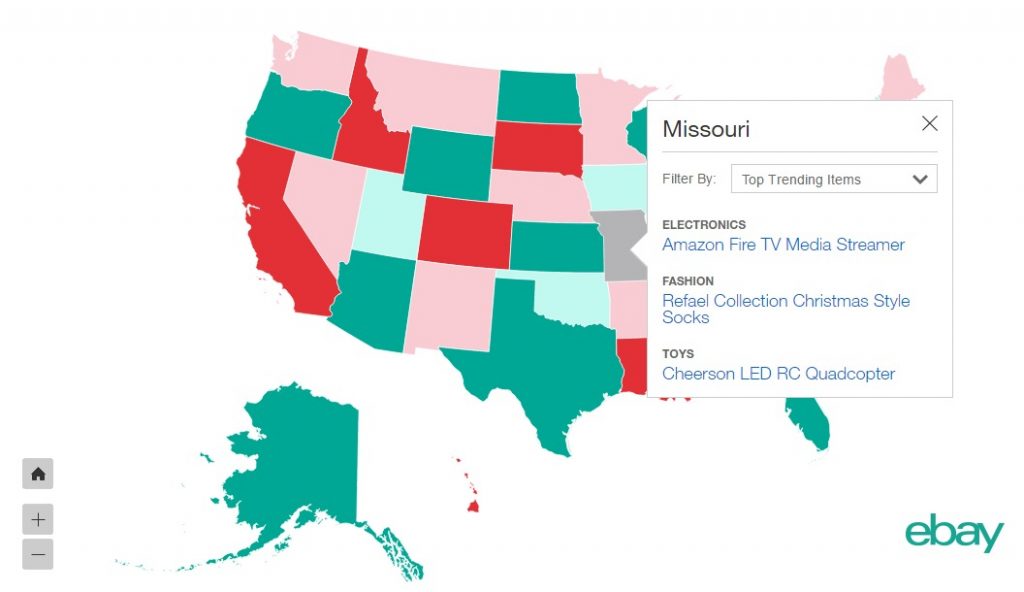 Racking your brain for what to get your friend in Missouri for Christmas? Well, shoppers in the region are going gaga over Amazon Fire TV Media Streamer right now. Refael Collection Christmas Style Socks are also a hot seller for people in the 'Show-Me State'. And if your friend is into drones, Cheerson LED RC Quadcopter can be a safe bet.
New Hampshire, meanwhile, is lusting after Apple iPad 2 – 16GB in electronics, Essie 2016 Fall Collection Playing Koi in fashion items, and LEGO Grand Opening Mini-Figure Set in toys.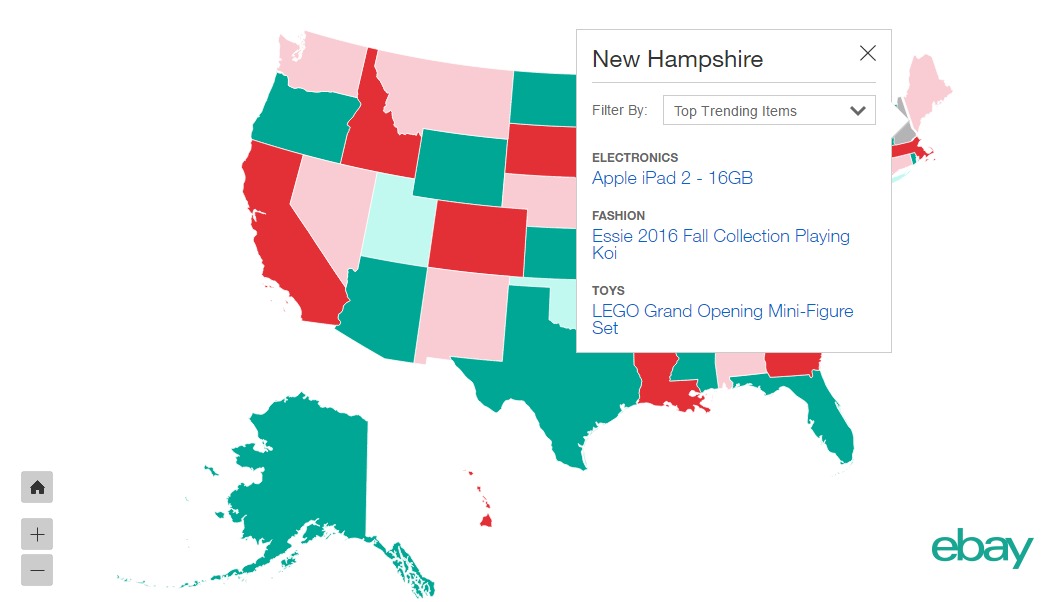 Online shopping giant eBay has taken the data it is generating from the sales on the website and used it to map the most popular items across the United States. The interactive map shows the trending items in each state and lets you sort through product categories — fashion, electronics or toys — to see what's being brought across each of these categories. The map is meant to help shoppers come up with gift ideas. And the best part is that it links directly to the product for sale on eBay's website.
Registering his observations about the top bought holiday items across North America, Zoher Karu, eBay's Vice President of Customer Optimization and Data, says, "It's no surprise that electronics shoppers are eager to get their hands on the Microsoft Xbox One and Sony PlayStation 4. For toys, it is notable that LEGOs continue to be a popular gift. Adults also like their toys as we saw quadcopter drones pique the interest of shoppers."
As far as fashion is concerned, brands like Ray Bans, UGG's and Michael Kors are popular, but items varied state-to-state, showcasing the uniqueness of each state.
eBay has also released some notable shopping trends from its Black Friday sales (US only):
A watch was sold every 3 seconds
A Pokemon item was sold every 4 seconds
A LEGO item was sold every 6 seconds
A laptop was sold every 9 seconds
An Apple Watch sold every 13 seconds
A Fitbit was sold every 15 seconds
A drone was sold every 18 seconds
A Speak Out board game was sold every 20 seconds
An iPhone 7 was sold every 30 seconds
A Hatchimal was sold every 30 seconds
What did you buy?