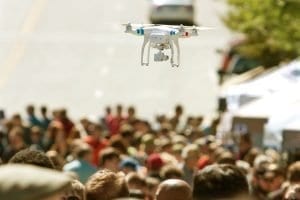 For technologies to revolutionize the world, right policies need to be on the place just like in the case of Unmanned Aerial Vehicle also known as drones. Drones have widespread uses but certain safety and security concerns thwart its commercialization. Looking at the scenario, the Federal Aviation Administration (FAA) has divulged a set of proposed regulations which would allow routine flights over people and at night, with appropriate safety precautions. The proposed changes were recently released in a Notice of Proposed Rulemaking (NPRM) by the United States Department of Transportation. Regulation would replace the need for waivers for certain operations, which have provided a temporary regulatory solution for allowing flight over people.  The Transportation Department and FAA have been testing loosening these restrictions as part of a pilot program started last year with 10 public-private partnerships. The proposal will soon be published in the federal register, where it will enter a 60-day open comment period. The purpose of proposed regulations is to vividly increase the commercial use of drones.
For the purpose, the FAA is proposing three categories of aircraft each with a corresponding flight over people operational allowances. These categories are:
Category 1: This category would allow unrestricted flight over people and is intended only for small drones weighing less than half a pound (0.55 pounds), as they pose a very low risk.
Category 2: This category would also allow unrestricted flight over people but only with certain drones that are designed not to cause significant injuries. This limit is defined by the FAA as a certain level of kinetic energy that is transferred to a human (11 ft lbs/15 joules).
Category 3: This category allows for a flight over people with certain operational limitations, including no flights over crowds of people, no hovering over people, hovering is permitted only over people on a closed set (such as construction site, or film set) contingent on notification and consent from the people being flown over. Aircraft requirements are identical to category 2, other than a higher kinetic energy limit (25 ft lbs/34 joules).
Category 2 and 3 can be fulfilled by reducing the kinetic energy transferred to a human. There are several options to meet this standard like decreasing aircraft weight, incorporate energy absorbing or frangible materials in aircraft design or incorporating a parachute in drones. Parachute technology is just like what an airbag for safety in a car is. The technology helps to reduce the kinetic energy of a malfunctioning drone before it reaches the ground. In the current technology landscape, parachutes are believed to be the main option for compliance and will allow widespread use of drone technology.
What are the benefits of the rule?
Announcing the new rule, Transportation Secretary Elaine Chao in a speech before the Transportation Research Board said that the Department's approach to new transportation technologies is performance-based, rather than highly prescriptive. The philosophy is to encourage the widest possible development of safe new transportation technologies, so consumers and communities can choose the mix of options that suits them best. Indeed. With this regulation, UAS integration will likely create significant economic, technological, and societal benefits while ensuring that the United States retains its role as a global leader in innovation and aviation safety.  The proposal would give more latitude for companies that hope to start drone delivery programs. It will benefit the economy and enable innovation and growth across a variety of sectors, such as construction, education, infrastructure inspection, insurance, marketing, and event photography. It would also assist in the execution of first responder and emergency management planning and operations.
"The proposed FAA regulations are a step in the right direction for the US market to conform to similar standards already operating in other jurisdictions. They make good sense for an industry looking to expand and allow widespread commercial applications in construction, news and media, agriculture, first response and more" believes Eden Attias, CEO of ParaZero which stands to benefit from the new rule with its groundbreaking parachute technology ParaZero's SafeAir systems, ideally designed to fit into Category 2 and 3.
Globally, the consumer and commercial drone markets have been growing rapidly and are expected to reach a combined US$30 billion by 2020. A strong regulatory environment like this permits additional operational uses with in-built safety features, that will help the industry to grow exponentially.
However, it is to be noted that the operation of small UAS over people may privacy concern of people. Drones have the ability to collect personal information using technologies like facial recognition and automated license plate readers which can be problematic to people's privacy concerns.
ALSO READ: Top drone industry trends for 2019