The travel industry has always relied heavily on automation to provide customer service. Early efforts to automate flight reservations started shortly after the Second World War, with American Airlines' Reservisor, which was replaced by the Sabre system, developed by IBM and released in 1960. Sabre is still alive and well today, and is one of the biggest global distribution systems (GDS) used by travel agencies to book air, hotel, and car-hire for customers, as well as its competitors such as Galileo (Travelport) and Amadeus.
The long-term viability of GDS has been questioned because, while they give the travel agent a comprehensive view of the customer journey (in the literal sense), various service providers only see their own contribution to the total travel experience. This has resulted in many of the airlines developing their own reservation systems, which give them better access to their customers and reduce the costs paid in GDS fees. However, as befits any companies that have been around so long and undergone many transformations, they are busy rethinking their business models, and they still have an important role in business travel.
The travel Industry and the customer journey
The travel industry has many players, each with their own challenges, from airlines and hotels to online travel aggregators (OTAs), who are digital disruptors themselves. In their analysis of digital disruption in the travel industry, the World Economic Forum (WEF) and Accenture have indicated many of the ones involved when a customer takes a trip.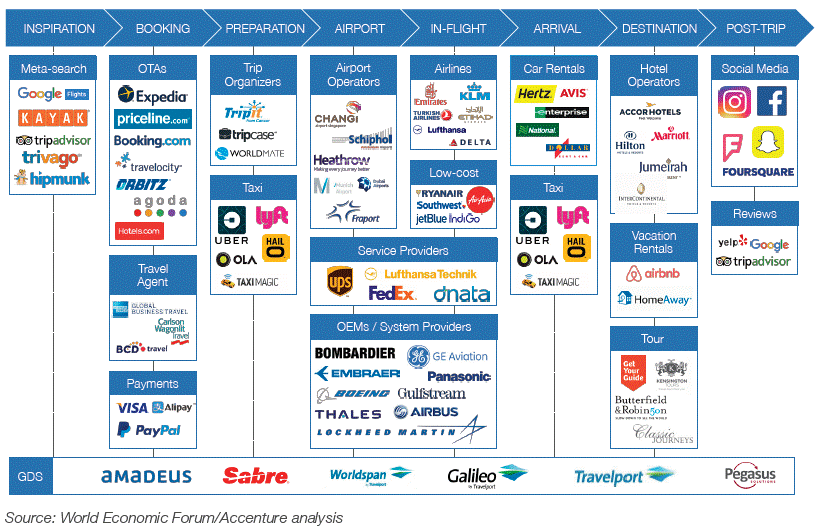 While this is a good representation of aviation travel, it omits rail travel and cruising altogether. Because time and space is limited, we will follow their example. This does not mean that they do not have their own challenges; rail travel, both urban commutes and long-distance travel, are in the process of transforming. When you consider that France and Britain record over 150 billion passenger miles annually, this is not a small sector of the travel and mobility market. Cruise lines also recognize that they must transform. Royal Caribbean is using artificial intelligence for an enhanced customer experience.
Getting to grips with the traveller's needs

The process flow shown indicates an important evolution in the travel industry: understanding the customer's perspective. Some companies, such as South-West Airlines, got the message a long time ago, which gave them a head start in building customer relationships. Most service providers limited themselves to their part in the value chain, such as IN-FLIGHT, losing many opportunities along the way. A contribution to this way of thinking was the use of GDS by travel agents, creating silos in which the service providers got only a limited view of the overall ecosystem and were unaware of other service providers in the process. New thinking by industry participants recognizes that the customer journey starts long before they board a plane or check into a hotel.
The power of social media in retelling a bad customer experience is also a factor no company can afford to ignore, although some companies do not seem to learn this lesson. You might think that United Airlines would take some guidance from Dave Carroll's song when they broke his favorite guitar in 2009. They clearly would not, which resulted in international outrage when they dragged passenger Dr. David Dao off one of their flights in 2017. The customer now has the upper hand as never before, and a large part of digital transformation is about acknowledging that the customer really must be at the center of the business.
The WEF predicts an evolution in customer-centric maturity over the next 5-10 years. The short-term goal will be to focus on customer needs. Only after this has been accomplished can organizations tackle 'seamless travel', and then move on to intensely personal experiences.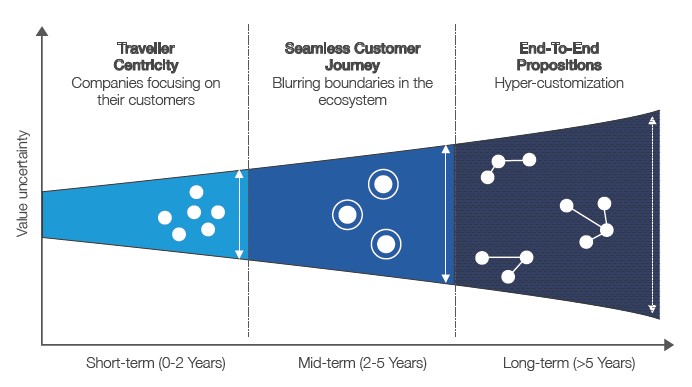 The biggest channel in reaching this ideal travel scenario is the acquisition, accumulation, and interpretation of customer data. Currently, industry incumbents obtain data that relates to their products and services and jealously guard this data from competitors and allies in the value chain. This will have to change. The ability of customers to explore their travel options via OTAs, ranging from hotel reviews by fellow travelers on Tripadvisor to bookings via Expedia online booking software, both disrupt traditional travel agency offerings and make service providers' websites irrelevant. What is more, these offerings can be interrogated via a mobile app downloaded to the customer's smartphone.
Does this mean the travel agent is an endangered species? Hardly so, according to McKinsey. As with most digital disruption, humans are still needed to interpret and act on data derived from artificial intelligence. McKinsey senior partner Harry Bowcott explains that websites that show hundreds of hotel options when a customer wants to make a booking may, in fact, drive the customer back to their brick-and-mortar travel agent. Bowcott mentions that the smart online approach is to show just 3 or 4 suitable hotels for the busy customer to select from. This, of course, requires good data personalization to show the correct selection.
Becoming data-driven requires a major culture shift and a renewed appreciation of loyal employees. For example, Bowcott notes that one airline analyzed its fault diagnostics and found that 80% of technical problems required replacement of one of only 3 parts, and just ensured that each plane carried a set of the 3 spares. What they had omitted to take into consideration was the pride of their engineers in their job. There was a tremendous lack of buy-in, with the eventual reluctant acceptance.
All employees need to be kept in the loop and be advised about changes coming down the line. They need to remain motivated and enthusiastic, especially if they are in direct contact with customers. It may be necessary to rely on specialists in the short term when it comes to technological challenges. Custom software development specialists at Itransition can transfer skills like data analysis to permanent employees to accelerate the transformation.
To know how IoT can change retail click here.
The new traveller
To add to the complexity of understanding the customer value chain, there is a whole new emerging breed of customers who will have new requirements different from the ones of the established customer base.
The WEF identifies some of the factors that are creating new travelers. Firstly, there are millions of new travelers who come from emerging markets, specifically Africa and Asia Pacific. These improving standards of living and the emergence of a middle class, for instance, in China, have created a whole new market of travelers with tastes and preferences that can differ markedly from the prior ones.
Euromonitor reports on how Chinese travelers prefer budget accommodation, and would rather spend more on shopping. As the Chinese travel market overtook the US travel sector in 2012 and is the biggest travel demographic globally, serious attention should be paid by destination countries to providing plenty of affordable accommodation to attract this segment.
The second distinct travel cohort is the "Millennials" and other younger travelers. These are enthusiastic about traveling and new experiences, and regard travel as part of their lifestyle.
Amadeus, the GSD, has been researching the future travel market for over a decade now. Their recent analysis of the travel "tribes" forecasts the travel market to 2030.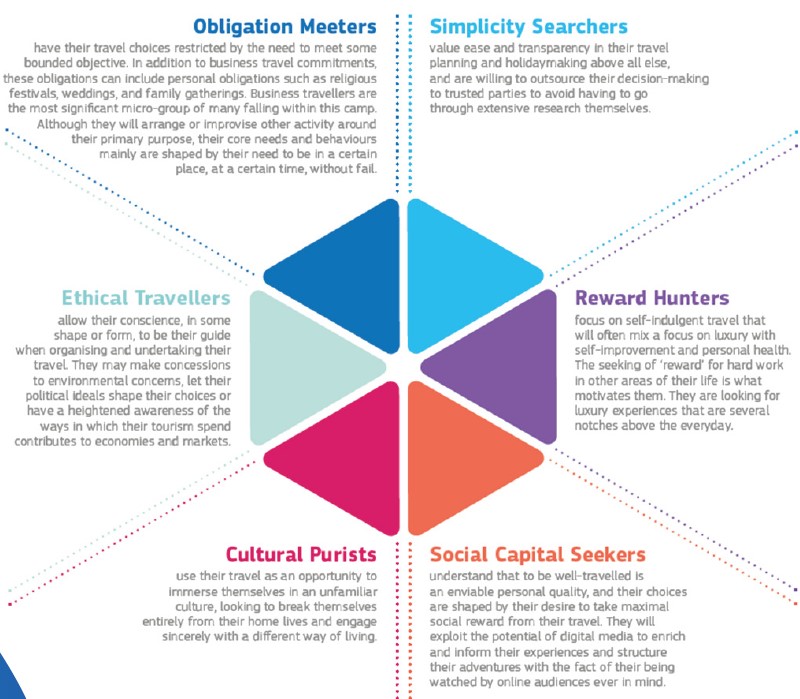 These tribes each have their own desires and tastes, and Amadeus has taken the research further to examine how each tribe perceives different parts of travel. For instance, each of these tribes has very different requirements when it comes to accommodation, ranging from luxury hotels to budget hotels and socially responsible places to stay.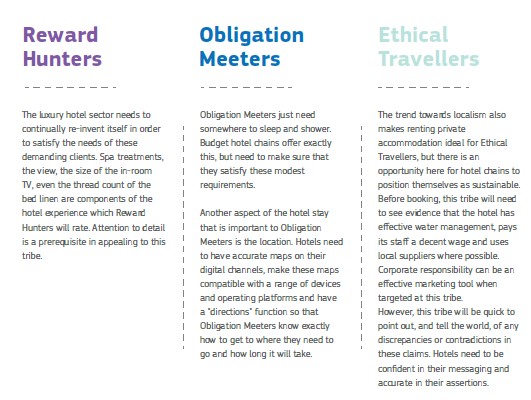 A rapidly expanding market
The travel market, especially with respect to air travel, is expected to expand radically by 2035. Forecasts of growth in Revenue Passenger Kilometres by Airbus, whose future depends on such scenarios, are estimated at 4.4% per annum.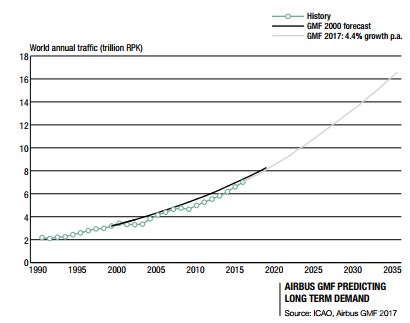 Clearly, it is in every travel service provider's interest to participate in this growth as increased air travel drives more revenue from accommodation and other services. There are still many hurdles to cross, and there are industry participants working hard to overcome them. IATA, the air travel regulator, started a programme called "Simplifying the Business" (StB) 13 years ago, which addresses many of the issues preventing seamless travel. For instance, one project is "OneID":
"In 2016, one of the new ideas underpinning the third StB pillar of a "seamless and hassle free" travel experience was to connect the dots across the end-to-end passenger process from an identity management perspective. Moreover, the vision was to create a streamlined, friction-free process that allows an individual to assert their identity (online or in person) to the required level, while maintaining the privacy of personal data and enabling significant improvements to operational efficiency and security. It is paramount that this vision will be delivered through true collaboration between airlines, airports and government agencies."
Source: http://www.iata.org/whatwedo/stb/Documents/StB-White-Paper-2017.pdf (page 10)
We are sure that all travelers will welcome the successful implementation of OneID, as this will really reduce most pain points in travel today.
Know the benefits of factory automation as well. Click here.