Seeing is believing and visualization through the medium of satellite images can help you monitor any event real time. But what can make it more interesting is the availability of these images live on social media.
Descartes Labs' @WildfireSignal Tracking System explores this possibility.  The tool GOES-16 along with the bot helps residents and first responders track local wildfires live on Twitter through satellite images. In a recent blog post by Descartes Labs, the company explains how the tool works, "Embedded in each tweet, served up through the system, is a time-lapse video with red-green-blue (RGB) and infrared data that shows the progression of wildfires in neon pink and blue. The heat signature of an active wildfire shows up as a set of bright red and white pixels. The smoke plume follows soon after the optical image."
How effective is the tool can be gauged from an example of Ute Park Fire, north of Santa Fe near the town of Taos, US, where the fire broke in May. Here the optical imagery on the left shows development of smoke plume, and on the right the fire in bright red is an infrared imagery.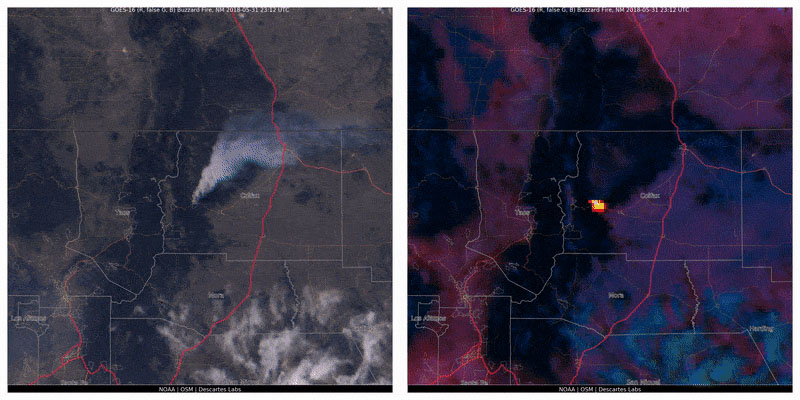 This also gives us a clear picture of how important is satellite imagery for disaster management. Before we further delve into how the tool works let us get a brief insight of the role of satellite imagery in disaster management
How crucial is satellite imagery for disaster management
Data collected from the satellite images can well be termed as a wealth of information for assessment and analysis. The use of satellite images to monitor the after effects of natural disasters is seen as a crucial step in aiding long-term recovery efforts.
At any one time, over two thousand human-made satellites are circling our planet. They help us communicate, locate, observe, and gather data.
Capturing the area inundated by a natural disaster can enable governments and emergency service providers to better assess their region's risk and vulnerability. This information will allow for prioritizing target mitigation and preparedness activities for their area.
How GOES-16 works
Hoping that the bot can provide a new way to visualize and track wildfires, Descartes Labs explains how the tool works in its blog, "We retrieve the active fire list from Inciweb, a government interagency incident management platform, and use the new GOES-16 satellite to create time-lapse video of all active wildfires in the US"
GOES-16 provides a close-to-live video feed of the US (updated every five minutes) and the company is able to pull it down, clean it up, and get it analysis-ready within four minutes from capture. This allows quick insights into the movements of wildfires and their smoke plumes. The company also provide higher-resolution images twice a week from Landsat 8 and Sentinel 2 which are used to confirm the "burn scars" as the fire moves (shown below).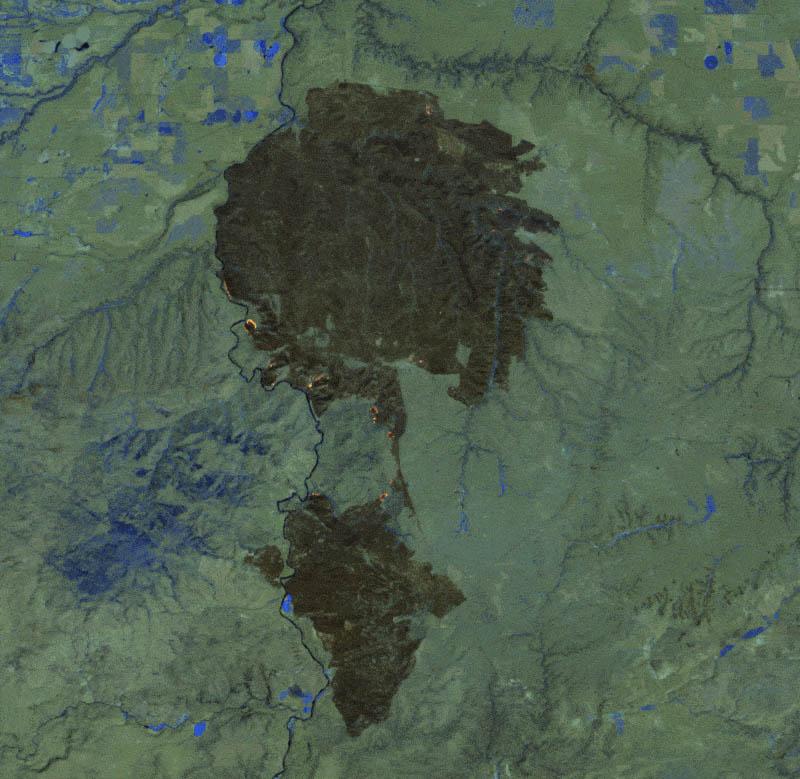 The Twitter bot updates every six hours and automatically produces new videos of the previous six hours. This bot will tell the story of wildfires in the continental United States, all connected to hashtags (like #UteParkFire), to allow people to easily search for and follow a fire.
Also Read
Meet the man who created first living atlas of the planet – Mark Johnson, Descartes Labs