Geospatial technologies have witnessed an unprecedented growth in the last 15 years. Terms like GPS, location-based services, navigation, etc., have become commonplace. The convergence of geospatial technologies with the information technology discipline has led to the birth of a dynamically evolving Internet of Things (IoT) ecosystem. This is giving a new definition to the digital world by creating an environment where our devices interact freely and 'talk' to each other.
YB Datuk Wira Dr. Abu Bakar Bin Mohamad Diah, Deputy Minister of Science, Technology and Innovation, Malaysia, acknowledged this fact at GeoSmart Asia 2016 when he talked about the role of geospatial technologies in governmental and commercial activities. He said, "Geospatial technologies are being used as revolutionary tools, by integrating with the best technologies to make informed decisions. The adoption of geospatial technology in various industry verticals has made capturing, using, integrating and storing of geospatial information becomes much easier, faster and economical."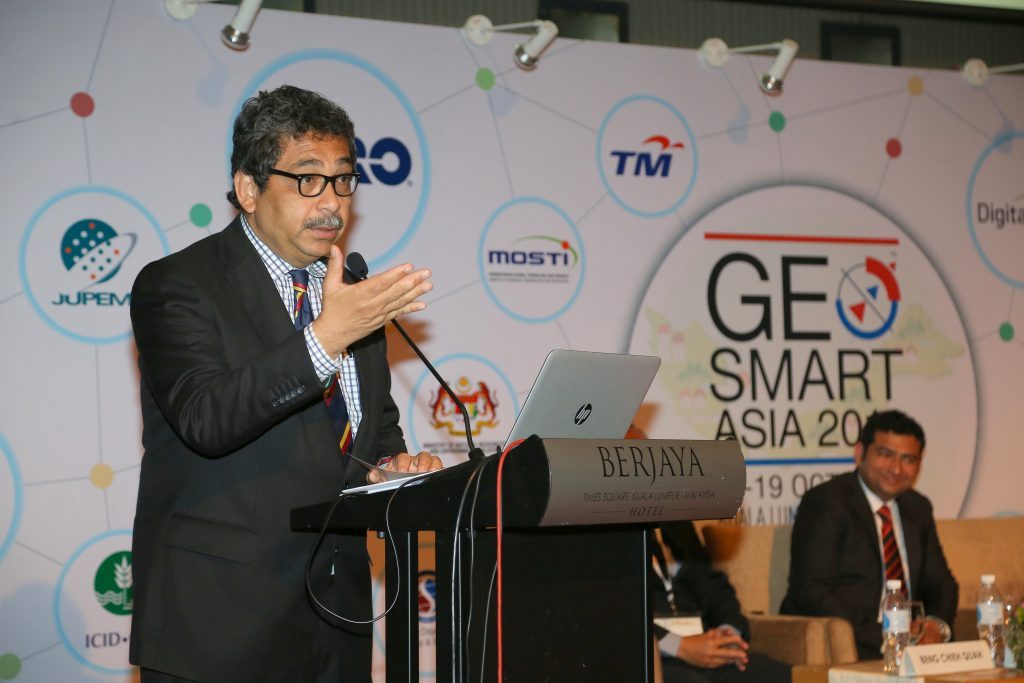 It is also helping that users and researchers around the world are changing their perception about data sharing. As the world marches toward a knowledge-based economy, there is more willingness to share the data. Also, since a great deal of geospatial data has been collected by governments using the taxpayers' money, citizens have come to realize that it is not fair for them to pay for the second time to buy that data. However, hurdles still remain. Government restrictions on data sales and regional directives that regulate the structure and use of geospatial data have made the market complicated.
In such a scenario, Public Private Partnership (PPP) has emerged as a panacea. Whether in providing national geospatial infrastructure or ensuring smooth information services to citizens, governments are increasingly turning to the private sector to explore the latest technology and innovation.
Dr. Abu Bakar said, "Apart from allowing the skills and assets of each sector to be shared amongst each other to improve operational efficiency, PPP also allows sharing of risks associated with joint projects which have major impacts on communities, environment, and public funding. Essential services, such as universal healthcare, access to clean and safe water, energy and many others, cannot be financed exclusively by the public funding."
PPP has been considered as a key mechanism contributing to the 2030 Agenda of the United Nations and as an important tool to achieve the Sustainable Development Goals (SDGs) as well. Such partnership models will give a great impetus to the geospatial ecosystem and ensure that geoinformation is readily available to the society at large.