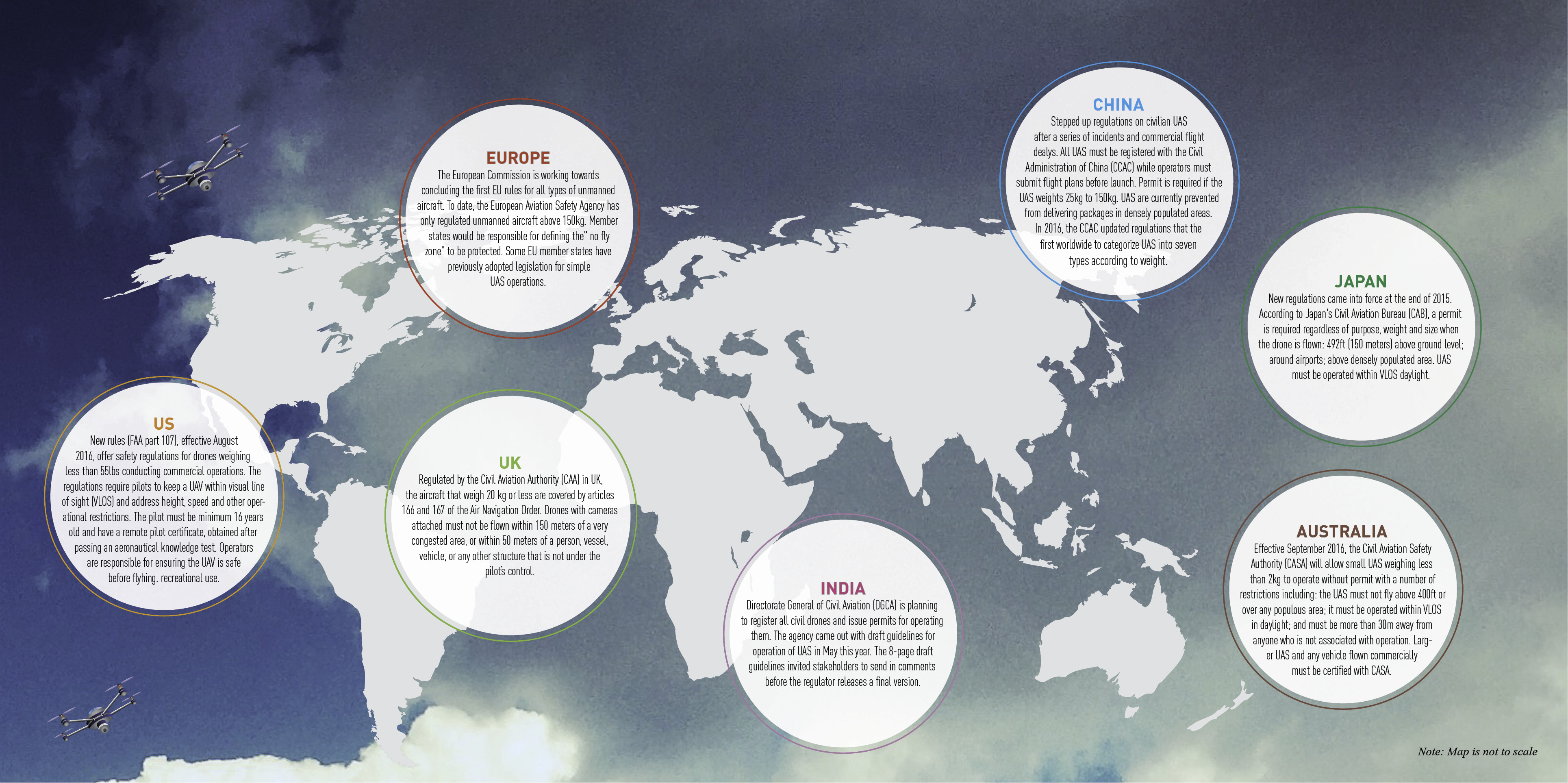 A cinematographer and drone operator from Bremen, Germany started UAV business for aerial cinema- and videography.  Though the formal regulations seemed easy to implement, but there were enormous amount of regional regulations. To operate in Bremen, North Germany, he needs a general permission for every operation with his drones below 5kg (11lbs) MTOW. No trouble so far – a single permission is required for operating a GH4 octocopter with 9.4kg (21 lbs). In practice though, he has to apply for each event personally at the local CAA office – Germany has 16 local CAA offices. If he plans to operate in any other nearby country state, he needs an additional general and single-event-permission. Moreover the legislation says you are not allowed to fly over crowded areas. There is quite a hustle to fly a drone in German skies for commercial purpose and to a maximum altitude of 50m (150ft). Currently, all these rules do not apply for flying hobby with a maximum altitude of 30m (100ft).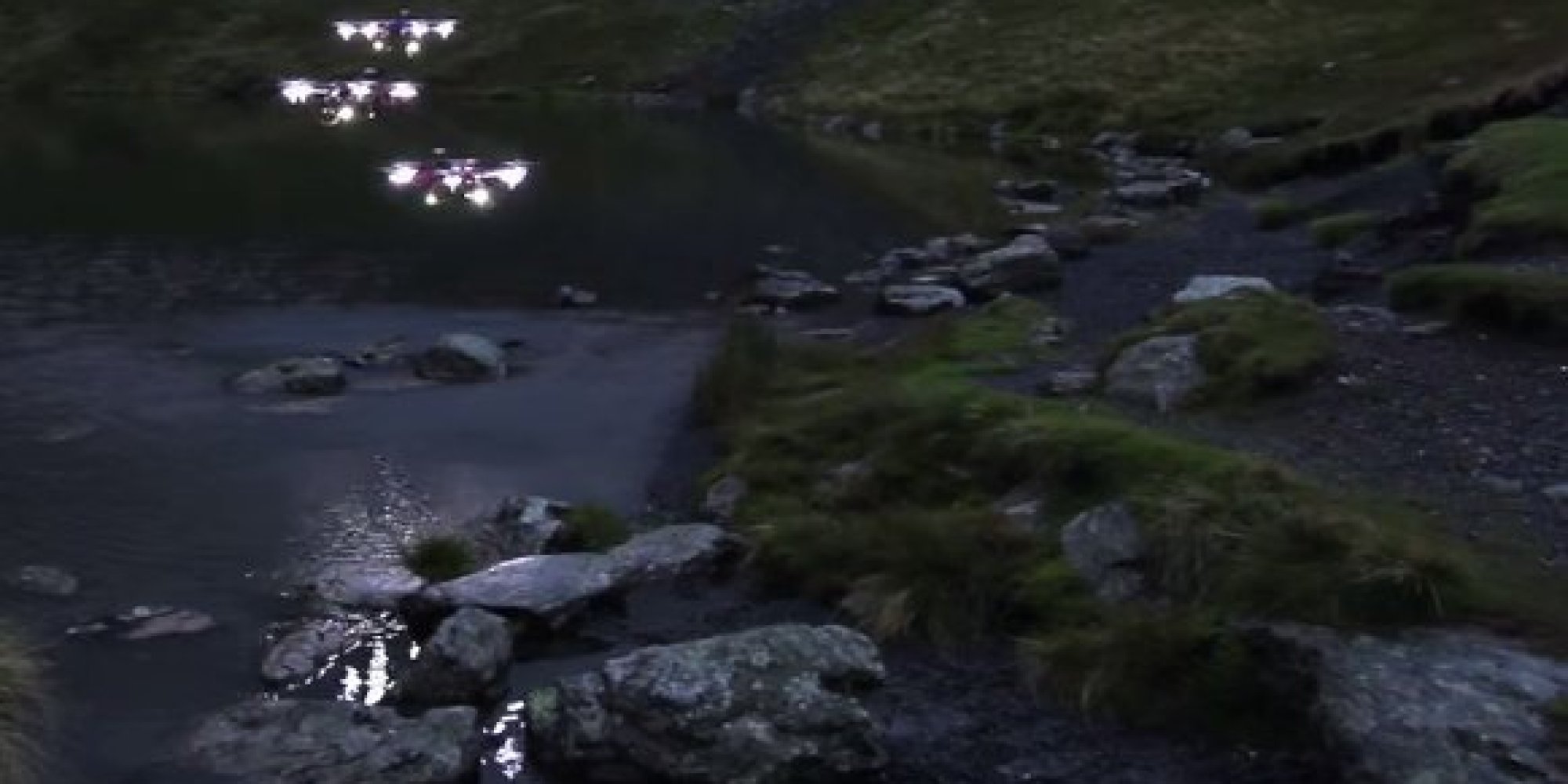 Meanwhile, using a single LED- equipped drone and a special time-lapse compilation technique, American filmmaker Richie Johnson created a mesmerizing music video for English band Marconi Union's song "Weightless". The video uses layers of the same drone's movements on top of one another in order to make it seem like there is a whole flotilla of drones drawing out patterns of light in the air.
Drones or unmanned aerial systems (UAVS) are set to become a defining feature of this century. The increased use of drones for civilian applications has presented many countries with regulatory challenges. Such challenges include the need to ensure that drones are operated safely, without harming public and national security, and in a way that would protect areas of national, historical, or natural importance. It is a simple fact that technology develops faster than law. A brief examination of history of the development of technology shows that technical advances sometimes surpass the development of legal systems. The global drone industry is booming, so is the problem. In such a quickly evolving ecosystem, policy makers are having a tough time keeping up. Following is the country-wise synopsis of drone/UAV laws:
Drone Laws in USA
Drones are no longer toys. The Federal Aviation Administration (FAA) has finally let them out of the box. Now, they are officially tools. On August 29, new FAA rules governing the commercial use of drones, took effect nationwide. Part 107, as its known, represent the inaugural effort by the FAA to regulate the commercial use of airspace by UAV users. The New Small UAS Rule (107) includes all pilot and operating rules for drones weighing less than 55 Ibs, which are conducting non-hobbyist operations. Drones weighing between 0.55 lbs and 55 lbs must also be registered with FAA. The rule's provisions are designed to minimize risks to other aircraft and people and property on the ground. The regulations require pilots to keep an unmanned aircraft within visual line of sight (VLOS). Operations must take place during daylight hours, or within the hours of civil twilight (instantly before sunrise and after sunset) if the drone has anti-collision lights. The new regulations also address height and speed restrictions and other operational limits, such as prohibiting flights over unprotected people on the ground who aren't directly participating in the UAS operation. Under the final rule, the person flying a drone must be of least 16 years old and have a remote pilot certificate with a small UAS rating, or be directly supervised by someone with such a certificate.
Drone Laws in European Union (EU)
Currently, the European Union (EU) does not regulate the civilian use of remotely piloted aircraft (RPA) with a mass of 150 kg or less. Such aircraft are governed by national rules adopted by the EU Member States. RPA above the threshold of 150 kg fall within the mandate of the European Aviation Safety Agency (EASA). The European Union is set to remedy the lack of coherent regulation that some believe has hindered the European drone industry. The new package of Remotely-Piloted Aircraft System (RPAS) legislation may not be completed by the target date of 2016, but it is coming, and the EU hopes it will further boost an already growing sector. Following the publication of an Advance-NPA 2015-10 in July 2015, EASA published a Technical Opinion in December 2015. This includes 27 concrete proposals for a regulatory framework for all unmanned aircraft which is operation centric, proportionate, and risk- and performance-based. It establishes three categories with different safety requirements, proportionate to the risk:
'Open' category (low risk)
'Specific' category (medium risk)
'Certified' category (higher risk)
The purpose of the Technical Opinion was to lay down the foundation for future work, illustrate the contents of the draft changes to the Basic Regulation and serve as guidance for Member States (MS) to develop or modify their regulations on unmanned aircraft. Once the proposal on drones is approved by the Parliament and the Council of the EU, it will contribute towards the integration of drones into the European aviation airspace and provide the Commission with the legal authority to adopt delegated acts in compliance with the EASA's standards.
Drone Laws in United Kingdom (UK)
Drones are covered under a patchwork of English laws, including aviation laws, which are regulated by the Civil Aviation Authority (CAA). Aircraft that weigh 20 kg or less are covered by articles 166 and 167 of the Air Navigation Order. This is an order that provides basic safety measures, such as prohibitions on dropping articles from the drone that would endanger property or person. The 400-500 meter altitude that you can operate away from the pilot is similar to what the restrictions are in the United States. In the United Kingdom, drones with cameras attached must not be flown within 150 meters of a very congested area, or within 50 meters of a person, vessel, vehicle, or any other structure that is not under the pilot's control. Any person that uses a drone for commercial purposes must obtain a license from the CAA. To obtain this license, the operator must demonstrate that he or she is competent. If you are in operation of an aircraft that weighs over 20 kg, you are required to obtain adequate levels of insurance to cover their liability in case of an accident. Any aircraft that is registered in another country is not permitted to fly over the UK for aerial photography purposes or surveys, unless the operators have the permission of the Secretary of State.
Drone Laws in Australia
The Civil Aviation Safety Authority (CASA)'s new rules governing the operation of remotely piloted aircraft (RPA) in Australia took effect this year on September, 29th. The new regulations introduce a risk-based framework for regulating commercial RPA operations in Australia. The aim is that the regulations will be less restrictive and reduce the cost and legal requirements for RPA operations that are considered to be "lower risk".  Under the new legislation, small commercial drone operators would not have to pay the current $1,400 in regulatory fees and landholders could operate drones of up to 25 kg on their properties without the need for approvals. If you are not making any commercial gain from your flying, then you may fly your UAV without requiring certification. However that "commercial gain" can include flights for advertising purposes or even uploading videos to YouTube – there does not have to be a direct payment involved. Any flights for commercial gain require certification of both the pilot (UAV Controller) flying the actual drone, and the business which is conducting the operation.
Drone Laws in China
China's civil flight authority, the Civil Aviation Administration of China (CAAC), has issued new rules applicable to civil unmanned aircraft, commonly known as drones or UAS, weighing no more than 116 kg. The new rules are styled as the Provisions for the Operation of Light and Small Unmanned and became effective on December, 29, 2015, the date they were issued. The UAS Operation Rules add to a substantial and growing body of new rules applicable to the rapidly developing UAS industry in China by setting forth what qualifies as lawful operation, with the aim of normalizing the authorized flying of UAS and preventing the unauthorized flying of UAS, which has been a frequently occurring problem in recent times. The new regulations address concerns about smaller consumer drones, although they set guidelines around a threshold of 7 kg, or approximately 15.5 pounds, a significant difference from the US registration threshold of 250 grams, or approximately .5 pounds. The regulations are the first to categorize UAVs into seven types according to their weight class; and restrictions vary by location.  Restrictions are loose in rural or less populated areas, while major cities like Beijing and Shanghai have strict regulations about time and location of drone flights.
Drone Laws in Japan
Japan passed a strict drone law that bans drones from flying over government buildings and important facilities.  The law also allows law enforcement officers to destroy drones if necessary to keep them away from prohibited areas. Legislation to regulate drones was proposed in Japan after an April 2015 incident in which a small drone was discovered on the roof of the Japanese Prime Minister's office building in Tokyo. At that time, there was no regulation in place to prohibit the flying of such devices. The drone operator in that incident, who intended the drone flight as a protest, was prosecuted; but the event raised concerns in Japan over possible terrorist attacks. Parliament proposed several new laws as a result, including prohibiting recreational drone flight near important buildings and an almost total ban in large cities or crowded spaces.  Under the amendment, a UAV operator is prohibited from flying a UAV, if he does not have permission from the Ministry of Land, Infrastructure and Transportation (MLIT). UAV flights may be made only between dawn and dusk. Also, in-flight UAVs must keep more than 30 meters' distance from people and objects. If the rules are violated, the UAV operator is liable for a fine of up to 500,000 yen. Japan has been aggressive in creating regulation that will encourage the growth of the drone industry, after Prime Minister Abe called drone business part of the Fourth Industrial Revolution and pledged to support it.  Since that time, Japan has formed special de-regulation zones for testing drone technology, and is considering designating bandwidth for commercial drone use.  However, concern over terrorism has caused lawmakers to enact strict regulations on recreational and hobby drones.  Japan could offer a large market in hobby drones due to wide interest in recreational photography, and drone manufacturing giant DJI has begun to introduce its drones there in the hopes that the market will expand despite regulations.
Drone Laws in India
Drones are becoming very popular in India. Despite a ban imposed in 2014 by the Directorate General of Civil Aviation (DGCA) on the civil and commercial use of drones, they are being actively used by police forces for monitoring difficult law and order situations. Several government agencies pursuing mission mode development projects have also started UAVs after obtaining permission. Now, in an attempt to regulate the operation of drones and make it easier, DGCA is planning to register all civil drones and issue permits for operating them. The agency came out with draft guidelines for operation of UAS in May this year. The 8-page draft guidelines invited stakeholders to send in comments before the regulator releases a final version. The draft paper says ― every drone sold in India must have a Unique Identification Number (UIN) and every person flying a drone must have a permit. For flying a drone below 200 feet from ground level, a permit from local administration is required. If the flying is above 200 feet, permission from the DGCA is needed; also an application for this permit needs to be submitted at least 90 days before actually flying a drone. Only Indians or companies controlled by Indians can register their drones under the suggested rules. The DGCA is currently in the process of reviewing the responses to its recommendations from the stakeholders.