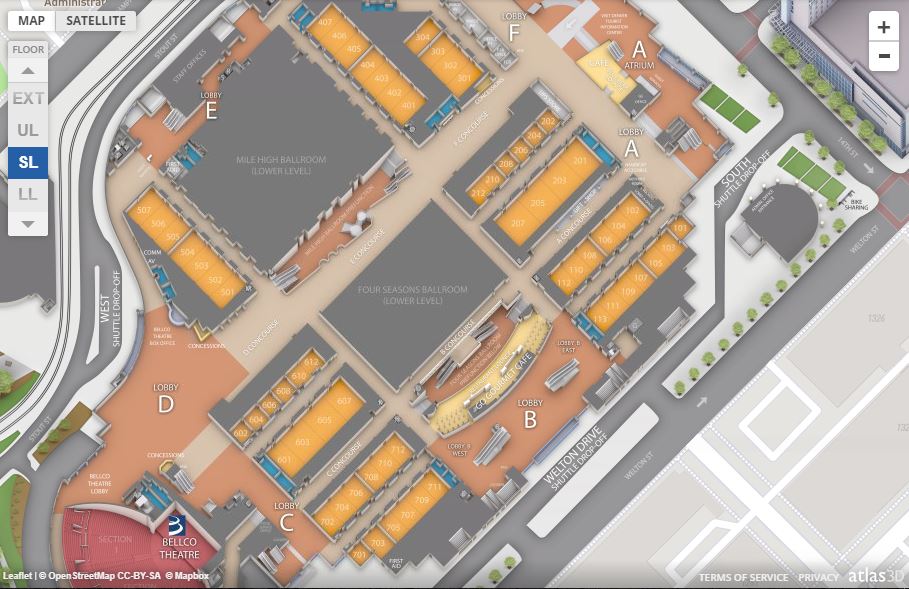 Generations after generations, maps have played an important role in contextualizing data, specifically for locating demographic data such as population, race, income and education. They help us study an area's demographic information and allow us to understand and analyze their relationship with each other. A fine example of this understanding is the interactive map of Colorado Convention Center created by Concept3D.
Useful to visitors, guests, exhibitors and vendors, the map allows you to explore the convention center from your mobile phones long before their arriving. The 3D map uses geospatial data from OpenStreetMap's open platform, and features detailed 3D models of the structure and shows it in an interactive, easy to manage content platform. The map is also allows visitors to find nearby attractions, hotels, restaurants and more.
"Colorado Convention Center is a great example of the flexibility of Concept3D to digitally present spaces, media and data in an intuitive map layout that's easy to navigate," says Chris Munz, VP of Business Development, Concept3D. It uses Mapbox's custom map design to deliver the data. "Since Mapbox can provide vector OSM tiles, it allows us to build interactive elements that create a true 3D or 360° experience," adds Munz.
Challenges
So far, the company has produced interactive maps for several convention centers, as well as for hundreds of universities and other locations. But mapping the interior and exterior of a 500+ thousand square foot facility takes time, particularly when a high level of detail is involved into it. To create the convention center map, Concept3D had to meticulously capture the data in great detail. They had to measure every room and recreate it in the software
The Concept3D platform brings the Colorado Convention Center's massive, 584,000 square-feet of space to life online with a 3D, interactive map and VR-enabled virtual tour capabilities. "We see a lot of potential in the future for tying our geospatial technology to VR for space planning, construction and sales and marketing," says Munz.
Built atop OpenStreetMaps, the Concept3D platform provides a powerful tool for highlighting regional attractions, restaurants and activities that are often critical when meeting planners are deciding where to host their event. The highly detailed 3D renderings atop interactive software, offers exhibitors, visitors, and employees to easily navigate the convention center and also find their way to and from nearby and regional locations.
Finding solutions
The 3D map can be useful for several audiences. The platform provides a custom tool called MapSpacer, which is a powerful application that makes it easy to search for ideal meeting spaces based on a meeting/event planner's specifications: number of people, square footage, desired layout, etc. Using this same tool, convention center professionals can quickly design the space – pulling items directly from the inventory – and share that with a meeting planner in 2D or 3D fly-throughs. It's a really powerful way to make changes on the fly, and simplifies the RFP and event planning process significantly.
On the guest service side, it's very easy for convention center staff, exhibitors and others to share their exact location and even embed that – with directions – on a web page. The interactive map makes it easy and fun for guests who are coming to a convention to explore the space, orient themselves, and find exactly what they are looking for.
"We saw the potential of Concept3D's platform right away, and it was amazing to see our space come to life in a fully interactive 3D map," said John Adams, General Manager of the Colorado Convention Center. "We know the platform will improve the overall guest and attendee experience, and we're excited for all the ways that we can use it for both internal and external needs moving forward."