GIS today is a mainstream technology that is widely being used across various businesses and this is something we all know. The technology is being adopted in various contemporary IT trends like Big Data, IoT, Predictive Analytics, or Cloud/Web Hosting. We are witnessing it playing a major role in most information systems today. But despite all of its achievements, the technology is still facing some serious challenges, which need to be solved. For example, lack of GIS awareness amongst policymakers, need to embed GIS in existing IT systems; Re-engineering business process by involving GIS; lack of data availability, etc.
To ensure that the technology can be easily used, we have to have policies that encourage GIS implemented and usability. For capacity building, the industry needs to partner with the leadership, serve the government agencies that use GIS like disaster management and build technical competencies by providing solution architects, database analysts, web designers, project managers or team leaders.
This will not only expand the business horizons, but will also embolden the use of GIS in developing projects. Hence, we need the industry-academia collaboration, which is essential for capacity building. Elaborating on the subject, S K Shrivastava, Scientist/Engineer at IIRS, Dehradun at the Esri India UC 2017 said, "During the 2013 Kedarnath deluge, there was a brainstorming meeting chaired by secretary Dept. of Science and Technology (DST) at that time, that how geospatial technology can really help in quickly assess the damage so that it can be used for R&R activities. So after the meeting, it was realized that we will have to go for crowdsourcing.
He added, "Crowdsoursing at the DJI is a buzzword, because for the task was so huge, so it was decided that from a group of students, local students who would trained for a couple of days, and they will go to the field, using the mobile app, they will capture the damage that has taken place. All that data collected will go to one portal and then it will be compiled reconciled and then come out with in completion. So you will not believe the convicted 2-3 days of the training program, trained around 150 students coming from the Kumaun University, and Garhwal University. After three days, they were all in the fields, and they gave us 90, 000 plus locations in a very short period of time. And that data was used to determine where the damage happened, why it happened, what are the causes, what inputs can be used in R&R software."
Similarly, for the Swacch Bharat Abhiyaan, a platform was developed by the joint efforts of Indian Institute of Remote Sensing (IIRS) and the central Government institutions in Dehradun. Supported by the Municipal Department of Dehradun, the platform includes a mobile app and one municipality server for the people. The purpose of this program was to carry out the location of the authorized and unauthorized garbage dumping sites covering five main routes in Dehradun city.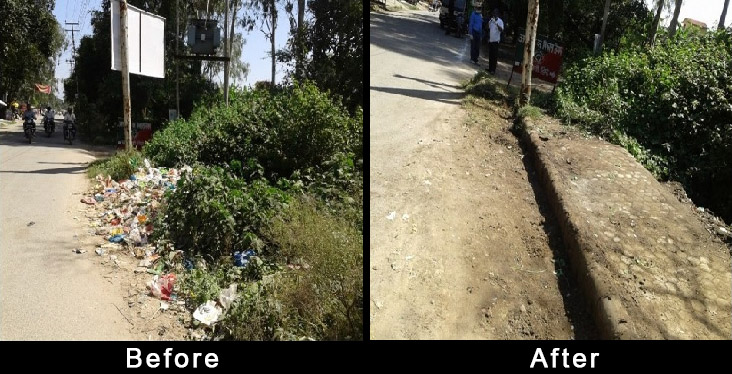 The road network connected to the dumping sites was also mapped for route planning. Geotagging of all the participating government institutes were also done. GIS techniques such as geo-fencing, geospatial analysis etc., were used to develop an optimum implementation of the plan. A map was prepared to represent geo-fencing of each institute considering time constraints and resource allocation. Each route was supported by respective teams of both IIRS and collaborative institutes (471 volunteers and 43 Nagar Nigam personnel) to implement the proposed activity. Real-time monitoring and support was provided to the overall activity from IIRS control room.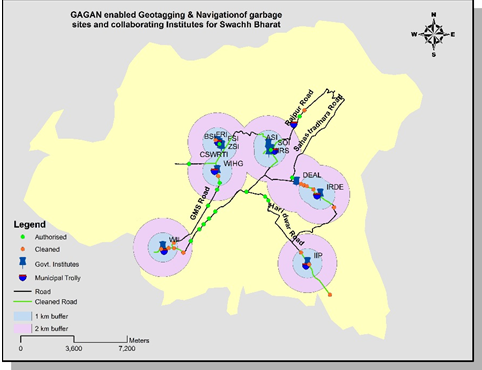 The exercise helped in locating 22 garbage dumping sites and roadsides, which were cleaned within a span of 3 hours. Around 45 m3 (approximately 10 ton) of garbage was collected and disposed during this entire exercise.
Cases such as these only reinforce the idea how important it is for us to have a firm collaboration between GIS and Academia. And to ensure this to happen, we need that GIS education is made compulsory in computer science and should be embedded in all higher level courses. We will have to invest in developing GIS infrastructure, provide hands-on training to students, showcasing tech trends before the technology users, by providing unrestricted access to students and faculty and by enabling the system with state of the art technology.