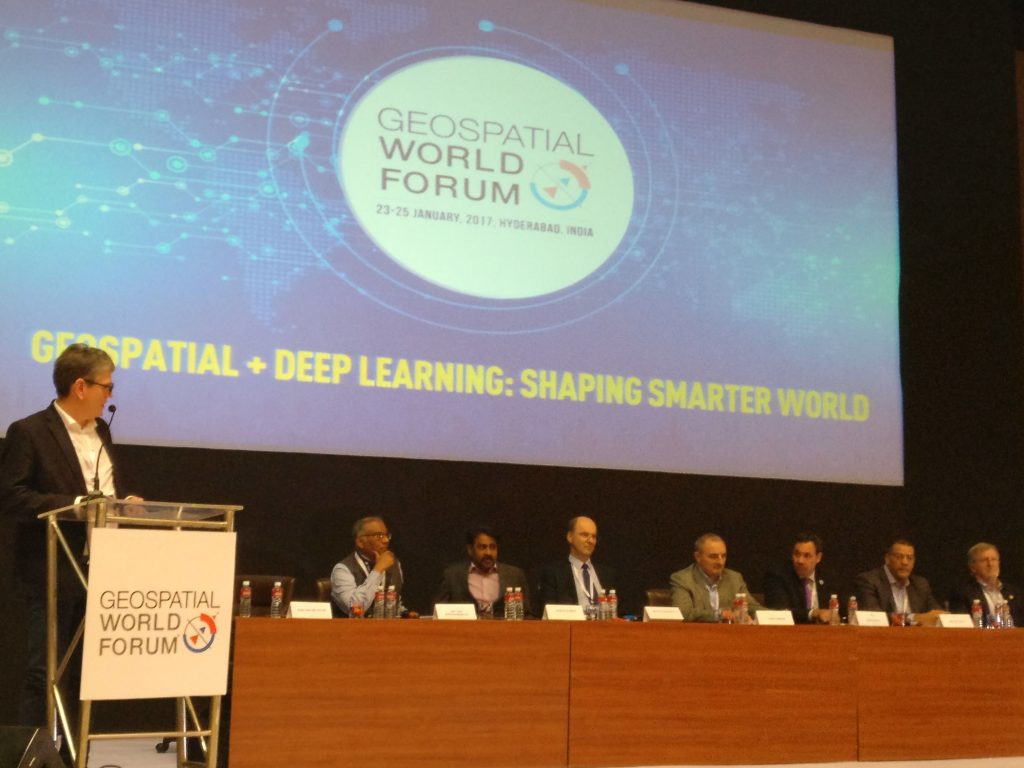 Geospatial World Forum (GWF) 2017 has come to a close, and looking back, it was really an interesting 3-day event. The forum gave a glimpse into the future of geospatial industry, where artificial intelligence and deep learning will be driving geospatial data exploration, analytics and visualizations helping us derive meaningful insights for a smarter world. The conference was attended by high profile delegates from global geospatial community, policy makers, academia, researchers, technology providers, solution providers, and end-user segments across industries, regions and communities. This forum was co-hosted by Survey of India (SoI) and Indian Space Research Organisation (ISRO), giving it great governmental leverage and support.
GWF 2017 was distinctive in two ways – one was the introduction of the 'Geospatial Hall of Fame', a platform that celebrated and recognized the ten unsurpassable legends of the geospatial industry. The other was anniversaries celebration – Survey of India, the oldest agency of Government of India, rejoices its 250th anniversary this year. At a celebratory occasion like this, the agency showcased its history at the Geospatial World Forum, 2017 through an exhibition and a play representing how the agency evolved over the years; the event marked the 20th anniversary jamboree of establishment of Geospatial Media and Communications; it was also the 10th edition of the Geospatial World Forum (GWF). Started in 2007 in India, the GWF conference has travelled to Amsterdam, Rotterdam, Geneva and Lisbon in the past years.
A closing plenary panel gave their valedictory. The panel was moderated by Rob Van De Velde, Director, Geonovum, The Netherlands. The panellist shared their takeaways from this conference, the plans and concerns for the future. Here's what they said –
Prof. Michael Goodchild, Emeritus Professor of Geography, University of California, USA
I visited India nearly after a decade; many things have changed ever since. The magnitude of Geospatial World Forum was intense and well off. We had talks and insights on many new things. This was a welcome surprise. But, as a geospatial community we are at crucial position right now. The technology is growing at a faster pace and to keep the pace of curriculum with technology is critical. I also perceive that our domain lacks the equal participation from women – we have the responsibility to encourage their contribution.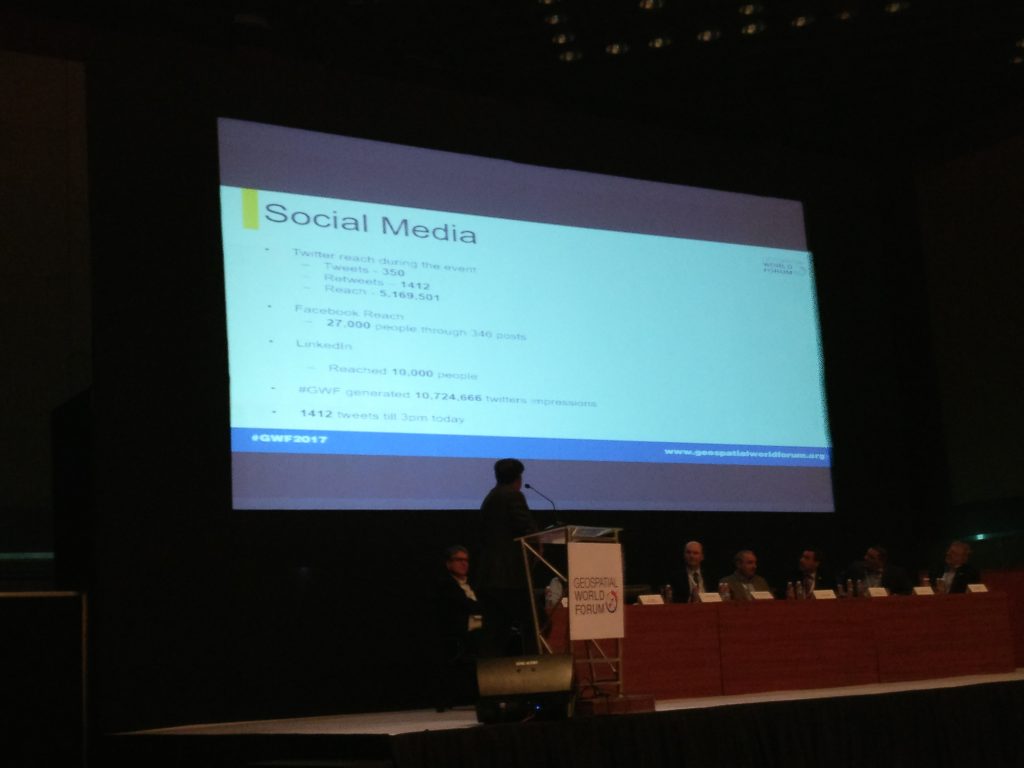 Ivan Deloatch, Executive Director, Federal Geographic Data Committee, USA
This GWF saw wonderful presentations, exemplary ideas and forthcoming challenges. We all recognized this industry is growing exponentially. We have the onus of serving our citizens in the best possible manner. We need to increase public-private partnership. This forum gave us the platform to think of a strategy to reach beyond – to expand the use of technology. Though, we also need to understand that the advancement of technology should not reduce the human factor.
Dr YVN Krishnamurthy, Director, National Remote Sensing Centre, India
It was a great opportunity for this region to hold the GWF 2017. It was a platform where we saw the motivational talks by Jack Dangermond and Charlie Trimble together for the first time. Industry, academia, government, UN bodies came together for knowledge sharing and collaboration. The aspiring young generation saw their way forward. We have good set of natural resources – geospatial technologies can help us tell how much to conserve and how much should be utilized. This forum has highlighted the value and power of geospatial technology as an enabler in addressing global economic and socio-economic issues.
Greg Scott, Inter-Regional Advisor Global Geospatial Information Management, United Nations
We are good at talking about our work, what and how we do. But to get commendations from others is real achievement and this is what we got from here. Well done and well attended. Seeing global perspective I wish for more expansion in coming years. This year we have seen new topics – expansion in new fields. But are we successful in integrating all of that in academia? We also need to see how government can involve itself to its maximum in order to take geospatial technology benefits to the people.
Chris Gibson, Vice President, Trimble Inc., USA
This conference had the breadth, depth and content. It has influenced the industry and the world. It has given some memorable moments – the visionary talks by Jack and Charlie. How do we encourage students to engage with technology? How do we increase the pace to manage the challenges to make the world a better place for people? GWF brought together the geospatial think-tanks to give a thought on these questions.
Dr Peter Woodgate, Chief Executive Officer, CRC for Spatial Information, Australia
GWF gave us an opportunity to bring the global stakeholders of geospatial industry. It facilitated the collaboration of ideas and organizations. Our technology and science has the ability to create. And as the industry players we have the challenge to explain to others how can we aid in making world a better place. We are moving to network economy. We have increased our net value.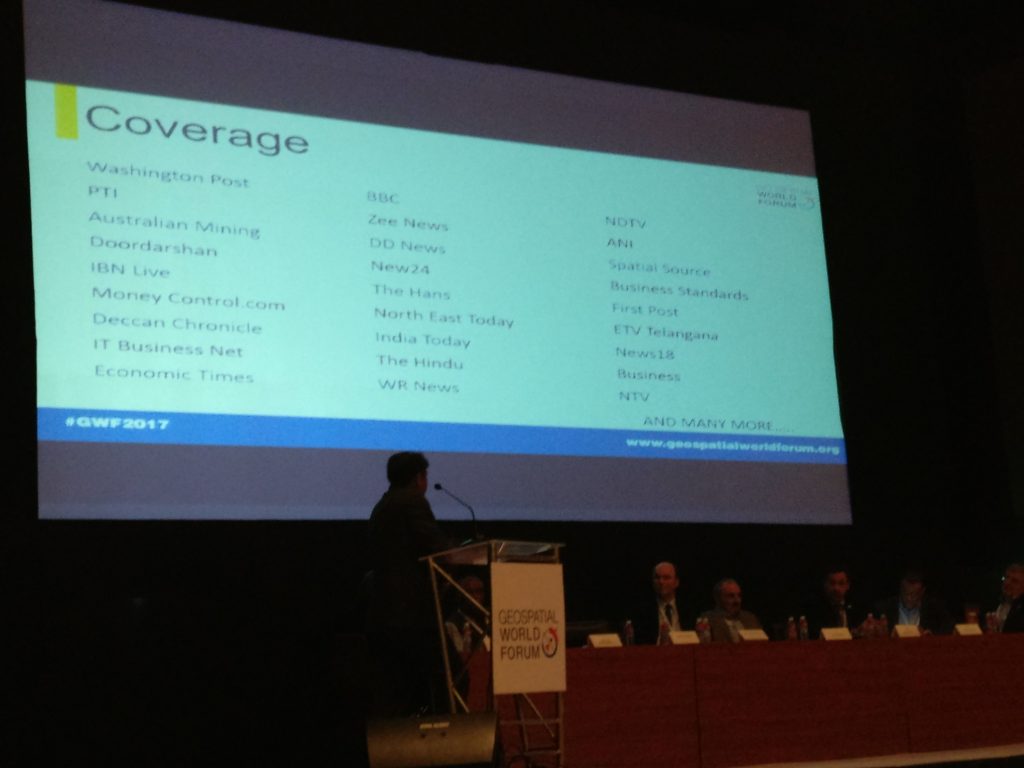 Finally, Sanjay Kumar, CEO, Geospatial Media and Communications gave the closing remarks and expressed gratitude to all those who made this event a success.
"My fundamental objective was to facilitate dialogue exchange, and find way forward to work together. It is constant pursuit of Geospatial World Forum to transform the world and extend the quality of dialogue."
He also shared the following stats about the Geospatial World Forum 2017:
2844 participants
763 organizations
294 unique speakers
56 countries
75-100 start-ups
250 students